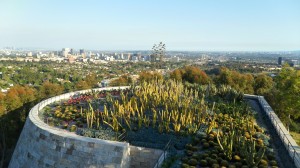 For St Valentine's Day I got a Titian, Holbein, Cezanne and a Renoir, several Rembrants, Monets, El Grecos and Dagaseses and Van Gough's "Irises."    I also got a signed card from a man called Valentine.
To celebrate the feast day of St Valentine, I didn't want to do anything that smacked of what the Americans call "V Day" and whose theme, rather than roses being red and violets blue, could be "SHOP! ….in the name of love." So we went to the Getty Centre, perched on a 750-acre site in the foothills of the Santa Monica Mountains overlooking Los Angeles. Admission to the Getty is free…admittedly, if you don't take public transport, parking costs $15, but then a dinky little electric tram takes you up from the noise and the traffic below, up the hill to an oasis of calm, beauty and heart-lifting food for the spirit. In a series of pavilions built campus-style around terraces and gardens are the collections, lecture halls, reading rooms, research, education and conservation institutes and the public facilities.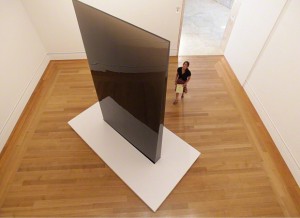 On St Valentine's Day, as a special treat, the Getty Centre had invited a sculptor by the same name to be in attendance. As we were coming in, the staff – predominantly middle-aged women – suddenly went all a-flutter as a strongly built man in a black hat, red embroidered Western shirt and red shoes entered, riding a motorized wheelchair. This was De Wain Valentine, who had made "The Grey Column," a towering, tapered monolith of smooth, semi-transparent, reflective cast polyester resin on show in the West Pavilion. Begun in 1975 and weighing almost 2 tonnes, it measures approximately 3m x 2 m (12ft high by 8ft wide) which is slightly higher than the Berlin Wall.
Talk about a hunk……and I don't just mean the 'Grey Column'…. It may have been the "looming interplanetary sentinel", it may have been the red shirt and the red shoes, but I was one of those middle-aged women all a-flutter on St Valentine's Day when he signed my bright red heart-shaped museum card offering a 'sweet treat.'  (These were chocolates, which were all gone by the time we got there, but who cares….I got to meet The Man.) He was so polite he called me "Ma'am" and when I mentioned the light sourcing, light bending work of James Turrell (who began  experimenting with light in his Santa Monica studio in 1966) he sweetly flagged their familiarity, calling him "Jim."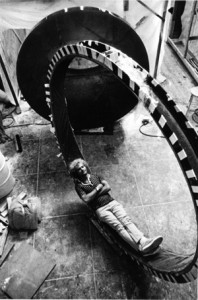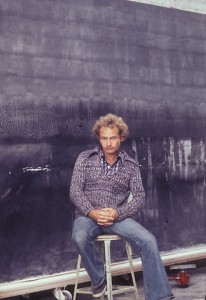 De Wain Valentine was born in Colorado in 1936, moved to Los Angeles in 1965 and still lives and works in California. A minimalist sculptor, he is associated with the Light and Space movement of the 1960s and so is part of a re-examination and re-evaluation of the West Coast art scene 1984–80 currently being celebrated throughout the state. It was a time of great vibrancy, an era of change and experimentation, the fruits of which are now both widely accepted and still influential and inspirational art forms.
Valentine was a pioneer in the use of (often dangerous, often toxic) synthetic materials such as fiberglass and Plexiglas, acrylics and polyester resins in art. There was plenty of the stuff about, from the surf boards being designed, made, used, abused and mended right outside the door, to the local automotive industry, and NASA and the aerospace industry up and down the road, but it was not considered an artistic medium. As a young fella, De Wain Valentine worked in a studio in Venice Beach open to the street, so that if his materials blew–up (which they could, and did, they were prone to spontaneous combustion) he could get the barrels, the work in progress – or himself – out fast. He wanted to celebrate the light, the sea and the air of that marvelous coast and from his childhood in Colorado, fascinated by the mines, he equated industrial products swith creativity. Desperate for the materials to (more safely) produce his creations, melding art, science and technology, De Wain Valentine was instrumental in developing a modified polymer resin with which large objects could be cast in a single pour. This is sold today as 'Valentine MasKast resin.'
The work of De Wain Valentine is the embodiment of the slightly skewed vision and reflection which is, and produces, California's cultural creativity, from architecture to painting to music and film. Not just the West Coast girls are hip….. period Los Angeles art is super cool at the moment….and the East Coast is getting in on the act. In 2010 the Museum of Modern Art in New York re-hung a Valentine piece from 1966 as the centerpiece of a room devoted to Minimalism. The other day I was delighted to see De Wain Valentine named as one of the sculptors included in a major show of 150 works of Los Angeles Art in various mediums from the Beth Rudin DeWoody Collection which opened last Sunday last (March 4th) at the Parrish Museum in Southampton New York.  "EST -3: Southern California in New York" – meaning "Eastern Standard Time minus 3 hours" – refers to "Pacific Standard Time: Art in L.A. 1945-1980" the Getty inspired series mentioned above, which is the largest arts project ever to take place in Southern California, with some 60 cultural institutions celebrating the art of the West Coast.
This is a lovely short video by the Getty Institute on the people and the magical times:  http://www.getty.edu/pacificstandardtime/explore-the-era/archives/v47/)
Any of the pix in this piece which aren't my own are probably Getty….most pix are probably Getty……