It was twenty years ago today…….. and my nephew Thomas' First Communion day.  It was also the day that Ireland hosted the Eurovision Song Contest in what one English journalist described as "a cowshed."* It was actually the Green Glens Arena in Millstreet, an equestrian centre in a small town right of Macroom between Cork and Killarney and the smallest and most remote venue for the event ever.
The Green Glens usually hosted agriculture and horse shows and competitions, but due to the foresight and imagination and sheer doggedness of its founder, Noel C Duggan, who offered the use of the hall for the night for free to the national broadcaster, RTÉ, it became world famous. Millstreet is a small place – it had a population of 1,500 at the time – with a small train station and a windy windey road from Cork over the mountains.  The Green Glens is an indoor arena, so, with very few uprights holding the roof, it was rather perfect for a big televisual event. For weeks before, huge crews of electricians and builders and technology and radio heads and cable layers and floor layers swarmed over the complex getting it wired up, accessible and welcoming for the big night. Noel C Duggan and Millstreet were having a ball.
A few days before the show, I went to Millstreet to do an article on the place and the preparations and brought my mother. The main artery north west was closed because they were widening it, or re-laying it, or carpeting it or something, so we were diverted through narrow country roads , fringed with lacey May blossoms. It was a bright sunny day and it was such a beautiful journey, I vowed to go back and have a picnic one day on the side of the gentle hills, but that was twenty years ago, and I haven't done so yet.
In Millstreet we met with Noel C and his son Thomas and I immediately fell in love – though whether with Noel C, or Thomas, a young man with the same energy and charm as his father –  I can't rightly remember. We watched some rehearsals, I got my bumf and my info and my colour and Noel C gave us a voucher for high tea in the canteen.  The long wooden tables were thronged with busy people, the noise level was high and the chips were divine. As we were eating, an RTÉ tech crew of seven or so finished their break and stood up as a man, formed a line, put their hands on the shoulders of the guy in front, and swaying and marching they sang "Hey Ho, Hey Ho, it's off to work we go……." And disappeared out the back.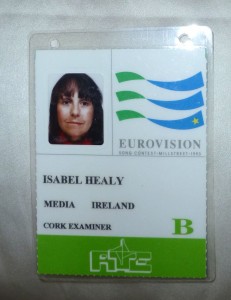 On Eurovision day, we celebrated Thomas' First Communion at a family luncheon party in his home and then headed out for Millstreet, bedecked in lanyards.  (I wore a Laura Ashley dress which is now only a tiny bit too tight, but my hair is better.) We had good tickets for the broadcast and because the plastic seats were less than salubrious, every guest got a foam pad with the Eurovision logo on it. I still have mine and though it's lost its shine, it still makes an excellent knee pad for gardening. I can only vaguely remember the event itself nor the reception afterwards, except that the hospitality tents were far too crowded and we kept losing our friends.  But I will never forget the May day I spent with my mother in the Green Glens Arena, the sunshine, the greenness, the excitement, the huge warm welcome and hospitality, the fun.  And I'm still in love with Noel C.
*The BBC newsreader Nicholas Witchell later apologized. Our own entry's singer, Niamh Kavenagh, (who had the audacity to win the competition again for Ireland) has since commented "most television studios are like going into the back of a barn anyway."