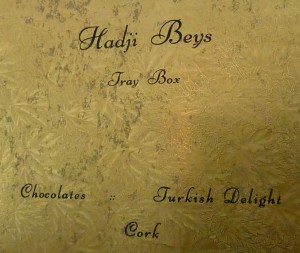 This is my Hadji Bey, this is the Bey I will remember the day I'm dying……
Hadji Bey is a sweet memory for Corkonians. Hadji Bey was a Christian Armenian named Harutun Batmazian who arrived in Cork from London at the turn of the twentieth century, having fled his homeland to set up a Turkish Delight stall at the Great Exhibition in 1902. His product was such a success that he went into business and his Lokum became a famous Cork delicacy and was exported to the grand emporia of London and New York and nibbled in Buckingham Palace.
Hadji Bey means "Prince of the East" and in Cork, not only did the name stand for a soft jelly-like confection, but it was also stood in quite handily as a moniker for anyone of Middle Eastern origin and because of its sweet connotation, it was used in the familiar affectionate rather than the foreign dismissive. Hadji Bey's made chocolates as well as the rosewater pink and pistachio green Turkish Delight and all the confectionery was usually presented in pink or green boxes, with gold for gift 'trays' and chocolates.
The Batmazian family originally operated the business from their home on the Lower Glamire Road. Though Haratun's fellow Christians and countrymen were in actually being slaughtered by the Turks at the time, local troops returning from the battlefield of the First World War set fire to the premises on the assumption that the owner was Turkish. Batmazian published an open letter called "Live and Let Live" explaining his origins and moved his business to MacCurtain Street, where it prospered for another half century. It was a beautiful shop on a street of remarkable buildings; close by was the fan porch of 'Dan Lowery's Palace of Varieties,' now the Everyman Palace Theatre and the wonderful Art Nouveau tiling on the open front of Quain's fishmongers…and Crowley's Music store, where Blues Rocker Rory Gallagher bought his first guitar. The Batmazian family still live in Cork, but the firm was sold in 1971 and eventually went out of business the late l980s.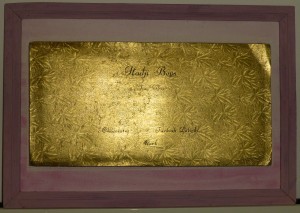 This gold foil and cardboard tray box has probably been in our family for well over forty  years. We probably scoffed the chocs together in Orchard Corner some Christmas long ago when everyone we loved was still alive and I wish I knew who gave us the present. Once holding old photographs in my mother's bureau, the box has been shunted around and is a bit battle weary.
Recently we were offered some Turkish Delight in the house of Irish friends. The round, simpering pink box bore the trade mark "Hadji Bey". The delicacy – to the original recipe, the makers swear, passed on from the Batmazian family, who still live in Cork – is now being produced by Urneys in County Kildare and sold in boxes of the period. I ran all the way home (botchawaddy waddy) and rescued my souvenir of old Cork from the attic.
I tried to mount and frame it in a sympathetic way, in the traditional rose water pink but I'm not happy with the outcome and may have to go back to the easel. Another disappointment of this ouvre is its contents; What I really wanted to have inside was an article on a yellowed cutting I know I have kept from the Spectator magazine circa 1964, written by Stan Gebler Davis, entitled "Hadji Bey's of Cork." I have searched high up and low down but I cannot find it and no record exists on the Spectator site (…..or could it possibly have been Punch?) In lieu of that special piece, I have included a black and white photograph of the exterior of the Hadji Bey shop on MacCurtain Street and a picture from/by the Spencer Tunic Experience during the Cork Midsummer Festival of 1,000 people naked in front of Blarney Castle.  (http://www.thespencertunickexperience.org/2008-06_Blarney_Castle/Blarney%20Castle_Ireland.htm)
In January TG4 (Irish language Television) screened a documentary by the independent company Forefront, called "Hadji Bey: Milseáin na Tuirce I gCorcaigh" on the product and its history, with input from historians and academics as well as archive footage.
(An excellent article by Colette Sheridan "A Sweet Taste of the Past" from the Irish Examiner of 14th December 2011 was invaluable for historic background on this story…thanks cuz! x)