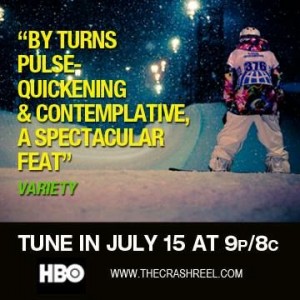 If you know Shanagarry Pottery, Stephen Pearce Pottery or Simon Pearce Glass, if you worry about someone who participates in dangerous sports, who has gone to war and  has suffered a traumatic brain injury, if you are interested in snow sports and the cool kids who ride the powder for huge fortunes….. or if you like a really good film which includes life, death and the whole damn thing, then you should watch "The Crash Reel" tonight on HBO.
"The Crash Reel" is by the British documentary filmmaker Lucy Walker, who is now based in the US. It is the story of the internationally famous snow boarder Kevin Pearce.  While training for Olympics trials on New Year's Eve in 2009 in Park City Utah, Kevin was critically injured when he hit his head above his left eye halfway down the half pipe and nearly, as good as, died. He was practicing his speciality, the notorious, difficult and dangerous 'cab double cork'. Kevin's prowess was on a par with that of the legendary Sean White; his success, his fame, his fan base, his funding, winnings and fortune were growing. He was a star, and still only 22 years old.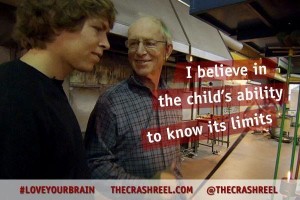 Kevin is the youngest of 4 sons of glass artist Simon Pearce and his wife Pia who are based in Vermont. Simon is the brother of the potter Stephen Pearce of Shanagarry, County Cork, and the brothers grew up in Cork. His uncle on his mother's side is Cyrus Vance, Jr., the District Attorney of New York County (Manhattan.)
After his accident, critically ill, Kevin was treated in Utah and in a rehabilitation centre specializing in traumatic brain injuries in Denver Colorado.  As the months went by and Kevin's hold on life and recovery were first tenuous then his rehabilitation tortuous, tens of thousands of people joined in wishing him well on his Facebook page. By now, there must be a million comments on that page. In the main, the comments were hugely supportive, willing as well as wishing him well, offering prayers, suggestions, help. His snowboarding friends and fans, from the world champion Sean White in competition, to children on toboggans on family trips, wore signs saying "I Ride for Kevin" and posted 'photos on the site.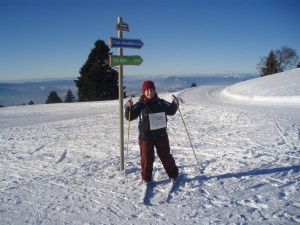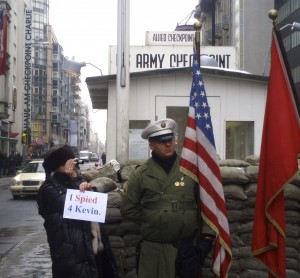 I do not snowboard, but in solidarity, as a very long-time friend of the Pearce family, in February 2010 I carried signs – slightly amended for my location, age and non sporting ability – on Mont Semnoz in the French Alps and dressed for a cold 'cold war' at Checkpoint Charlie between the old West and East Berlin…because raising a smile is good medicine for patients and carers.
On the Facebook page – and such pages illicit all kinds of weirdos and strangeness – I remember reading only one comment criticizing the young man or his fight for life.   Someone wrote that it was alright for Kevin Pearce because his family was rich and they could afford all the air-lifts, the hospitalization, the medical procedures, the specialists and the rehabilitation. I remember being sad at this, rather than angry.  At the time, I wanted to denounce it, but hey, what's the point?
But here's the point. I have known the Pearce family for 4 generations, since I was 9 years old. We were holidaying in Ballycotton at the time, and my mother, a journalist, had heard of a small pottery, a cottage industry in nearby Shanagarry and went to do a story on the couple, Lucy and Philip Pearce, who had set it up. They became friends. Ten years later Stephen and I started walking out together and the love and friendship  with him, his wife, children and now grandchildren and the wider Pearce family, continues to this day.
In the nineteen fifties in Ireland, Irish people thought themselves rich and modern if they could swop the white scrubbed pine kitchen table for metal-legged Formica. The aesthetic of Lucy and Philip Pearce was a celebration of the plainly beautiful, the true and the hand-made. They started making and selling elegantly simple pots made from the clay of the nearby beaches, to a market without much store by anything homely. They displayed the pots in upmarket shops on old Irish dressers and everyone thought the Pearces were daft, when those same dressers were being thrown out as poor and old fashioned.
They worked hard, very hard, and had very little money. Lucy made the children's clothes, grew the food for the family. They lost their first son at birth. Then Stephen arrived, then Simon, then Sara, who had Down's Syndrome.  The Pearce family were Quakers, Philip had been a consciencous objector during WW11 and drove an ambulance in London during the Blitz. Lucy was a teacher and a founding member of the Soil Association. They were amongst the most honourable people with the highest principles and values, the soundest ethics and respect for life and living that I have ever met.
Steve and Simon both worked in the pottery alongside their father as young fellows, then Simon went off to pursue glass making and for a while, Steve managed the band "Dr Strangely Strange" and we lived in London amid the musicians and the whole mad industry.  As Philip and Lucy got older, Stephen went back to Cork and built up the family business with his own brand.  Lucy, who had devoted so much or her physical and intellectual energies to good food, good nutrition and healthy living, died of stomach cancer.
Simon settled in Vermont and set up his glass blowing studio in 1981, and not only grew the business, but also supported local artists and artisans, the talented and the drifting with training and encouragement. Some quarter of a million people visit the complex at the old Queechee Mill each year. It employs 150 people between two Vermont locations and the Pearces generate their own electricity. With his wife Pia, Simon had four sons.  David has Down's Syndrome. During Tropical Storm Irene in 2011,the rising waters of the Ottaqueechee River swept away the covered bridge and flooded the mill where they have a restaurant and shop and the high-end glass is produced, destroying the studio and restaurant kitchen to a depth of 50 feet.
The Pearces may be rich and successful, but it is through hard work and endeavor and the good karma fostered and generated by their parents all through their lives and carried on through the family and the generations. It is about goodness as well as taste, talent and dogged hard work and brilliant marketing, cannily and gently played. It is about hope and faith in human nature and in science, respect for people, animals and the land, generosity of spirit and a belief in what is good of the old.
That is my answer to the begrudger on Kevin Pearce's page on Facebook.
"The Crash Reel" deals a lot with Kevin and his fast riding, fast living friends. But with the same generosity the family brings to everyday life, it also deals with other athletes and their traumas and with the entire Pearce family's fight to help save the life and sanity of their son, their brother, their nephew, cousin, friend.  It is a salutory lesson in respecting, protecting and caring for the precious mechanisms of the body. It is also a darned good film, beautifully produced and snappily presented. The editing alone is a feat, from something like 600 hours of 'phone and camera stills, old home videos and shot for professional film by massive sports events and by Kevin's sponsors. The director, Lucy Walker, says that she was both lucky and unlucky that young people – and particularly sports people – take so many photos of themselves and others these days. It meant that she had a wealth of archive as well as being swamped in trivia, even pictures from the toilet! I told Lucy that her name was a good sign. Since I first met Lucy Pearce over half a century ago, I have never met a Lucy who was not strong, beautiful and independent.
Now, 3 years after the accident, Kevin is well and giving his time and energy to promoting "Love Your Brain" an awareness project for those with severe brain injury. It is not only sports people and road users who suffer traumatic brain injuries and their longterm, often personality changing repercussions, but also soldiers. There are thousands of veterans from Afghanistan and Iraq now trying to keep their lives together back in the US, who may not even be aware that they are different, more volatile, than before they went to war. Through no fault of their own, but through brain injury, they could be at risk. They themselves and us, those around them need awareness of how their heads and their thinking is now unpredictable, even to themselves. Enjoy the film…..and love your brain!