I had an assignation in Dublin – well two actually, but we won't talk about that – so I flew in yesterday, Tuesday, at noon. It is August, it is Horseshow Week and Bewleys in Ballsbridge was full, the daughter had chosen this week to head down to Lough Ine and there was a bus strike, so I booked the 'DT' Hotel (used to be the Burlington..it is not just for alcoholics, it stands for "Double Tree by Hilton"which it will become later in the year, when the renovations are finished) off Leeson Street, hired a car and set off out to the Bay Area.
Got the hair done after my assignations (well you'd be wrecked like) and it was not my usual stylist.  "To be honest" he said "I'm gay like, and if you're anyway good looking, Perth is brutal"  (I didn't really understand why the first two statements are linked to it, but to be honest, I like totally agree like with the third statement.)
Came back to the hotel last night, parked around the back, went to my room on the 6th floor, stepped out of my shoes and clothing without hanging or folding or getting ready for the morrow. Rummaged in my overnight bag and littered every surface with phones and chargers, A GPS with its associated cables, books, magazines, wool and crochet  hooks (work in progress) and (even more) footwear, took a few 'phone calls and fell gratefully asleep in my honourable bed.
At 5.20 an alarm began to scream….. It stopped, I swore quietly and turned over, but off it went again and this time, with serious intent. I pulled on a dress and opened the door. It was eerie. The hallway was full of scantily clad figures, all moving quickly and quietly in one direction. "Is this for real?" I asked a guy with a pack on his back, he shrugged and carried on.  I reckoned it was. I stepped onto -rather than into- shoes, scooped up my jewelry, passport, phone and laptop and joined the fast moving flow in the hallway and down 6 flights of stairs. Nobody spoke, it was almost totally silent, there was nobody to guide us, we were as lemmings heading for a cliff. Staff at the front desk carried on about whatever business they were engaged in as we flooded out the wide open doors into the Dublin dawn.
The DT Hotel has 501 guest rooms and last night it was full, many of the rooms sleeping 2 or 3 people or families. The Dublin Fire Brigade was already there, and more trucks pulled up, along with police and an ambulance and we were moved out to the gates and onto the road as the Pompiers donned breathing apparatus, unrolled their hoses and headed into the seven-storey building.
There were no sirens, no shouts, it wasn't scary and people were good humoured, there was laughter and banter and lots of "well at least it's not raining" the Irish optimist's answer to everything. Two women holding babies looked stressed and a young girl on crutches distressed, two hobbling older people leaned on their partners and a family who looked Malaysian were in disarray, though the mother had made sure her head was covered in a scarf.…. one of their children, in pyjama bottoms, limped on one shoe….his brothers carried their sneakers. There were some people in nothing but bathrobes, they had left their rooms in their bare feet and three women of older middle age in shiny slips of scanty nightdresses giggled at themselves. It was a beautiful warm morning, the Guards (police) were in short shirt sleeves, it was not a bad time to be out in your chemise. It is well known that I have a thing for Pompiers, so with 5 units of the Dublin Fire Brigade plus back-up and forensics, this little nightmare was turning into a hi-viz fantasy of the barely clad, black-boots and breathing apparatus.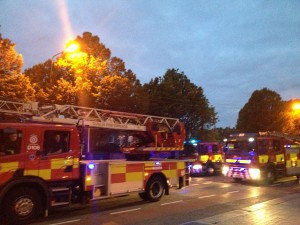 I got talking to Mario, a young Croatian man, in Ireland for a few weeks working for Ericcson and we whiled away a half an hour as the sun came up.   I realized I had left the bedroom without my camera, but everyone was snapping 'photos good-oh with their phones. I had also forgotten to take my car key, so if we were evacuees for much longer, or the hotel did go up in flames, I couldn't return the rental car or get on my flight home at 11 a.m.
Breakfast was supposed to have begun at 6 and it was 6.30 before the fire brigade rolled up their hoses and prepared to leave and we all trooped back to our rooms. Had the chefs also been standing outside instead of slaving over my Full Irish Breakfast?
Obviously some acid had leaked into the workings of a 'fridge in a room on the 6th floor and had set off the alarms. "Thanks very much" I said to every fireman I passed on the way in: "Ah sure you're grand" they replied. "We checked all the rooms and there was nothing, but we found 4 horses and we had to lead them down the stairs because the lifts were out……"  Mario, my new Croatian friend, believed the helmeted wag.
At breakfast 2 hours later, the staff were obsequious in the extreme….and the breakfast was great. The dining room was full and also quiet, as though everyone was tired, everyone was conscious of having shared a common experience in the early morning without our underwear. In came guys and gals in polo shirts and the tightest, whitest breeches, worthy of the cover of Jilly Cooper's "Riders" rotund gentlemen in nifty gold buttoned blazers and red rosettes, lean leathery men in puffa jackets, county women in tweeds with yellow rosettes, sun-kissed adolescent girls in t-shirts looking apprehensive. They were the show jumpers, the dressage specialists, stable staff, eager young competitors, judges of fetlock and leaders of Connemara ponies.
It was the first morning of the Horse Show, down the road in Ballsbridge at the Royal Dublin Society, an enormously important week in the equine, sporting, social, agricultural and tourist life of Ireland and a fillip for the economy of Dublin. I would love to have stayed for the spectacle, the smell, the flutter and flap of flags, the fast bloodstock, the beautiful manes and hats, and the clack and tumble of hooves hitting wooden bars, but a ride was out of the question and I just about got out of town with my life.