At a ceremony in in Trinity College Dublin on Friday, President of Ireland Michael D. Higgins named Paula Meehan as Ireland Professor of Poetry 2013.  It is a huge honour. Paula Meehan is a very small woman with a voice that reaches deep and far, and which she ensures touches those for whom poetry is a rare thing. The three year post, attached for one year each to TCD, University College Dublin and Queens University Belfast, was established in 1998 as a permanent way to mark the awarding of the Nobel Prize for Literature to Seamus Heaney in 1995.  Paula Meehan is only the second woman – the other was Nuala Ni Dhomhaill – to be so honoured over that time.
In October 1994, in my weekly column in the Cork Examiner newspaper, I wrote a piece the editors titled "A Teacher Can be Master of a Child's Destiny." Our children were younger then and a new academic year had begun. Talking of a little one who had just begun infant school and with all the experience of two weeks education "HATED" "Roly Poly" I wrote:
"In the years to come 'Roly Poly' may be forgotten, but somewhere along the line, some influence will point the direction of this young life.  Most likely, this influence will come from a teacher.  It's a hugely responsible job, teaching, because no teacher knows which of their causal words, gestures, kindnesses, encouragements, contradictions, put-downs or spiteful punishments will be the catalyst which will be the ruination of a child, the demolition of their confidence, or will constitute their salvation.
Recently a friend offered to lend me a book of poems.  She was holding it closely to her bosom and I could see that it was an emotional and almost physical wrench for her to part with it, even for a week, but she did still want to share the experience, so I grabbed the paperback from her unwilling hand and ran before she changed her mind.
The book was 'The Man Who Was Marked by Winter' by Paula Meehan.  Before   sitting down to devour it slowly, I turned the pages, tasting each poem, until I was stopped in mid-trawl when two short lines evoked a major part of my childhood.
In the Poem 'Ard Fheis' (the annual convention of an Irish political party) Paula Meehan is painting the scene at the meeting, the way the fug of cigarette smoke cast the light from the high windows, when suddenly the light and the drone of the speakers' voices brings her back to her school days:  '…..and all this talk of the people, of who we are/of what we need, is robbed of meaning/becomes a sub-melody, sonic undertow/a room of children chanting off/by heart a verse.  I'm nine or ten/the Central Model School/Miss Shannon beats out the metre/with her stick.'
Miss Shannon in the Central Model School made a poet – and what a poet – of Paula Meehan!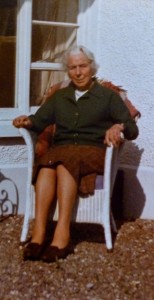 When I myself was nine or ten, that same Miss Shannon would sit at our family fireside and recount stories of her pupils in the Central Model Girls School in Gardiner Street in Dublin. They were mostly poor and underprivileged, they had no ambition other than "The Sewing."
When, as soon as was legally possible, they left school, most of her pupils would go to  work in "the Sewing," the textile industry sweat shops of the inner city.  Miss Shannon tired to teach them love of language, rhyme and reason in grammar and punctuation. Mindful of what they might miss in life, Miss Shannon tried desperately to give them some beauty from literature and nature.  In our garden at Orchard Corner we found abandoned birds' nests for her to bring to the city children who had never run in a field.  No wonder she taught them poems by heart, beating out the metre with her stick, she was hurrying to give the girls as much as she could in the short time of learning they had.
Evelyn Shannon was my sister The Elder's Godmother, and so close was she to our family that we all called her "Godma."  Of course it got shortened, in the way of all Cork names, to "God" and I remember the consternation in a neighbour's house when I told them "I've got to go now, God is waiting for me at the gate."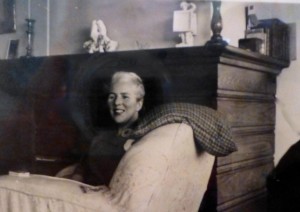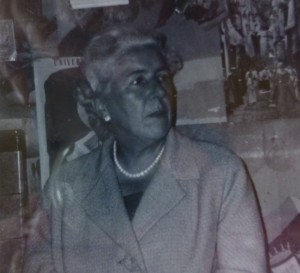 A maiden lady with a strong leonine head and a beautiful mane of white hair, every Christmas when she came down from Dublin to stay with us for the holiday, we would bring The Blue Stone to the station when my mother collected Godma from the train.  The Blue Stone was magic and while in Cork, she kept it in her handbag, then on leaving it was entrusted again to one of us children – The Keeper of the Blue Stone – to hold 'till her return.
The faceted marble-sized blue glass bead would be taken from Godma's bag and rubbed for stories, and like magic, they materialized.  Stories about childhood in Ballyshannon, about Will o'the Wisps on the Bog of Allen, about mad dogs in the country and mad people in the city; stories from her travels about white horses, monasteries perched high amongst the hills…..she would turn the most ordinary tale into magic.
Evelyn Shannon was born in Donegal in 1905 and lived in Ballyshannon.  Her mother was a teacher and her father a policeman.  She went to the Mercy Convent in Enniskillen where she was first imbued with a love of literature, then on to St Louis' in Monaghan and then to train as a teacher in Carysfort College in Dublin.
Though it was almost unheard of for a new teacher to become principal, she was made Head Mistress of the school in Esker in the Bog of Allen straight out of college.  She had to live over a pub and was so alert to the talk below that she once wrote a 58 page letter to her lifelong friend Peg Hayes in Dublin, all about the visit of the inspector to the school, and the wireless (radio) being put in.
After a number of years in the Bog of Allen, Evelyn Shannon managed go get into University College Dublin as a night student to do an Arts Degree. At the time, UCD did not recognize Primary teachers' qualifications, they were looked upon as second class citizens and were not allowed to do an Honours degree.  When her papers were being corrected, the examiner enquired why Evelyn Shannon was not in the Honours class and managed to organize for her to take a year away from her school work to do a Masters in literature.
She returned to teaching and finally to the Model School, where she was Principal. She lived in rooms in Rathmines, up many flights of stairs at the top of a tall house on Palmerstown Road.   A very religious woman, highly intelligent and deeply read, Godma was eccentric and terribly impractical, with no sense of direction, yet she travelled abroad alone each summer, visiting galleries, museums, historic places all over Europe. I have a picture postcard of 'A Peasant Wedding' she sent my mother after a trip to Cork thanking her for 'those lovely days in the world of Orchard Corner at Eastertide. It was wonderful; maybe Brueghel's rejoicing peasants will express what I mean.'
Evelyn Shannon retired in 1970 and died suffering Alzheimers Disease in a nursing home in Malahide in the late 'eighties.  No longer recognizing her friends or communicating with anyone, she died unsung, with no chance for a memorial or gathering of those who loved her or whose lives she touched.
To be immortalized in poetry is the most fitting tribute to a teacher who created wonderment and opened doors that might otherwise have remained forever shut." (ends.)
I later sent a copy of that article to Paula Meehan and have kept the letter she wrote me in return….I hope she will forgive my quoting parts:  "…..I found it very moving and a bit disturbing – I suppose this latter feeling comes from the realization of the mystery that was the life of a woman I knew as 'Miss Shannon.'  She was definitely outside the run of your usual teacher: she was tough (we called her Shannonballs sometimes) she had a ferocious passion for learning, and she was a spellbinding storyteller.  I have a personal debt to her because she fed me books nonstop and taught me the rudiments of Latin and gave me at a very early age a sense of language as a historical force.  She also taught me the need to protect myself fictionally – one vivid memory I have is of getting three on each hand for using the word 'Damn' in an essay.  I was describing my mother's efforts to get me up in the morning and in her frustration roaring at me 'Damn you, Paula, you'll be late for school.' This was, according to Miss Shannon, blasphemy and there's no way my mother would have said such a thing.  She was right!  'Fuck you, Paula' is what my Ma said, she being no pleasanter than myself in the mornings.  So I got a strong sense of the ironies of the truth.  Miss Shannon was a very important figure in my life, a fact I appreciate more as time passes."
And now Paula Meehan is the Ireland Professor of Poetry and I couldn't be more happy and chuffed had I been awarded the Chair myself.  There are many reasons: firstly Paula Meehan is a poet of real worth, secondly, she's a woman and a dotey pet and thirdly she is purposely carrying on the legacy of our beloved Godma, Miss Evelyn Shannon.  Accepting the honour in TCD on Friday, Paula Meehan said "One of the great draws of this for me is that I get to work with the different students in the different universities.  I'll be continuing the work I've always done, teaching the craft of poetry – I don't think you can teach the art of poetry – and standing up for poetry."