A Love Letter from Right Blackkidglove and Left Blackkidglove
---
In one of the cult horror "Living Dead" films of the 'Seventies the only secure refuge the living could find from the arisen deceased flesh-eaters was a shopping centre.  They barricaded themselves inside as the zombies howled and clawed at the rooflights and rattled the steel security shutters to try to gain access to feed on the un-dead inside.  Since then, I have always sussed out shopping centres and large department stores for their zombie-proofness – just in case like – and made a mental note of suitable safe sites.
Were I to be in need of such a sanctuary – and it must be a department store or shopping centre for plentiful food and warmth and beds and distraction – and had I the luxury of choice, I would pick Arnotts department store in Dublin as my shelter.  It has everything, and it's comfy and smells nice.   As Dublin changed over the decades, Switzers of the boarding school uniform lists, the beautiful bedlinen and the best Santa Claus in Ireland, disappeared, to be taken over by the more uppity Brown Thomas, as the British mid-market chain Marks and Spencers moved across Grafton Street, to where Brown Thomas used to be.
This May 2018, Arnotts is celebrating its 175thanniversary with the opening of an in-store museum to illustrate its place in Ireland's history.  In 2015 the premises and name was bought by the Canadian Weston family who also own Britain's Selfridges and is currently involved in a multi-million euro re-vamp (mainly consisting of "legacy issues" to "cherish the store's unique heritage" through the refurbishment of traditional departments, with the updating of technology and the modernisation of restaurant and canteen kitchens.) Through all the political, economic and social change and the vicissitudes of fashion, Arnotts of Henry Street stayed resolutely the same; solid, trustworthy and genteel, with furniture and electricals, homely, wholesome restaurants, clearing lines and fashionable and dependable hats, curtains, bathrobes, china, shop-in-shop fashion, reliable and frippity underwear, stationery and always and ever, great shoes.
In 1941, during World War II – a time known in Ireland as "The Emergency" with its shortages of consumer goods, my parents married in Dublin. He, Joseph Gerard Healy, was a Captain serving in the Intelligence arm of the Army (G2) out of MacKee Barracks.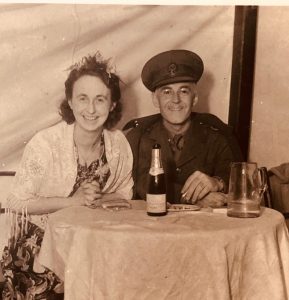 She, Jean Sheridan, was a journalist with the Irish Independent newspaper group.  In August 1945 she received this letter. It was typewritten on A4 paper, embossed with the badge of the Army.  The sender's address at the top however was "Arnotts & Co. Ltd, Henry Street, Dublin". Though it was probably hand-delivered, the addressee "Mrs. J.G.Healy" was in the correct position for a formal communication.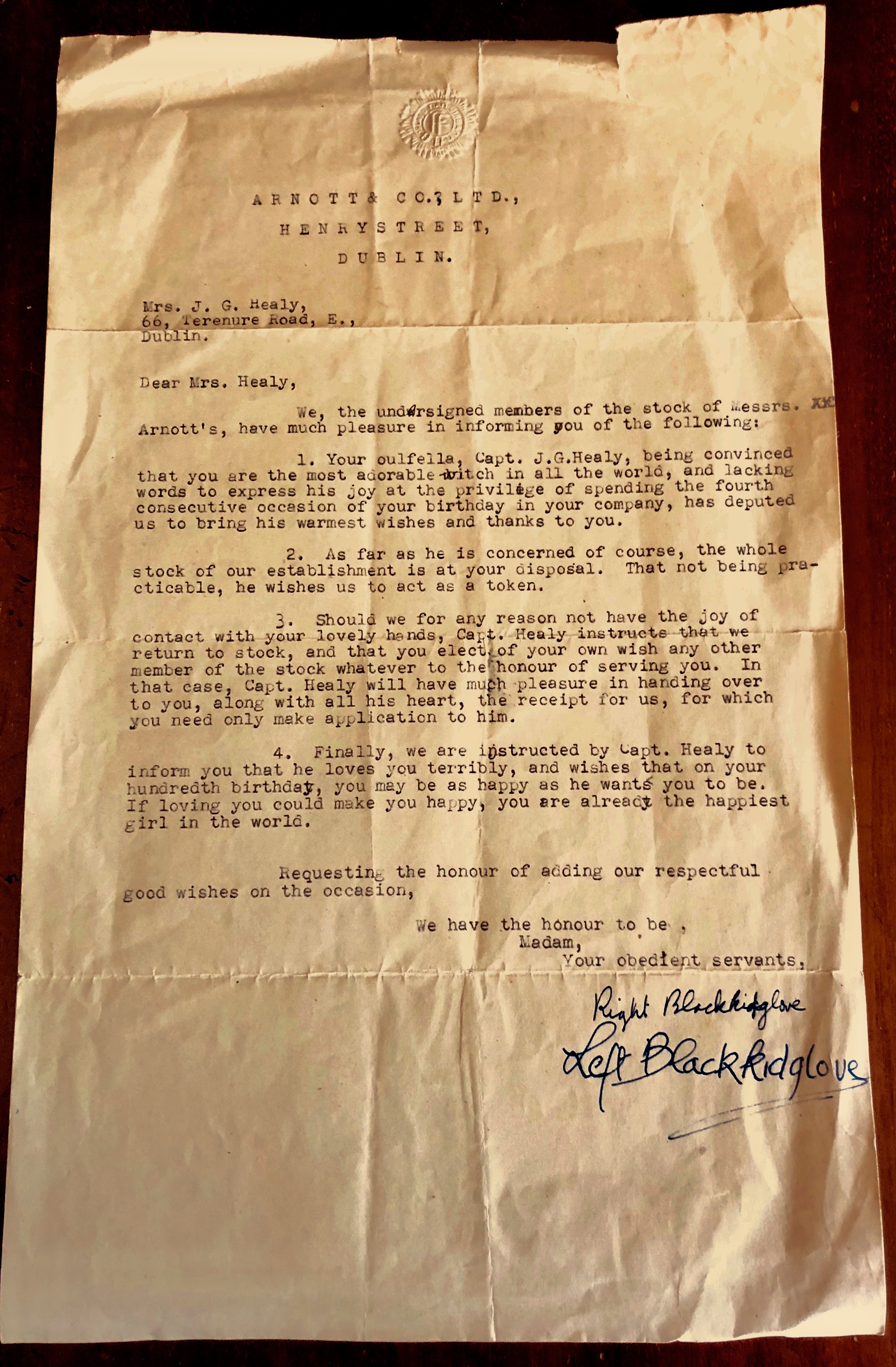 The letter reads:
Dear Mrs. Healy,
 We, the undersigned members of the stock of Messrs. Arnott's, have much pleasure in informing you of the following:
 1. Your oulfella, Capt. J.G.Healy, being convinced that you are the most adorable witch in all the world, and lacking words to express his joy at the privilege of spending the fourth consecutive occasion of your birthday in your company, has deputed us to bring his warmest wishes and thanks to you.
 2.As far as he is concerned of course, the whole stock of our establishment is at your disposal.That not being practical, he wishes us to act as a token.
 3.Should we for any reason not have the joy of contact with your lovely hands, Capt. Healy instructs that we return to stock, and that you elect of your own wish any other member of the stock whatever to the honour of serving you. In that case, Capt. Healy will have much pleasure in handing over to you, along with all his heart, the receipt for us, for which you need only make application to him.
 4. Finally, as we are instructed by Capt. Healy to inform you that he loves you terribly, and wishes that on your hundredth birthday you may be as happy as he wants you to be. If loving you could make you happy, you are already the happiest girl in the world.
 Requesting the honour of adding our respectful good wishes on the occasion,
 We have the honour to be
Madam,
 Your obedient servants,
 Right Blackkidglove
Left Blackkidglove
The gloves even 'signed' themselves differently….as right and left hands would be wont to do.
The Best Man at my parents' wedding was Seamus MacNeill ( A son of the scholar, Gaelic revivalist and politician Commander Eoin MacNeill.) He was by trade a dentist, but he was also a talented artist who would often amuse us children with illustrations and cartoons.  At a very young age, he taught me how to write backwards…from right to left.  Maybe he taught my father too.