A Timber Lifeline Defeats an Oil Pipeline
---
With over 50 exhibitions to his credit over the past quarter century as well as awards, residencies and lecturing, Peter Von Tiesenhausan is one of Canada's best known artists. Also a sculptor, video and performance artist, Peter's canvas is wide and though he does not like to be called a 'land artist' much of his art is produced from, and on, the land. He has worked in North America and Europe, but most of his pieces originate to disintegrate on his own 800 acres of family homestead in rural Alberta, Canada.
He studied art, and worked in mining for fourteen years from the Yukon to Antartica before starting a family and settling back home to concentrate on making art, but through his art, and a white picket fence, Peter von Tiesenahusen has held an oil company at bay by copyrighting his land as his works.
In 1990, marking his transition from heavy equipment operator to artist and his commitment to family and land, Peter built an eight foot long picket fence and painted it white. Each year since, as a life marker, he has added another eight feet to the fence. It goes nowhere, it is a straight line made of two by fours, but it is a lifeline which has defeated an oil line. Right in the middle of Alberta's oil country five hundred miles northwest of Calgary, next to one of Alberta's largest gas plants and bounded by a lake on one side and the Alaska Highway on another, with giant tar sand pits almost within a stone's throw, the von Tiesenhausen's farm, which was cleared as a homesteader by his father, worked by his brother, and was Peter's yard since he was six years old, is on a natural gas hot spot known as the "deep basin" in Demmit, northwest of Grande Prairie, on which rich geological formations were discovered in the mid 1970s.
By the early 1990s there was "aggressive" interest by oil companies in energy resources. Land negotiators and executives from the natural gas consortium Alliance Pipeline began calling to discuss laying a pipe to carry (toxic) gas through his property ….to Chicago. The company first tried to lease the land, then threatened to take it by eminent domain when the artist wouldn't sell.
"Eminent domain" from the Latin 'dominium eminent' or 'supreme lordship' is a term coined in 1625 known as "compulsory purchase" in parts of Europe. Under Canadian law, the state owns the land beneath a property at the depth of six inches….the depth of a plough share. Also under Canadian law, an artist has copyright of their own creations for up to 50 years after their death. Copyright is maintained unless the work is sold. Inspired by the comments of a legal friend, Peter began consultations to see if it would be possible to copyright the property and that was the aspect of the law Peter and his wife Teresa managed, through a legal manoeuvre to enforce in 1996.
"This is not just a field or a forest," he told the 'major dudes.' Jill McDonald put it well in an 'Environ/mental' editorial in issue 5 of lithographica.arcteryx.com: "If agribusiness can copyright a seed, von Tiesenhausen figured he could copyright his acreage." "The way they put it" he told Macdonald "' was, we're coming across.' And I said, 'Well, this is not your average piece of land, this is an artwork. If you alter it you've infringed upon my moral right'. Someone has to say, ok, I declare this sacred. It came to me, maybe this land is an artwork. These things I've made are not isolated from the environment."
Peter has used the natural growth, the seasons and the harsh Canadian climate to make art on his land, weaving great 'nests' into, and made towers of, his trees. When I first met Peter in 1994 at the Banff Centre for the Arts, he told me of his Ship. It is boat made of willow twigs on the prairies, 600 miles from the sea. The Ship, and the land, and the scrub is allowed to be; to grow and to weather and to disintegrate. So too the picket fence. Since Peter and his family and I became friends, his two sons have grown, and we have weathered, and will, one day, disintegrate.
His wife Teresa grows vegetables for food, flowers for beauty, in a plot near their house. This is his life, their life, in creation, sustenance and in art. He told me about his German ancestors and his family who lost ownership of their land during the Russian Revolution and at the start of World War II, after 700 years in Estonia, were given two weeks to vacate under a "non-aggression" pact between Hitler and Stalin. Peter's portfolio includes a heartbreaking work on the family's forced emigration, he still speaks German and is deeply tied to both to Estonia and to the Canadian prairie which has fostered three generations of von Tiesenhausens.
Originally, the oil company which wanted to build their pipeline through Peter von Tiesenhausen's land offered to remunerate the family to the tune of CDN$200 per annum for lost crops. Peter is a top tier artist, whose works demand and command high prices. The copyright of the land increased that value to something in the region of CDN$600,000. Peter was tired of 'the suits' calling out to his property every few weeks, trying to make deals, taking him away from his studio. It was not fair, he said, that they should be paid while they haggled, whereas he lost studio time and equilibrium through their uninvited visits. Using terms accepted in their own business, he stipulated that any time they, or any other bic company wanted him to meet with them, an appointment would have to be made, and it would cost them $500 an hour.
In a 'Vice Canada' Q+A piece in 2014, Stephen Keefe asked Peter how the oil negotiators responded: "They came back and offered me a huge amount of money, after talking with their lawyers, I imagine." (Around ten times what they were offering other landowners in the area) "I told them it's never been about money. When you refuse it, they don't know what to do. They actually have no idea what to do next. What was interesting was seeing how much money they offered, and seeing my values measured in some degree gave me a huge amount of confidence and I started selling artwork. My sales started to go like crazy and within a short period of time I made the amount they offered legitimately through the sale of my work." The oil company went back to their drawing board, and re-routed the pipeline.
That interview was two years ago, before the Dakota Access Pipeline protests in the US, before Standing Rock. Keefe asked Peter if he thought there was hope for others involved in battles over pipeline development in Canada: "Oh man, I'm telling you there's never been more hope. There's never been more hope in my existence because there's a consciousness arising. There's people all over the place demonstrating, the Occupy movements… They might not know what to do, I mean they're directionless quite often, but shit is hitting the fan. Stuff is gonna change. It has to. Because we won't survive if we don't. So I have to believe that it's possible because I have kids. And yes, I'm gonna see the restrictions that we have as possibilities. What you can do is see everything as an opportunity, everything as a potential raw material, whether it's people, politics, or a situation."
"I really just want to make art. I don't want to fight my whole life. I'm all about having fun. I just want to have a good time, but at the same time within that, you can change the world, well maybe not the world, but you can have some influence. It's not all bleak, there is change coming."
Dear Peter, for the sake of Standing Rock, the sake of the world, I hope you are right.
In the spring of 2016 the US Environmental Protection Agency, the Department of the Interior and the Advisory Council on Historic Preservation asked the Army Corps of Engineers to conduct a formal Environmental Impact Assessment of the Dakota Access Pipeline and issue an Environmental Impact Statement. In July, however, the Army Corps of Engineers approved the water crossing permits for the Dakota Access Pipeline under a "fast track" option, and construction of the disputed section of pipeline continued. The Standing Rock Sioux Tribe then filed suit against the Army Corps of Engineers, accusing the agency of violating the National Historic Preservation Act and other laws.
On November 14, 2016 the Army Corps of Engineers stated: "construction on or under Corps land bordering Lake Oahe cannot occur because the Army has not made a final decision on whether to grant an easement". The Engineers Corps said in a press release that they needed more time to study the impact of the proposed pipeline: "The Army has determined that additional discussion and analysis are warranted in light of the history of the Great Sioux Nation's dispossessions of lands, the importance of Lake Oahe to the Tribe, our government-to-government relationship, and the statute governing easements through government property."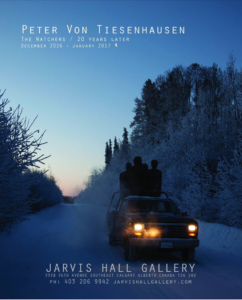 When in Banff in 1994 I took off from the Centre and went to Iqualuit on Baffin Island for the Easer weekend. When I returned to the Leighton Studios, Peter and our fellow artists were astounded. It neither occurred to them, nor did they think it even possible, to go to the High Arctic on a 'wee visit'. One novelist subsequently wrote a book with a North West Territories setting, and in 1997 Peter loaded 5 eight foot tall sculpted and charred wood figures (Peter likes chopping and burning things) called "The Watchers" into the back of his pickup truck and, over the next 5 years, drove with them – including a stint across the North West Passage on a Coast Guard icebreaker – for 30,000 kms across Canada, the route determined by lecture and commission invitations.
(The "Watchers" did just that, becoming iconic symbols of humankind's perception of the environment and relationship with the land, watching, – maybe desiring enough to kill – and watching over) but I have driven in von Tiesenhausen pickups, and on that experience, cannot vouch for how much their driver saw: his windshield glass is crackleware, deeply pitted, scored and marked by stones and ice and dead bugs, in typical rural Canadian style! A 20th anniversary exhibition of The Watchers – which Peter calls "five charred guys in a truck" – is currently running at Jarvis Hall Gallery in Calgary (until January 2017.)
Peter von Tiesenhausen (http://www.tiesenhausen.net) is also currently showing (until January 14th 2017) as part of a Group Exhibition at the AHVA Gallery, Audain Art Centre, Vancouver. gallery.ahva.ubc.ca
p.s. Though not selling out for any price was one of the conditions on which Peter von Tiesenhausen got high level support for his cause, he did eventually take money from an oil executive, who having stated that he didn't even particularly like his work, still commissioned and paid over four figures for a mixed-media drawing using as pigment, earth from von Tiesenhausen's copyrighted land.
pps: Sorry there is no pic of Peter's fence. I've tried…but in New Zealand and Word Press acting up and my personal reference library is far, far away….will try to remedy asap……