A Year in Brocante 7: My Kitchen Garden
---
Yesterday morning at nine o'clock I met Himself in the hall, somnambulant to breakfast in white piqué honeycomb cotton.  "You've heard of golf widows….well, I'm a brocante widower" he grumbled. "Bye" ses I, and I out the door to Duingt, the next village down the road along the lake.
With the 36km cycle path and the mountains behind it, Duingt has a chateau, a beach and the Stand Up Paddle Board centre – where last year I bought my board – in front, and along the street, a great bakery where you can even get croissants on Christmas Day, and as the hamlet's centerpiece, a church.  At one side of the church is the Mayor's bureau and the post office, at the other side a big car park where every June is held one of our best local Vide Greniers, the French equivalent to Yard Sales.
Yesterday morning, even at nine o'clock, the place was – as we say in Cork – 'jointed.'  There was coffee and local bread and cakes to start the day and "Savoie Libre" t-shirts, later – say elevenish – there would be sausages, rolls and frites. Children were already playing with new-found toys on the ground beside the stalls, the Muslim women were out in force buying babies' clothing, summer tourists were buying light-house be-decked "Souvenir of St Malo" plaques and pictures and everyone was in powerful good humour.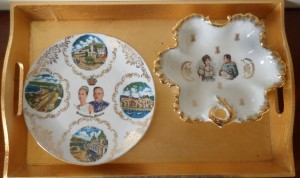 I bought a wooden tongs for my friend Pam who last week, coveting mine, expressed an interest in acquiring one to do something disgusting which I can't remember, and a gold rimmed porcelain platter featuring Napoleon and Josephine, as company for my gold rimmed plate featuring Prince Ranier and Princess Grace.
A man selling assorted treasures – well, maybe junk – paid me the best compliment I've ever had at a Brocante (and flirting plays a huge role in this occupation.) "Vous etes une artiste?" he asked, noting my excitement at his collection of aluminium beaters from huge industrial cake mixers after I had assured him I liked cake, but not that much.   This exchange was made just before the bells of the church began to peal out an anthem, with such a peremptory, ceremonial note of praise that it silenced the haggling and the banter for a good three minutes.
Yesterday, of course, was the feast of Corpus Christi, celebrating, in the Catholic tradition, the Real Presence in the Eucharist. As I left the sale, weighted down with dough mixers, a procession, with the gold monstrance carrying the Blessed Sacrament held aloft under an embroidered canopy, proceeded by little girls scattering rose petals from baskets, was crossing the road from a temporary altar where Mass had been celebrated at the lake side, to Benediction in the church.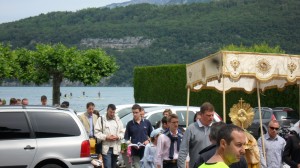 It was a small procession. In France, division of church and state is enshrined in law; the Vide Grenier carried on without interruption, the SUP boarders continued paddling on the lake, the three small boys sitting on a bench in front of the church continued playing their board game.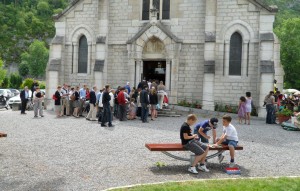 When I got home, I planted the beaters  in a plot in my potager, or vegetable garden.   The potager this year, what with all our travelling, late cold snaps, generally wet weather and slugs as big as the Ritz, is a sad little plot.  I called the tableau "My Kitchen Garden" (kitchen garden…dough and batter mixers, get it?) and posted it on Facebook.  I put up 5 'photos to be sure to be sure….for last week, after Venus transited the sun unseen behind a low grey sky, when I posted the lyrics of Joni Mitchell's song "I've looked at clouds from both sides now" the allusion (to the illusion) went mainly overlooked.
After 24 hours, none of my oh-so tuned-in family or so-called friends appear to be artamused…..not even my cousin-in-law Eamon who is a confectioner or my friend Martin, a chef with whom I am cerebrally joined at the hip.  Maybe ambition mocks my useful toil and my aluminium plants were born to blush unseen, merely wasting their sweetness on the Alpine air.