A Year in Brocante 8: The Dancer
---
Sometimes, it takes a long time for an idea to gestate into something concrete.   It is so long ago – maybe two years, maybe even three – since I found 3 lost table legs, and two hinged bases in a flea market, that I cannot remember from whence they came….but I knew immediately what they should become.
They lay around for while before I drew a little indentation on the wood and brought them over the mountains to my friend Una, a highly accomplished furniture restorer. Una shaped the indentation with her enviable – albeit frightening –  tools, stripped off the old varnish and gave the legs back with neatly turned ankles.  Then they lay around for another while, before I drew a vague outline of a ballet shoe and brought them down the road to my friend Sue, a dancer and an artist, and asked her, with her experience and her talents, to draw me some proper points.  Sue refused flatly, saying "you're well able to do it yourself."  So I brought them back home again, and when Lucy daughter came to stay, I whinged and complained about my lack of skill as a draftsperson until she outlined them for me.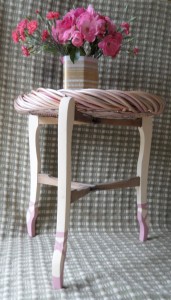 They lay around for another while, until I finally got it all together to paint the penciled shapes with Laura Ashley décor trial pots and a set of Avon Cosmetics stencil paints.  When they were done, Himself gently hammered the double set of 'retainers' into the legs and they stood, more naked than proud.   It was time to find table tops.  For the past two months I have been looking for the definitive surface…..and because of aforementioned lack of drafting skills, always get the dimensions wrong and have already purchased several circular baskets and a mirror, none of which properly fit.   However, the motto of the Irish is "ah sure, it'll do" (either preceeded, or followed by, "no, no, not at all, I'm grand") so my two-tier dancing table is not yet perfect, but for the moment, it'll do, for it reminds me of its inspiration, Kate and Anna McGarrigle and their "Dancer with Bruised Knees."   In the end, I will probably get someone to cut me two circular MDF surfaces, which just goes to show that it takes an entire village to rear a two tier three-legged-dancer occasional table.