A Year in Brocante 9: Fornasetti Coasters
---
When our children were small we parents swapped around clothes and toys and paraphernalia.  I cannot remember how many of the group's babies were wheeled out in a red pram (but no doubt Martin can! [Naoise, Catriona, Lucy, Maddy…….?]) but the most popular of all was a little doll's pram moulded in pink plastic lettinon 'basketweave' with a metal handle and 3 wheels, over which the children squabbled for a go. (It did not lose its appeal, even after it got melted in the conflagration when my mother's house burned down.)
Another coveted toy was from a different group; it was a doll's stroller with a seat like that of a deckchair, belonging to Aoife Collins. Before I gave it back, I mended a tear in the fabric  with a piece I had in my stash. Because I liked it so much and was kinda loath to part with it, I remember the design to this day, a  face on the sun.  It was, of course, an original piece of Fonasetti textile which is today available on-line for $154 a metre. Ah well. (I also remember mending the stuff bag of The Daughter's sleeping bag with navy blue, red logo-ed Yves St Laurent lining fabric….as one does.)
So that is how long Fornasetti images have been in my consciousness. On Saturday in Annecy, I came across a circular cardboard box in which was a set of china coasters.  Just as one automatically snaps open one's napkin on one's lap on sitting down to a meal, in other people's houses or in restaurants, I automatically reach for a plate and turn it upside down to read the maker. I am oblivious of, immune to and somewhat perplexed by the amusement which this action inevitably ivokes amongst fellow diners.  On Saturday, in the same action, I turned over one of the coaster, and below a laurel wreath encosing a hand holding a paintbrush, was the back stamp "Fornasetti Milano".
The coasters are 4inches in diameter, with a gold rim, and a black and white design of mythological figures – Centaur, Satyr, Minoraur, Mermaid…Pan and Cupid and their ilk, hybrid zoomorph/anthropomorphic with scaley tails, wings, claws and hooves, flowing hair, pert-busted or of muscular torso. The complete set of 8 coasters in their original box from Florence, was €2. (The pic is from http://bit.ly/MW4MHL )
"So I dressed with remaining ceramics, furniture and objects; so I placed a message in each, a small story, at times ironic and obviously wordless, but audible to those who believe in poetry."(Piero Fornasetti.)  One of the most original and prolific creative talents of the twentieth century, Piero Fornasetti was born in Italy in 1913. He was painter, sculptor, interior decorator and engraver. He attended the Brera Art Academy in Milan from 1930-32 when he was expelled for insubordination. He went into exile in Switzerland from 1943-46 returning to Milan after WWII. Working predominantly in black and white, with a style reminiscent of Greek and Roman architecture – by which he was heavily influenced – and with "a visual vocabulary that is instantly recognisable and unceasingly engaging" he created more than 11,000 items, many featuring the face of a woman, the operatic soprano Lina Cavalieri, or the sun and time as motifs.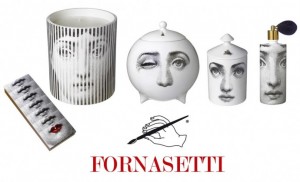 Fornasetti's muse, Lina Cavalieri made her operatic debut in Lisbon in 1900 and starred in Paris opposite Enrico Caruso in "Fedora" in 1905, taking the production to New York in 1906 where she remained with the Metropolitan Opera for 2 years and starred in Oscar Hammerstein's Manhattan Opera Company in 1909-10. Renowned for her great beauty and hourglass figure, Lina Cavalieri was one of the most photographed women of her time. Her many romances as well as her acting and singing abilities made headlines. She returned to Europe before WWI retiring from the stage at age 40 in 1914, to write a book on beauty and become a beauty columnist for a women's magazine, where Fornasetti first saw her picture. "What inspired me to create more than 500 variations on the face of a woman? I don't know. I began to make them and I never stopped." There were 350 "Tema e Variazioni" (theme and variation) versions of Lina Cavalieri's physiognomy in his plate series alone.
Having made 4 silent films in the United States, she returned to Italy with her fourth husband and worked during WWII as a volunteer nurse. Lina Cavalieri was killed in February 1944 at her home in the countryside near Florence. The servants ran to an air-raid shelter in the grounds on hearing an American plane approaching, but Cavalieri and her husband delayed, collecting her jewels from the house and were killed en route. All those already inside the shelter survived.
Piero Fornasetti created a variety of objects both decorative and functional, designing in all, more than 11,000 products. Today it is most common to see Fornasetti's style in décor; furniture such as tables, chairs and lamps, textiles and fashion accessories such as scarves and ties. He died in 1988 but the Fornasetti home and workshop are still extant in Milan, where his son, Barnaba Fornasetti, continues to design in his father's name.
In 1955, Gina Lollobrigida played Cavalieri in the film "The World's Most Beautiful Woman" and her biography, "Lina Cavalieri:The Life of Opera's Greatest Beauty, 1874–1944" by Paul Fryer and Olga Usova, was published in 2004.
The coasters may be worth around $500…..but no matter, I got all this fun for €2!