Alexander Cockburn and His Family
---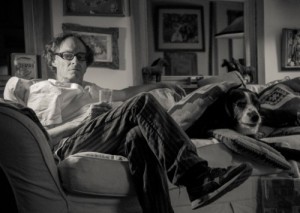 Alexander Claud Cockburn died on Friday aged 71 in Bad Salzhausen in Germany, where he was being treated for cancer.  He was, like his two brothers, Patrick and Andrew, and his father Claud before him, a journalist and writer. He grew up in Ireland, worked in London for the New Statesman and Times Literary Supplement but lived most of his life in the United States, of which he was granted citizenship in 2009 (despite the fact that one of his ancestors, English Admiral Sir George Cockburn, had helped in the burning of the White House in 1814.)
Radical, controversial and an apologetic leftist (also a family trait; at one time, his father Claud Cockburn was 84 on the list of the 250 Most Wanted Men in the world) he had a wide range of knowledge and interests. He wrote columns on politics and news media for the Village Voice in New York and for publications as disparate as the magazine Chronicles ( published by the Rockford Institute), The Nation and The Wall Street Journal, often castigating the American liberal establishment – including President Obama – when he felt they were being hypocritical, not progressive enough or not strong enough in upholding their convictions. He sometimes took strange stances for a leftie-liberal, being anti abortion and skeptical of the claims that global warming was induced by man, yet wrote a book on the destruction of the Amazon Rain Forest. One of his best-known books "Corruptions of Empire" (1988) dealt with Regan's America.  In 1996 he founded and co-edited the political web based newsletter CounterPunch.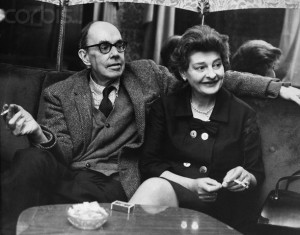 Alexander Cockburn was a graduate of Oxford.  His mother wrote  "All authors will tell you that what you need above all in the literary world is a 'name'. Claud (his father) had an internationally known name all right – in fact two. One was Frank Pitcairn, the sinister agent of the Comintern and foreign editor of the Communist Daily Worker and the other was Claud Cockburn the extreme left-wing and allegedly scurrilous editor and owner of The Week. Publishers fled in terror from association with such dangerous and subversive characters.  At the age of 40 Claud had to start his literary career all over again like an undergraduate just down from university."  (He wrote "Beat the Devil" under the name of James Helvic.  It was later made into a film starring Humphrey Bogart, Jennifer Jones and Gina Lolobrigida.)  "……Gradually Claud built up a reputation as a non-political writer. His first autobiography 'In Time of Trouble' was a Book Society Choice and a great success.   He was writing for more and more newspapers and magazines, which was just as well as Alexander was being expensively educated."
Claud Cockburn dictated a humorous column for the Irish Times to his wife two days before his death in St Finbarre's Hospital in Cork in l981. Alexander Cockburn's last article for The Nation was published on July 11.
In to-day's New York Times, the Nation's editor and publisher is quoted as saying that "it was an honor, in many ways, to join the growing list of people Alexander would attack with his pen"  Not me.  In his collection of essays "The Golden Age Is in Us: Journeys and Encounters, 1987-1994" (Verso, l996) he wrote, after the death of his mother a few days earlier: "The papers have obituaries. A good one in the Cork Examiner, also Richard Ingrams in the Independent…….."  Alexander Cockburn then re-produced almost the entire article I wrote for the Examiner in October 1989 (he left out only the two paragraphs on the burial and family attendance at the funeral service) http://bit.ly/PwhqQf
I met him, but did not know Alexander Cockburn, but I knew his mother, and she too, had strong views, huge talents and was controversial. The (Protestant) Bishop of Cork suspended her christening in l914 and went on strike, threatening to walk out of the country church and go back to the city if her Arbuthnot parents insisted on calling her the names they had chosen: "Kawara Finnbaragh Evangeline."  In raging whispers parents and Bishop finally agreed on "Patricia Evangeline Anne." (She was born on St Patrick's Day)
My Examiner article reproduced by Alexander Cockburn is entitled "A Fantastically Interesting Life"….and she had.  Patricia Cockburn, beautiful, rich, grew up in Myrtle Grove, the Youghal home previously owned by Sir Walter Raleigh when he was Governor of Ireland in 1588 and possibly where Spenser wrote part of the "Faerie Queen." She kept horses, came out stylishly as a debutante at Buckingham Palace in 1931 with a party of champagne, lobster and caviar (this during the Depression) for 500 at her Grosvenor Place London home.  At 18 she married Arthur Byron, an underwriter at Lloyd's.  Bored, she travelled for the Royal Geographical Society, researching, listing and mapping the aboriginal tribes and languages of remote parts of Africa, Asia, the South Sea Islands and Australasia and later lecturing on her travels. She rode on horseback from Calgary to Banff, and driving from San Francisco towards Mexico, dined en route with Charlie Chaplin. Her two year old son Darrell, born in l936, died of blood poisoning after getting a scratch on his nose in her family's garden in Youghal. Depressed, she left for a remote part of the former Czechoslovakia to write for the Evening Standard. She was only 24, World War II was about to begin, her son was dead and her marriage ended.  Her husband joined the army, she -"passionately anti-Nazi"- joined the Air-Raid Precautions organization.  In 1939, at "a very grand party" she met Claud and when she announced that they were getting married, her father replied "Don't you realize Patricia, that if you go ahead with this mad plan, you will never be allowed into the Royal Enclosure at Ascot again?" and cut off her allowance.
Alexander, the first of their three sons was born "punctually and easily" in Scotland in 1941 where his mother was staying with a friend for health, safety and nourishment (grouse and salmon every day; there was nothing else.) Mother and baby returned to London nine days later.  Food was scarce, there was rationing and Alexander developed glandular fever. "…..When Claud returned from the founding of the United Nations with a host of hilarious stories his The Week paper was broke." The Cockburns sent Alexander to live with his grandparents in Youghal and left for the Balkans on assignment for The Worker.  Claud had one pair of shoes, which were stolen son their first night in Belgrade while the couple slept. Later, when his mother collected Alexander, he was "pleased to see me, but not pleased at the thought of going back to London." He had had a wonderful time, complaining only when faced with eggs in their natural state. As a war baby he had only known powdered eggs.
The Cockburns returned to live in Youghal in 1947. At one time in the 1950s, almost penniless, three of the family of five were ill with either TB or polio. Patrick was the worst affected with polio, and was told he would never walk again – but he threw away his stick when working in Northern Ireland for the Financial Times as it might have been construed as a weapon.
Patricia bought ponies from the Travellers (known at the time as 'Tinkers') bred, broke and trained hunters and designed gardens.  The family were often rescued by Patricia's posh friends. Always interested in molluscs, when depressed, she would walk the beach at Youghal collecting shells. She drove for miles to find rare specimens and collected the first complete set of Irish shells. One night, staying in the Leixlip Castle home of Desmond Guinness and unable to sleep, she found an art folio of 18th century shell pictures in the library. Inspired by the folio, she turned to making shell pictures as thank-you gifts for friends. The Founder and President of the Irish Georgian Society, Desmond Guinness encouraged her work and she has been credited with its revival, sticking carefully to the 18th century rules rather than hot-glueing the gaudy souvenirs of seaside towns. The pictures, which she exhibited in Cork, London, Washington and New York are exquisite.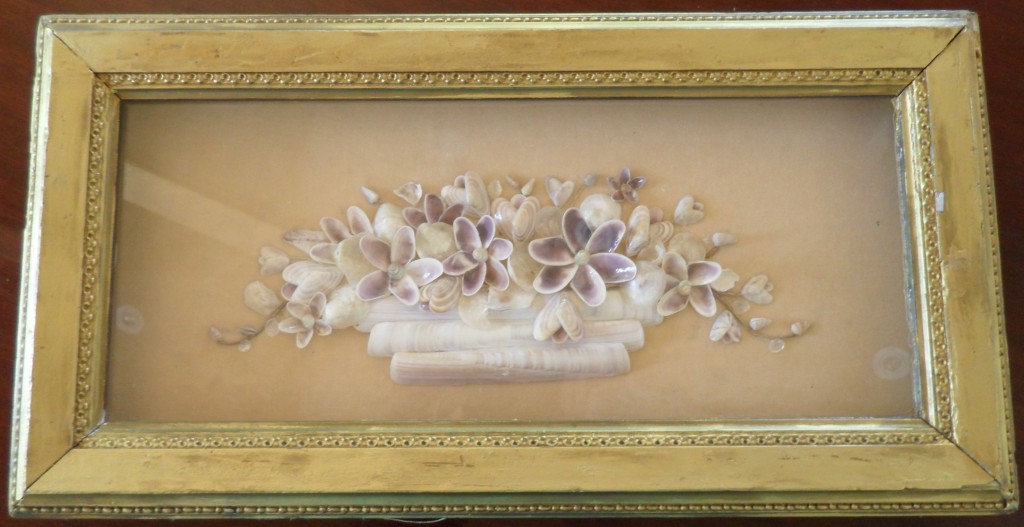 When the lease on their Youghal home ran out, with the help of their three grown sons, the Cockburns bought a house overlooking the sea in the fishing village of Ardmore, County Waterford, eight miles from Youghal, where Patricia lived until she died. We first met when I interviewed her for a television piece in 1985 and we got on famously.  I will always remember visiting the cottage, with its comfortable furnishings, her needlework  and its "Family Bookcase" of tomes written only by members of the immediate and wider family…in which are many prolific authors. I am very glad I bought one of Patricia Cockburn's shell pictures, which is now far from Ardmore bay, under the sun of the French Alps. She was a friend and neighbour of the writer – and fellow 'HorseProtestant' Molly Keane. It was a competitive friendship.  "I nearly killed Molly Keane the other day" she told me….but I have forgotten whether through accident or design (and she didn't succeed. In the end, Molly Keane won by outliving her by 7 years.)
There were many autobiographies in the 'Family Bookcase' and one of the very best is by the Matriarch herseself, Patricia Evangaline Anne Cockburn, third wife of the more famous Claud.  It is called "Figure of Eight"(Chatto and Windus 1985) read it if you think you are living in interesting times. Read it for history, read it for pleasure.
In April l989, the poet Sean Dunne (who described Alexander's style as having "the same wit and bee-sting sharpness that distinguished his father's writing") wrote in the Cork Examiner:  "……As the tide turned in Ardmore and I started to walk back towards the road, I thought of how journalists like him (Claud Cockburn) are the ones to think about when people start complaining about the media. Often, what is really meant is that journalists are not presenting the point of view most useful to the interests of those who make the criticism."
The same could be said of his son, Alexander. Ar dheis Dé – or whatever he wanted himself – go raibh a h-anam.