Berlin, A Quiet Saturday
---
In Berlin there are so many bloggers, so many artists, so many little photographers (with and without blue hair) that everything is constantly documented.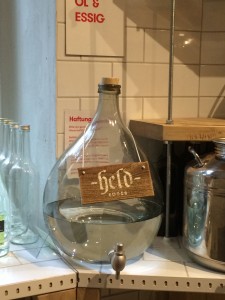 According to intel from Tim (Strangely Strange) Booth, a supermarket had recently opened in Berlin called "Original Unverpakt" (Original Unpackaged) where all the goods were open, nothing was sold in tins, packages or containers. One brought one's own bags, jars and boxes and fed the items – from pasta to soap to shampoo to vegetables – into those re-cyclables and thus transported them home.
The address of the business – which was started last year by two women, using crowd funding methods to get it underway – is close enough to us, so it being a cold slow January Saturday we took a trip into the Turkish/trendy area of Kreuzberg to investigate.   We had also read about a well established 'hummusaria' close by in Neukölln called "Akroum Snack" and set out to try both to-day. "Akroun Snack" (Sonnenallee 45, 12045 Neukolln) is a tiny place, but it's the real deal.
Going out I weighed myself down with bags and containers to shop in Original Unverpakt, but saw nothing I wanted. It is a small shop, prices appear high and I was sorry for the mustard cress seedlings, wilting (in their plastic container.) It was busy however; people were buying the little cotton bags with the 'OV' logo to bring home little bits of little things, filling bottles and jars with stuff from the dispensers on the walls. They looked very contented and very earnest, supporting local, eating healthy, saving the planet. A young girl in high platform shoes with long blue/green hair the colour of the sea, was earnestly, absorbed, self-consciously taking photographs with a fat camera.
We bought nothing at 'Original Unverpakt' but in the bookshop next door I found "Journey Home" by Dermot Bolger (a family friend) so that constituted my contribution to buying local, thinking global (or maybe, in this case, visa versa?)
At lunch time on a biting cold, wet drab grey Monday last week, we were in a lovely little Hungarian restaurant "Szimpla Kaffeehaus Budapest" (Gartnerstrasse 15, on the corner of Boxhagenerplatz, 10245 Friedrichshain) and a lithe young girl was dipping and arching to get the best shots of the upscaled downmarket furnishings, the bar made of old doors, the mismatched chairs and sofas, the look which Dublin establishments are working their Irish butts off to achieve on the city streets. "Szimpla" has wi-fi, big bowls of minestrone soup which would set you up for the day, chunks of onion tart, fulfilling milschkaffees….but salad a wee bit tired and plain sliced white bread in lieu of rolls.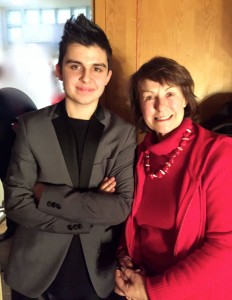 At the 'A TRANE' Jazz Club, at a gig by Hungarian Gypsy/Slovak/Limerick boy Andreas Varady (and his Daddy and 'little brudder') on Wednesday night, 'phones were held up right through the performance to capture every riff and quiff. There is not a stone, a change of light, broken pavement, important statue, gilded angel, dead stone horse, gargoyle, tower, bridge, cloud or reflection in Berlin which has not been photographed from every angle.
At Akroum Snack we had lunch; taking our cue from the 'Stil in Berlin' blog, we had small freshly made Middle Eastern pizzas which were crispier than the pitta bread (which came with a bowl of cut fresh tomatoes and onion with olives as part of the deal )- and thus excellent for dipping – bowls of Foul, which is like hummus and Fatteh, chickpeas with yogurt, fried bread and toasted almonds, which had me groaning in ecstasy. Most of the tables (about 25 covers) were full with men in black with dark stubbled chins, talking earnestly and eating fast – with the odd wrist swing of prayer beads inbetween the dipping – or young people looking completely at home. The glasses of unsweetened black tea, to which one helps oneself from the samovar in the front of the shop, are free with the meal.
Akroum Snack is painted brown and dusky, has plastic flowers in ceramic pots, black tables and chairs which are cleaned assiduously after each customer. Besides ourselves, there were also 2 other tables of people speaking English. I asked one couple how they had heard of the restaurant; had they read about it online? I got a frosty reply: "we have been coming here for years, since we came to live in Berlin" and where were they from? "Russia" (figures) "what part of Russia?" "St Petersburg." "Ah" ses I "how gorgeous, I haven't been there since 1987"……which elicited the first smile from my newhardlybestfriends. The staff however, were much more outgoing, speaking English, wanting to know where we were from, hoping we'd come back. We will. Please don't change a thing….
But sure, then you'd need something sweet, and near the "OU" we happened upon a serious 'kuchewerkstatt' called "bravo BRAVKO" (Lausitzer Strasse 47, 10999 Berlin)   White, white white, serious industrial display case, a smell to drive one crazy with sugar lust, young engaging staff, and the cakes, Oh My Interdenominational God……. Apfel-Nuss-Vanillecreme, Karotte-Vanillecreme, Pecannuss-Mokka, New York Cheesecake Kirsch-weisse Schokolade, Schokomousse-Himbeere, Franzosische-Mandel-Apfel……. Even if you don't speak German, bet you can salivate to those!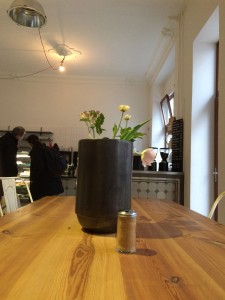 There was a steady stream of people in to buy and take away slices of cake and two couples of uber trendy men at the next table, but nobody taking photographs, nobody documenting this sweet interlude in Berlin town. So I did.
Then we came home an I did the ironing.