Cherries, Berries and Roger Medearis' Granny
---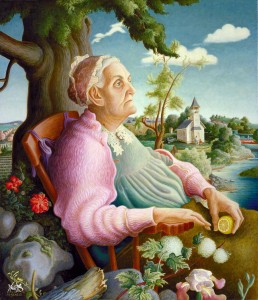 This is not me, it is Roger Medearis' Granny, but this is how I see myself, ageing amongst fruit and flowers, beside field and water in the sound of church bells.  Roger Medearis called his painting "Godly Susan" because his Granny was.  (I am not the latter, and if you want to see how I really look in contemplation of fruit, rather than in my mind's eye, go to http://swimtwobirds.com/2011/06/cherry-season/ ……but come back here again soon, because I want to tell you more about Susan…….
It is cherry time, but this year we do not have our own crop, as the Saints de Glace did their thing in May, shriveling the blossom just before it set. The raspberry canes (originally from Cork) are late because we cut them back too hard last year and transplanted them and they're only now settling back in and – literally – putting down roots. I forget that France – even here in the Alps – has a warmer climate than Ireland, and raspberries don't thrive in too much sun.   One of the best places for raspberry growing in the UK is in Scotland.
We do, however, have strawberries, lots of them, and, tucked behind pines and hydrangeas and ensnared in honeysuckle, I keep finding blackcurrant bushes laden down with fruit.  I did not plant the blackcurrant bushes, they are presents from the birds….but I wish they'd consulted with me first.
When Adam and Eve were in the Garden of Eden, I wonder if they had a way of topping and tailing blackcurrants, because it couldn't have been Paradise if they'd had to do this tedious job themselves. Maybe in the Garden of Eden blackcurrants didn't have tops (I can deal with the stems if my nails aren't broken) but then our African ancestors went and fecking ate a fecking apple, and suddenly, from then on we were doomed to berries with fiddley bits.  Maybe there is a newfangled gadget for getting the tiny dusty end piece off, but if so, I ain't heard of it.  I have a strawberry pincher and a Cherry Chomper (see http://swimtwobirds.com/2011/06/cherry-season/ ) but with bowls and baskets of blackcurrants to deal with, the only good method of maintaining one's sanity is to Skype someone from a laptop on the work table.
Yesterday I made cherry and apricot jams (including boiling, cracking and potting the apricot kernels, which are delicious – like almonds – albeit with a reputation for being poisonous, arsenic you know) and I prepared blackcurrants and more cherries for freezing to pot later in the year. This method has the advantage of halving the work – and washing up – on each occasion; jars don't crowd the shelves and the jam is fresher when it's eventually boiled up….though the cherries lose their ruddy glow.  The chore is also the simpler for handy tools: the jam funnel which was a present from Teresina, sister, Cherry Chomper (Lucy, daughter) soft spatulas(Martin, friend) and cellophane jar tops and sticky labels (Kathryn, friend.)
The cooks to whom I constantly refer are Maura Laverty, the 3 generations of Allen women, Diana Henry, Marnell/Martin/Murnaghan+ Breathnach (who wrote "All in the Cooking") Elizabeth David (a modern sense of traditional Mediterranean dishes) occasionally Theodora Fitzgibbon and Delia Smith who despite her penchant for football and commercial shortcuts is eminently sensible, particularly on seasonal fare. But those I must have with me while cooking are Martin Dwyer and David Leibowitz, open on my countertop laptop.
David Leibowitz's first rule of making cherry jam is to "wear something red."  I would add a second rule:  if making jam with your laptop open on the kitchen counter, ensure that it is not between the saucepan and the jampots; the keypad can turn quite scarlet, sweet and sticky if the ladle drips as ladles do and that's not something husbands tend to appreciate. (Ever licked a laptop? I suppose Eve said the same thing "Ever bitten an Apple Adam?" thus condemning all her children to depilation, berry preparation and hell – same difference.)
So we did the apricot jam and the cherry jam and prepared the blackcurrants and this morning, whizzbanged a sneaky mango sorbet (I'm letting the strawberries moulder for the moment) and now it is time for the tale of Roger Medearis' Granny, Godly Susan:
Roger Medearis was an American Regionalist painter who grew up on small farms in Missouri and Oklahoma and was greatly influenced by the landscape and culture of the MidWest. While studying at the Kansas City Art Institute in the late 1930s he began painting a portrait of his grandmother, Susan Carns Medearis, which he completed in 1941 just before he qualified and a few months before her death, when it was sold to the National Museum of American Art.
In the late 1930s, Susan had a stroke. In his final year as a young art student, Roger wheeled her up a ramp to the sun porch of his father's church, which he used as a makeshift studio. He had his grandmother hold a lemon, whose sour taste she enjoyed, in her 'good' left hand, to contrast with her paralyzed right side, and she often fell asleep while he worked, creating detailed sketches. He named the portrait "Godly Susan" because the family matriarch was the granddaughter and daughter of Baptist ministers and the mother of three more.  She had been born in the early days of the Civil War and her life spanned one of the most formative times in American history.
Roger Medearis had some success selling paintings both before and after World War II, during which he served as the U.S. Navy's chief topographic draftsman, but stopped painting when his style went out of fashion (in favour of Abstract Expressionism) and he became a successful a businessman and salesman for Container Corp of America. In l966 he was re-discovered by a Maryland art dealer, Philip Desind, who, with Medearis' second wife Betty, encouraged him to return to the studio. From 1969 when he retired, to his death in 2001, Roger Medearis produced paintings, drawings, lithographs and bronzes which are now exhibited in Washington, the Nelson-Atkins Museum of Kansas,the New York Public Library and in private collections. One of his pieces hangs next that of his teacher and mentor Thomas Hard Benton in the Huntington Library in San Marino California, where he lived with his family until his death, of cancer, aged 81.