She told Lewis: "In the commercial music world, the folk world, we sell records and concert tickets — this is the way I make a living," she said. "You go out, you make your art and hopefully people will put their money down for it. But it's getting hard. I have to be on the road so much to keep the lights on. I love being on the road and I love my band, but also need to be with my kids more and I need to be creating more."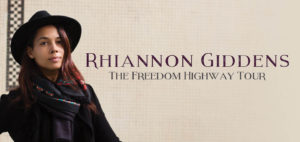 As for selling concert tickets and Rhiannon Giddens making a living, this remarkable woman, musician, mother, historian, entertainer, knitter, is currently on tour in Europe. On Saturday November 25th at 7.00 she plays the wonderful Vicar Street venue in Dublin. Desolé I am, to be currently in the wrong hemisphere, but I am warmed that such as Rhiannon Giddens inhabit this world. We need superwomen, noble fighters, genius banjo players, the gifts of second hand clothes, music, inspiration, cultural connection, joy, nurturers and knitters.
p.s. It is late at night in Australia. Pic captions and credits when the sun rises on the Yarra river.