I'd Love a Fag. A Short Tale of Friendship
---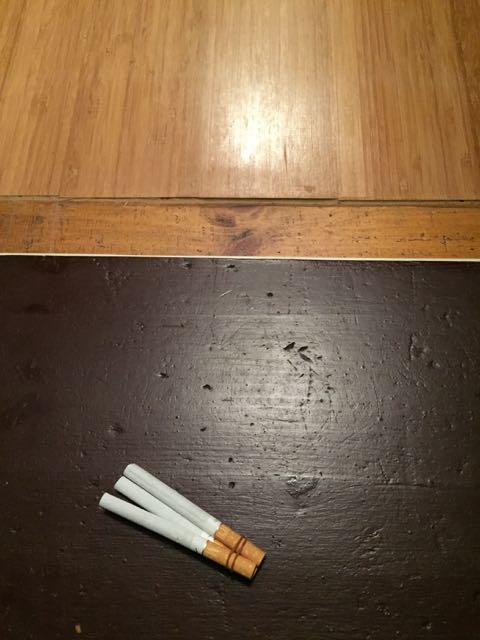 In Berlin, where many old accommodation blocks are built around courtyards, by law, a second staircase is provided for emergencies. Our apartment, on the fifth floor of a century old 'Altbau' is three sides of a square in shape. At one side is the main staircase from the street to the front door, at the other is the emergency stairs. This is accessed through the walk-in wardrobe off our bedroom. On the landing outside is another door, leading straight in to our neighbours' bedroom (the third part of the square, across the courtyard.)
When we arrived in Berlin nine years ago we discovered that our top floor neighbours were from the former East of Berlin and from……Cork. Then of course we made the connections and a strong friendship was born of the Lee and the Spree.
When we call in on each other for a drink at the end of an evening, for a Sunday brunch or if the boys get together to watch a rugby match, we text  'doorsopen' and exit and entry through eachother's bedrooms. Kate and Ciaran have adopted 3 children, so now there are 5 of them at the other side of our wardrobe. We call ourselves 'The Lion and the Witch.'  The only time in the year when they go out their front door on the top floor, descend to ground floor, cross the courtyard, repeat the journey up through our building and ring on our door bell, is on Christmas Day, all wearing their Santa's Elves crochet hats.
After a lovely weekend supper and too much sparkling wine, Himself and myself sat down to watch television as A Big Treat. "What would make this perfect" said I to myself (I durst not spake thus to Himself) "is a fag."
I texted Kate: "I'd love a fag" and immediately she replied "on the doorstep."
Now that's friendship. Not only did she – like myself, a very casual and intermittent smoker – understand exactly my (drunken) craving, humour me and share her expensive nicotine, but she didn't leave just one cigarette: being Kate, and a friend, she left three.