Love Is Not Just For February
---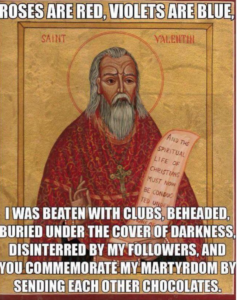 I love icons and saints and saints' stories and mark their feast days with the appropriate symbols and flowers. All except Saint Valentine. Poor Saint Valentine, he was hijacked by consumerism and the money spinners turned his celebration into a day fostering loneliness, disappointment, stress and even despair.
So on February 14th, I let it be known that I wished to ignore the feast day (though my husband lit candles and put the weekend's roses on the breakfast table for me) and between us, we bought nothing. I didn't even want to join in the fray by writing about the day. I did however, read some poems, and went back to look at what I had written about love and poetry in long-ago mid-February days. Thus I discovered something interesting……a batch of 'poetry' about love and admiration from a heady week in the Irish Times, Irish (then 'Cork') Examiner and (I think) Sunday Tribune, all of which which appeared towards the end of May, rather than in the middle of February.
On May 18th 1991 a poem called "Sisters" was published in the Irish Times. It was written by Richard Kearney, then Associate Professor of Philosophy in University College Dublin. Later, he said it had been written 'in a mood of great elation following the inauguration of Mary Robinson as President.' As I can find no copy on the interweb, I now laboriously type it all out (the things we do for love.) Some of the Sisters I knew and still know and admire also. One (Mary McAleese) went on to become the next President of Ireland. Some are now deceased, some are still creating, still fighting to solve the same Irish problems and some – especially this week in Irish politics – could do with the L O V E – so here you go: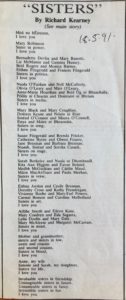 Mná na hÉireann,
I love you.

Mary Robinson
Sister in power
I love you

Bernadette Devlin and Mary Banotti
Liz McManus and Gemma Hussey,
Bríd Rogers and Monica Barnes,
Eithne FitzGerald and Frances FitzGerald
Sisters in politics,
I love you

Nuala O'Faolain and Nell McCafferty
Olivia O'Leary and Mari O'Leary,
Anne-Marie Hourihan and Bríd Óg Ní Bhuachalla,
Póilín Ní Chiarán and Doireann Ní Bhriain
Sisters in Media
I love you

Mary Black and Mary Coughlan,
Dolores Keane and Nóirín Ní Rían
Sinéad O'Connor and Maura O'Connell,
Enya and Máire Ní Bhraonáin,
Sisters in song,
I love you

Susan FitzGerald and Brenda Fricker
Catherine Byrne and Olwen Fouere,
Jane Brennan and Barbara Brennan
Niamh, Sinéad and Sorcha Cusack,
Sisters on stage,
I love you

Sarah Berkeley and Nuala NíDhomhnaill,
Rita Ann Higgins and Eavan Boland,
Medbh McGuckian and Cáitlín Maud,
Máire MacAnTsaoí and Paula Meehan,
Sisters in verse,
I love you

Eithne Jordan and Cecily Brennan
Dorothy Cross and Kathy Prendergast,
Vivienne Roche and Mary-Farl Powers
Carmel Benson and Caroline Mulholland
Sisters in art,
I love you

Ailbhe Smyth and Eileen Kane
Mary Condren and Eda Sagarra,
Lelia Doolin and Mary Daly,
Mary McAleese and Margaret McCurtain,
Sisters in mind
I love you

Mother and grandmother,
sisters and sisters in law,
aunts and cousins
and second cousins,
Sisters in blood.
I love you

Anne, my wife
Simone and Sarah, my daughters,
Sisters for life,
I love you

Invaluable sisters in friendship.
Unimaginable sisters in future.
Unnameable sisters in fancy
Irresistible sisters in fun
I love you.
The next day – love must really have been in the air – the Sunday Tribune published a poem, written by the singer Bono of U2.*(2)
In Celebration Of Dylan's 50th Birthday: Fifty reasons why I love Bob Dylan
By Bono
He is not dead
He looks his age
He sings like a swarm of bees
He is interested in the names God gave animals
He plays guitar like James Joyce
He wore hoods before anyone else
He wrote Tangled Up In Blue
He wrote Senor Senor
He is not a slave trader
He is not impressionable,
He knows that irony doesn't have to be the enemy of the soul
Blonde On Blonde beats acid by a year
He writes two songs: one for her and one for
Him
He mixes God and women up
He rhymed rolling hoop with bowl of soup
Allen Ginsburg loves him
Walt Whitman would love him now
He wrote The Ballad Of Hollis Brown
He will be in your town soon
He's very nice to me
His best songs were not written in the sixties
He is not living on the edge for us
Chickens man!
He is not pseudo-religious
He didn't die at the cross at 33
T-Bone Burnett likes him
He's Jewish
He's a good story teller
He's singing better than ever
He wears sensible shoes
Rock 'n Roll's supposed to be smart
He didn't die stupid
He smiles like he's had a good time
He wrote Every Grain Of Sand
He turned the Beatleson
Country Rock is better than jazz rock
Roy Orbison was a friend of his
He is funny
He thinks Liam Clancy is the greatest ballad singer ever
He didn't hold our version of All Along The Watchtower against us
He has a lot more than three chords and the truth
He knows some words are dangerous
He looks great in a hat
He wrote Visions Of Joanna
He wrote Idiot Wind
He wrote Brownsville Girl together with Sam Shepard
His kids turned out great they think he did
He is not Elvis
He is not Jimi Hendrix
He is not Jim Morrison
He is not dead.
The following week, on May 25th, an ode called "Brothers" in the same vein as "Sisters" appeared, sent anonymously to the Irish Times, they said….. Some of the Brothers are also deceased, some have fallen from grace, turning out to be not as wonderful as the Sisters, though Michael D Higgins is currently the much-loved President of Ireland. Some women, in powerful positions (or part of a couple) were presumably – through irony or spite – deemed 'masculine.'
Fir na hÉireann,
I love you.
Paddy Masterson,
Brother in power,
I love you.
David Norris and Michael D.,
Pádraig Flynn, Seán Doherty,
Norris again, with Sorley Boy
Mary Harney and Bobby Malloy,
Brothers in politics,
I love you.
Gay Byrne and Garry Hynes,
Kenny, Norris, Gerry Ryan,
Chris FitzSimon, Jeremy Swan
Madeleine Keane with any,
Brothers in media,
I love you.
Bob Geldof and The Edge,
Joe Dolan on Matt Talbot Bridge,
Norris once more, with
whomever you fancy,
Dickie Rock, Rocky Dick, any old
Clancy,
Brothers in song,
I love you.
Michael and Hilton, don't you see?
Maureen Potter and Jimmy O'Dea,
David Norris and Bobby Molloy
Resting ham with a Trinity boy
Brothers on stage,
I love you
McGreil, McGonagall and Jem
Casey,
Niall Fallon, Durcan, Honor
Tracey,
Norris, this time with Paul
Muldoon,
Pádraig Pearse and the Soggart Aroon,
Brothers in verse,
I love you.
Sam Stephenson, Michael Scott,
Jack B., Paul Henry, the shaggin'
lot,
Norris and bog graffitist, Kilroy
Abstract of your choice, Bobby
Molloy,
Brothers in art,
I love you.
Ronan Fanning and Fran
O'Rourke,
Male historians, County Cork
Des Fennell, D.Litt., and Mister
Norris
Chris FitzSimon (or was it
FitzMaurice?)
Brothers in mind,
I love you.
This L O V E was all fine and dandy, in a time which was not yet the silly season, when the world was an easier and a harder place. The 'male historians (of?) County Cork' is also well and good…..But what about the BROS and SISTERS OF CORK??
For seven years, in rain and shine, in sickness and in health (and never for richer) I wrote a weekly opinion/diary column for the Examiner newspaper called "Newswatch" and a week after Sisters, Brothers, Bob and Bono spoke of love, on May 25th I set about redressing the balance. For some unknown reason, the Subs on the paper gave my ode the curious title "Bogs and Sods of Cork, I Love You." Here we go: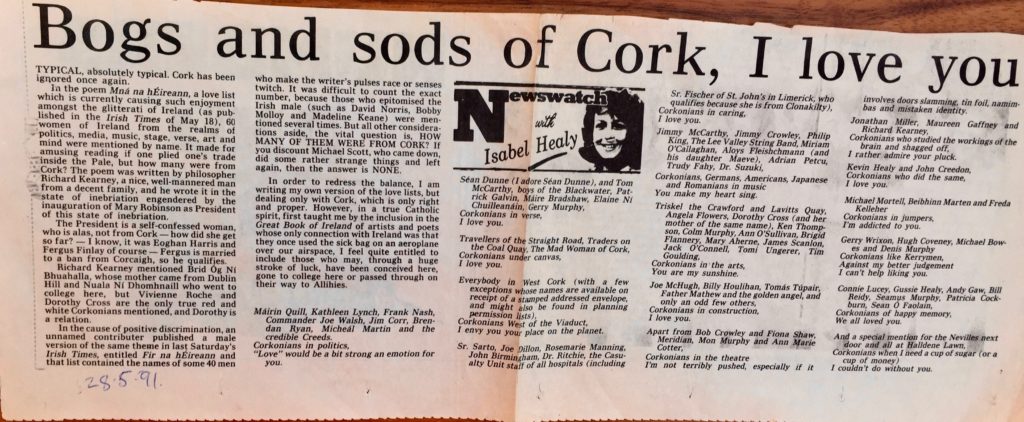 "Typical, absolutely typical. Cork has been ignored once again.
In a poem to Mná na hÉireann, a love list which is currently causing much enjoyment amongst the glitterati of Ireland (as published in the Irish Times of May 18) 60 women of Ireland, from the realms of politics, media, music, stage, verse, art and mind were mentioned by name. It makes for amusing reading if one plies one's trade inside The Pale, but how many of the 60 are from Cork? The poem was written by philosopher Richard Kearney, a nice well-mannered man from a decent family, and he wrote it in a state of joyous inebriation engendered by the inauguration of Mary Robinson as President of this State of Inebriation.
The President is a self-confessed woman who is, alas, not from Cork. How did she get so far? …I know, it was Eoghan Harris and Fergus Finlay of course….. Eoghan is from the West Side and Fergus is married to a ban from the Mid Harbour, so he qualifies.
Richard Kearney mentioned Bríd Óg Ní Bhúchalla, whose mother came from the North Side and Nuala Ní Dhomhnaill who went to university in UCC, but Vivienne Roche and Dorothy Cross are the only true red and white Corkonians mentioned, and Dorothy is the poet's cousin, so he would, wouldn't he?
In the cause of positive discrimination, an unnamed contributor published a male version on the same theme in last Saturday's Irish Times, entitled "Fir na Éireann" and that list contained the names of some 40 men who make the writer's pulses race or senses twitch. It was difficult to count the exact number, because those who epitomised the Irish male (such as David Norris, Bobby Molloy and Madeline Keane) were mentioned several times. But all other considerations aside, the vital question is HOW MANY OF THEM WERE FROM CORK? If you discount Michael Scott, who came down here, did some rather strange things on the banks of the Lee at Lavitts Quay and left again, then the answer is NONE.
In order to redress the balance, I am writing my own version of the love lists, but dealing solely with Cork, which is only right and proper. However, in a true catholic spirit, first taught me by the inclusion in the 'Great Book of Ireland' of artists and poets whose only connection with Ireland was that they once used the sick bag on an aeroplane over our airspace, I feel quite entitled to include those who may, through a huge stroke of luck, have been conceived here, been to university here or passed through on their way to Allihies.
Máirin Quilll, Kathleen Lunch, Frank Nash,
Commander Joe Walsh, Jim Corr, Brendan Ryan, Mícheal Martin
and the credible Creeds,
Corkonians in politics,
"Love" would be a bit strong an emotion for you.* (2)
Séan Dunne (I adore Séan Dunne) and Tom McCarthy,
boys of the Blackwater, Patrick Galvin, Máire Bradshaw,
Elaine Ní Chuilleanáin, Gerry Murphy,
Corkonians in verse,
I love you.
Travellers of the Straight Road, Traders on the Coal Quay,
the Mad Woman of Cork,
Corkonians under canvas,
I love you.
Everybody in West Cork (with a few exceptions
whose names are available on receipt of a stamped addressed envelope
and might also be found in planning permission lists)
Corkonians West of the Viaduct,
I envy your place on the planet.
Sr.Sarto, Joe Dillon, Rosemarie Manning,
John Birmingham, Dr Ritchie,
The Casualty Unit staff of all hospitals
(including Sr. Fischer of St John's in Limerick,
who qualifies because she is from Clonakilty)
Corkonians in caring,
I love you
Jimmy McCarthy, Jimmy Crowley, Philip King
The Lee Valley String Band, Miriam O'Callaghan,
Aloys Fleischmann (and his daughter Maeve) Adrian Petcu
Trudy Fahy, Dr Suzuki,
Corkonians, Germans, Americans, Japanese and Romanians in music
You make my heart sing.
Triskel, The Crawford and Lavitts Quay,
Angela Flowers, Dorothy Cross (and her mother of the same name)
Ken Thompson, Colm Murphy, Anne O'Suillivan, Brigid Flannery
Mary Aherne, James Scanlon, Jack O'Connell, Tomi Ungerer, Tim Goulding,
Corkonians in the arts,
You are my sunshine.
Joe McHugh, Billy Houlihan, Tomás Túpair,
Father Mathew and the Golden Angel, and only a few others,
Corkonians in construction,
I love you.
Apart from Bob Crowley and Fiona Shaw,
Meridian, Mon Murphy and Anne-Marie Cotter,
Corkonians in the theatre
I'm not terribly pushed (especially if it involves doors slamming, tinfoil,
namimbas and mistaken identity.)
Jonathan Miller, Maureen Gaffney and Richard Kearney,
Corkonians who studied the workings of the brain
and shagged off,
I rather admire your pluck.
Kevin Healy and John Creedon,
Corkonians who did the same,
I love you.
Michael Mortell, Beibhinn Marten and Freda Kelleher
Corkonians in jumpers,
I'm addicted to you.
Gerry Wrixon, Hugh Coveney*(3) Michael Bowes
and Denis Murphy
(Corkonians glic as Kerrymen)
Against my better juydgement
I can't help liking you.
Connie Lucey, Gussie Healy, Andy Gaw, Bill Reidy,
Seamus Murphy, Patrick Cockbourn, Sean O'Faolain,
Corkonians of happy memory,
We all loved you.
And a special mention for the Nevilles next door
and all at Halldene Lawn,
Corkonians when I need a cup of sugar
(or a cup of money)
I couldn't do without you."
*(1) I have transcribed this directly from the day's newspaper in my files. However, of all the Odes, it is the only one referenced on the interweb, in a page called "Expecting Rain" dated November 2008. Someone asked if anyone remembered having seen it, and the next day, a "Johnnie Ray" sent the words. However, they were slightly different to the original, and in many cases, better, as though the poem had been edited and improved over time. Who could have the nerve to do this – to improve on Bono's verse – but the author himself? Is "Johnnie Ray" of "Expecting Rain" really Paul David Hewson?
*(2) 'Love' actually is not too strong an emotion for Máirín Quill. Oh the happy memories! She brought me as her guest to Dublin Castle for the Inauguration party of President Mary Robinson, and afterwards, driving through the Dublin night, with none other than Bobby Molloy at the wheel, intoxicated with joy, the whole car joined in when I started singing "Me and Bobby Molloy."
*(3) In retrospect, Hugh Coveney was not glic. He was intelligent and honest and empathetic, and when he went, sadly and too soon, he was missed. And that is why I would have time also, for his son, Simon, currently Government Minister.
Of this list, I am still friends with more than a dozen of the people I have named – or their husbands, or daughters, wives, sisters – on social media, though I do not get to see 'em often. Others, sadly, like Sean Dunne, are gone from us and a few have fallen by the wayside. The Nevilles and all at Halldene Lawn are still amongst my greatest supporters were I to need sugar, money or L O V E
Love, Isabel xx