Lucys and the Last Spike
---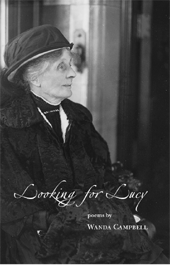 There was once a woman who was lost for 3.5 million years. When she was found in an Ethiopian desert, she was given the name Lucy and was hailed as our first upstanding female ancestor, the mother of our species. 
"Lennon swore 'Lucy in the Sky
with Diamonds' was not code
for LSD but a spark forged
in his son's star-strewn sketch
of a girl.  Because of her
skeleton AL 288-1 became known to the world as Lucy."
I have never met a Lucy I didn't like. All the Lucys I had ever come across, in life, in song, in fable and in history were strong, principled, intelligent, independent women loyal to their friends and their convictions. So whenever I see the name, I know that behind it is something, someone, who will spark a light. I saw it on a book jacket on the trestle tables of the Geneva English Library sale in April. Under a black and white photograph of a handsome woman in Edwardian dress, the book's title was "Looking for Lucy Poems by Wanda Campbell."
At midday on one February Friday, ten minutes after I had been brought into a room where a blackbird's trill could be heard through the open window and the sun shone on the tips of slim-stemmed first daffodils peeping out from their white blanket after an unusual Cork snowfall, I was told: "you have a girl" and I said "that's Lucy."
The name of the midwife who handed me the baby was Nurse Lucey. I later learned that Nurse Lucey had been a colleague of my aunt, Helen A Healy. Aunt Nell was one of two women after whom the baby got her second name, the other is my friend Helena Kennedy. A cosseted daughter in the family home up until the 1940s when she was in her mid thirties and her father died, Aunt Nell left Cobh and went to train as a nurse in England.  Subsequently, she worked for years in Africa and back in Ireland as a midwife and district nurse. Her tales of caring included stories of such characters as the Anglo-Irish aristocrat Violet Gibson who had shot Mussolini three times, twice hitting him in the nose, Agatha Christie and a pair of twin circus acrobats.  It was she who delivered  Una Bhán MacMahúna into the world. Una became infamous as a member of right wing organizations opposed to a woman's right to – well….anything – and for her rallying cry of "G'way ye wife swapping sodomites!" In a career which witnessed snakes and war, tragedy, insanity and deprivation, when every day she dealt with life and death, Aunt Nell said that the most terrifying moment of her life was as a wedding guest, during a strange episode at the marriage of Una Bhán in West Cork.
In the Eighties, she donated her body to the University College Cork Medical School, detailing all the conditions carried by her tiny frame which might be useful in students' training, including malaria and mastectomy. The Anatomy Department wrote back saying thank you very much, we're looking forward to seeing you….and Aunt Nell  got such enjoyment from the note that she carried it around in her handbag until she died.
Helena Kennedy is a barrister, expert in human rights law, civil liberties and constitutional issues. She is a Life Peer, has received honours for her work on human rights from the governments of France and Italy and has been awarded more than thirty honorary doctorates. She is an honorary Fellow of the Royal College of Paediatrics and Child Health, a Fellow of the Royal College of Psychiatry, the Royal College of Pathologists and of City and Guilds. She is a trustee of the British Museum and of the Booker Trust, for whom she administers their literary prize and is a judge on many panels for literature and contemporary art prizes, a patron of charities including Poets in the City, Safe Hands (supporting maternal and infant health in Ethiopia) the Civil Liberties Trust and the Patients Association and President of MAP (Medical Aid for Palestinians.) There are 12 million references to Helena on Google. The baby's two namesakes were – and are – strong, intelligent, independent women loyal to their friends, their principles and convictions. 'Helena' is a suitable second name for a Lucy.
Dr Wanda Campbell, a Canadian writer, academic, educator and broadcaster who lives in Nova Scotia, feels exactly as I do about Lucys and put her admiration into print. Using a variety of verse forms, found poems, sonnets and sestinas, in "Looking for Lucy" she sings of history's famous Lucys whose light shone in difficult circumstances; a saint, a suffragette, author, artist, comedienne, cartoon character, mother, muse….. and most particularly Lucy Adaline Hurd.  Lucy Adaline was 'just' a homemaker, known only in history as Mrs Sir William Van Horne, wife of the man responsible for building the railroad that joined Canada from east to west. The final section of the book uses letters and newspaper articles and obituaries to close the story of Adaline Lucy, who died aged 92. The only headline she ever made was in her death notice in the Woman's Page of the Montreal Gazette in 1929: "Widow of Railway Magnate Noted for Interest in Arts-won Prizes for Flowers."
Last month, the Canadian Museum of Civilization acquired the silver "last spike" that symbolized the 1885 completion of the Canadian Pacific Railway and the uniting of the country from sea to sea. Donated to the National History Museum by the heirs of William (and thus Adaline Lucy) Van Horne it was unveiled at the Canadian Pacific Railway Pavilion in Calgary in mid June.  In November 1885, on the completion of the railroad spanning the mountains and plains, the rivers, gorges and lakes of the vast, wide country, the ceremonial spike had been carried west by the Governor General, Lord Lansdowne who was supposed to hammer it into the track during a ceremony at Craigellachie, British Columbia, the meeting point of construction crews coming from east and west. Due to adverse weather conditions (i.e. rain) Lord Lansdowne was unable to make it to the ceremony and another man, Donald A. Smith wielded the maul to drive home the final spike, an iron nail indistinguishable from the countless others that had been pounded into place over the four years of a construction project which had cost many, many lives. Later, the Governor General had the silver spike mounted on a stone base and sent as a gift to Van Horne and the historic artifact has been held privately by the Van Horne family for the past 125 years. The donation to the museum also included correspondence between Lansdowne and Van Horne and more than one hundred personal items including paintings, books, linens, furnishings, photographs and dishes.
In these items – though still eclipsed by her husband – maybe the staunch, brave, loyal, child and orchid-rearing Lucy lives on.