Michael Guiney and his Ilk
---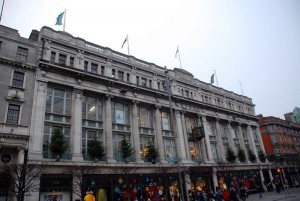 I got an awful fright in September; it was all over the Irish news that Clery's department store in Dublin was going into receivership and part of the company's holdings, Guineys on Talbot Street, was closing down.
Originally established in 1853 as "The New Palatial Mart" Clerys was one of the world's first purpose-built department stores. Clerys is an institution in Dublin and still a landmark of the main thoroughfare, O'Connell Street. 'Under Clery's clock' is such an accepted rendezvous that it has featured in song and story.  In 1886 the New Palatial Mart was taken over and the name changed to that of the owner, MJ Clery.  The current building dates from 1922, as the original – apart from the façade with its giant classical row of columns above continuous uninterrupted shop windows set in large bronze frames – was destroyed in the 1916 Easter Rising. In 1941 Clerys was bought by Denis Guiney, who died in 1967, his widow, Mary, continuing as Chairperson of the company until her death in 2004 aged 103.  The firm is still in the Guiney family, but now, the Gordon Brothers of the US are poised to take over.
Anyways, the reason I got so upset when I heard the news of Guineys closure was because I thought it was the Dublin, Cork and regional stores known as MICHAEL Guineys which were going out of business. (It's not.)  Michael Guineys is a kind of treasure trove place where – if one were so inclined – one could find Ireland Team supporters' t-shirts, outsize nylon underwear, men's work overalls and suits, Christmas decorations, lampshades, proper screw-in light bulbs – none of your CFL rubbish – raincoats and dark Asian furniture. The store claims: "No matter what the occasion, Michael Guineys can help. Do you need a Boys five-piece Suit or Occasion wear for a Christening or Communion? Maybe it's a Moses Basket or Duvet Set you're looking for as a present for new parents?"  Their claim is absolutely true, and then some.  Me, I go for the furnishing fabrics, the curtain poles, hooks, tapes and black-out lining, pure cotton bed linens, shower curtains by Martha Stewart, towels by LL Bean, Waterford glass made in Bohemia, pub counter slop mats with legends such as "Céol"¹ "Craic"² and "CORK"³ and the occasional canoe.
Many years ago I bought my very first canoe in Michael Guineys – a yellow inflatable 2 seater – for something like £25.99, and was so charmed I named it "The Michael G".  I have got so many wonderful things in Michael Guineys that wherever I go in the world, on finding an Aladdin's Cave of fabrics or furnishing over-runs, if the store lives up to my high standards of off-the-wall never-know-what-you'll-find bargains I name it after the original.  In Madrid I have a Miguel Guiney's, take the sterile, soulless, glitzy towers out of it and Kuala Lumpur is one vast Mohammad Guiney's, in Sydney there is Victoria Guineys (aka "Mr Tablecloth") but the best of all is in Singapore…Mustafa Guineys.
About a decade ago I discovered Mustafa's, a vast 24 hour-a-day complex which includes an entire floor of gold jewellery. There is everything on the six floors, from currency exchange, flat screen tvs, luggage, spices and herbal medicines, hair bobbles, Indian and Muslim traditional clothing, plastic table ware and baroque gold plastic tissue holders, souvenir, prayer rugs and velour depictions of the Last Supper, to embroidered saree fabrics that would knock the sight out of your eyes.  In 2000 I got pure cotton embroidered duvet covers and pillowcases, five years ago hand-made wool needlepoint cushions, and over the last decade, saree fabric to make summer curtains for every window in our first house in France, with enough left over to clothe the nieces and Goddaughters who now troll off on a regular basis to weddings in India, Christmas table runners, and discarded on the floor, gorgeous off-cuts which I quilted as wall hangings. I got a gold ankle bracelet (which I subsequently lost in Ikea in Frankfurt) and looked enviously at the selection of wooden cuckoo clocks, which were just too heavy to bring home on the plane to ….er…Geneva.
Last week in Singapore, I made a pilgrimage along Racecourse Road, where the lights are already up for Diwali, and through the bright,narrow maze of Little India.  Turning off to Syed Alwi Road, two Western women overtook me in their excitement…."Holy Shit!" said one, pushing a toddler in a stroller "I can't believe it!….the legendary Mustafas!" and elated and laughing, they hurried on, through the myriad of doors, where, if one is carrying a plastic shopping bag, it is secured by staff with cable ties before one is allowed to enter.
I wonder how the pair got on. Did the palatial mart live up to their expectations?  There were indeed 150,000 products stacked high along the narrow aisles of 6 floors, but quadruple that again by the range and materials and colours of each. Sarees and blouses and leggings and dresses and kurtis and salwar kameez in more designs than one would think the world could hold, coverings for Muslim women stealthily brightened in as many ways as possible without invoking the wrath of the style police, bales of the heaven's embroidered cloths, woven and spun and dyed and decorated with every glistening thing.
But there was nothing for me.
No, I lie. I did buy one thing: Muslim women, who appear to be wearing full long sleeved t shirts under their shorter sleeved outerwear, have obviously got it sussed…the undergarment is simply a pair of long cotton sleeves, elasticated at the top and cuffed at the wrist, but without a body.   Still suffering from over-sensitivity and terrified of being jostled, or even rubbing against something rough, such a cotton-jersey sleeve was just what I needed for my still aching broken arm.  $4 worth in a cable-tied plastic bag, and I was out the door.
It was a bit worrying really, for if one is tired of Mustafa's is one tired of life?
¹  Music
²  The best of fun
³  The centre of the universe