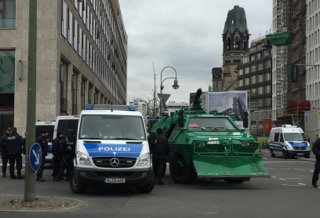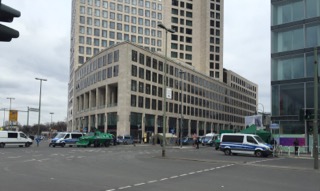 Netanyahu in Berlin
---
Netanyahu's Disruptive Power
The disruption in the city caused by the 2 day visit of Prime Minister Netanyahu of Isreal to Berlin is taking its toll….. He decided to stay at the Waldorf Astoria Hotel, which is just down the road from the Zoo Stations, and across the road from the main red carpet screen location for the Berlinale. So a premier caused a premiere to be cancelled last night. The entire town looked as though it had become a full set for "Homeland" today. I have never seen so many armoured cars, tanks….Paddy wagons, ambulances, police, portable lights, tents and guns….all blocking one of the busiest streets in the Kurfurstendamm area. It took me 2 hours to get home. When trains don't come, or don't stop (Fahrt enden hier) or are only going a few stops, there are three things one can do: 1. Buy chips. 2. Read Kafka. 3. Swear.
So when we all had to get out at Friedrichstrasse I went downstairs and bought chips and ate them sitting waiting for another train all the way down to Sudkreutz so that I could then take yet another one back up to Ostkreutz in the opposite direction. One man stood on the platform reading Kafka. I only heard one person saying "Scheize."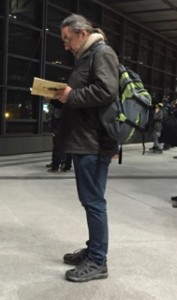 p.s.  I now realise why Netanyahu broke with tradition and decided to stay at the Waldorf Astoria, instead of the Intercontinental down the road, which is on a quieter street and does not cause such a shutdown of one of the busiest intersections in Berlin.  He wanted to be in with the Film Festival A Listers, he wanted to see the gorgeous women and the beautiful men, to maybe manage to get a few sprinklings of star dust.