On The Feast of Saint Francis de Sales
---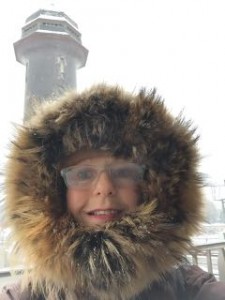 For the past week Berlin has been a softer city, its hard edges rounded and white with snow in sub zero temperatures.   Yesterday morning at seven o'clock it began to snow again, first a little powder then the lazy, crazy dance of fat flakes.
It was a Saturday in the city, a day when the weekly working populace suit themselves, do what is pleasurable. It was the last day of the gorgeous "Botticelli Renaissance 1445-2015" exhibition at the Gemaldegalerie and our friends took their 3 newly adopted children, their first art outing as a 'real' family. People were pulling sleds of delighted youngsters through the streets, meeting for brunch, tromping through powder in Berlin's many wonderful parks.
There was very little traffic on the streets, but everywhere the sound of snow ploughs with their flags flying, busy and important…their unmistakable heavy, dependable, gritty noise. I dressed in 6 layers of clothing – as many as in the Arctic – starting with a long sleeved 'heat-tech' vest, 2 pairs of socks under and fur-cuffed toppers over boots, and fur hooded, down Patagonia parka. Ducks, goats, sheep, cows, coyote, possums and plastic containers had contributed their hides, lives, natural covering or re-organised molecules towards my comfort.
I was going out to a Picture Framing Workshop in an abandoned municipal swimming baths in the area of Wedding. Five hours manual labour at tables in the old changing rooms of an abandoned municipal swimming baths in -4c is not everyone's idea of a cool, classy Saturday in the sexiest city in Europe, but I was in heaven.
When I came home, I learned that a friend had died, at seven in the morning, as the snow began to fall afresh in the Grunewald – the 'green forest' – outside their house. Falling in the unseeing vision of his wife as her strong warm heart broke and the soft, soaring place he had created there turned to cold hard stone "…..falling faintly through the universe and faintly falling, like the descent of their last end, upon all the living and the dead…."
Overnight, the temperatures rose and this morning the city was green again and black and red; the forest and the naked street trees, the roofs of the buildings, and the pigeons crooned their unexpected pleasure. I woke to the realization that yes indeed, we are re-made anew every single day, changed irrevocably, either expanded or diminished by the day before, lightened or leadened. I woke to a new life of which our friend Hugh would no longer be a part, in which his wife Martina would be always on her own. I woke to a text from my sister saying "Happy Feast Day!"
Today is not the feast of St Elizabeth mother of John the Baptist, Elizabeth of Hungary of Portugal, or the 'more contemporary' Elizabeth Anne Seton or the Grand Duchess of Fyodorovna, it is the feast of St Francis de Sales. I had taken 'Francis' as a pre-adolescent on my confirmation but that was after the animal lover, Francis of Assisi…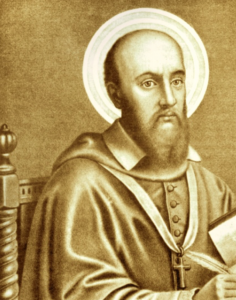 It was later I found the links with Francis de Sales, patron of many things dear to my heart and my survival: of journalists and writers, of my adopted hometown Annecy and of 'de sales (as we say in Cork) my favourite time for shopping. Francis de Sales "the Gentleman Saint" Bishop of Geneva, was noted for his deep faith and "gentle approach to the religious divisions in France resulting from the Protestant Reformation. "
Francis was born of noble kin in the Chateau de Sales in 1567 in what is today Thorens-Glieres in the Duchy of Savoy, died of a stroke at Christmas time 1622 in Lyon and is buried in the capital of the Haute Savoie, Annecy. The eldest of 6 boys and destined to be a magistrate like his maternal grandfather, he went to the best schools in the area, including the Capuchin college in Annecy and  (accompanied by his personal servant and priest tutor) on to study rhetoric and humanities with the Jesuits in Paris, and learn riding, dancing and fencing. In 1588 he went to Padua for law and theology towards his doctorate in 1592.
He was bright, but reserved and quiet for a handsome, well built young fellow of privilege. In 1584 hearing a theological discussion about predestination, Francis, thinking he was condemned to hell, went into a slough of despond which made him physically ill. Three years later, reciting the "Memorare" in front of The Black Madonna –  Our Lady of Good Deliverance – in Paris, he dedicated his life to God. ("Remember oh most gracious Virgin Mary, that never was it known, that anyone who fled to thy protection, implored thy help or sought thine intercession, was left unaided…")
With a legal position in the Senate of Chambery, his father chose him a 'suitable' bride, a well bred heiress who would enhance his politico-military career and keep the noble lineage going, but Francis said "thanks papa but no thanks" and refused to marry. He signed over his succession rights to his younger brother and was ordained in 1593.
Consecrated Bishop of Geneva in 1602, he lived in Annecy as Geneva was under Calvinist control, and his diocese became famous for its efficiency, hard working clergy and well instructed laity "monumental achievements in those days" (and might I add, Wiki,to-day; in a city where it takes 6 copies of several documents of facts, figures and photographs, complete with letters of consent from bordering neighbours and a 3 month wait, for permission – possibly –to put up a pre-fabricated tool shed at the end of one's garden.)
Francis was a mild, patient man who counselled charity over penance as a means of progressing one's spiritual life. A meeting in Paris in 1618/19 is reputed to have profoundly influenced Vincent de Paul in his work for the poor. Francis was a spell-binding  preacher and writer in French, Italian and Latin, with a style accessible to lay people. (Ironically, he had no luck in Thonon, whose citizens refused en-masse to listen to his sermons, and stuck with Calvinism.)   It was his output, and his extensive use of books and broadsheets – the social media of the time – even devising a sign language to teach a deaf parishioner, which led to his being proclaimed, in 1923, Patron Saint of Writers and Journalists and the Deaf. He also appreciated the abilities of intelligent women and was friendly with St Jane Frances de Chantal, founder of the 'Visitandines' in Annecy in 1610 and beside whom he was buried on January 24th 1623 (or 4?)…. except for his heart, which the Lyonnaise wanted to keep, but was taken to Venice during the French Revolution.
Francis de Sales was beatified in 1661, canonized four years later and declared a Doctor of the Church in 1877.  Every time I pass the statue of St Francis de Sales in Annecy looking out on the boats and promenaders as I drive home from town along the lake, I say hello. Every summer I vow to put a straw hat on his baldy head.  Every winter, particularly in snow, I vow to knit him a big warm woolly scarf and wrap it around him agains the cold wind from the mountains and the water. Every time I think of this, I balk, considering the implications of  yarnbombing a beloved Annecien in this way… and how to get a high ladder up behind the tall statue in the depths of the night, before the baldy-headed long bearded cleaner, the first on the streets each morning besides the bakers, discovers my act of faith……