Once In a Very Blue Moon
---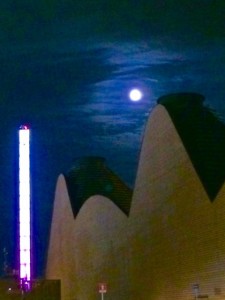 We set off down the road to Albertville, through the tunnel of Frejus into Italy on the morning of July 31st not THE worst day for travel in France, not 'Black Saturday' but merely 'Red Friday.' The roads over the mountains were surprisingly clear. The plan was to go to our hotel just off the Tangenziale di Milano, take a recce out to the World Fair site and have supper there. For Saturday, we had booked tickets for the Pinacoteca di Brera in Milan and would spend Sunday at Expo 2015.
For six months from May to October this year, (and right through Ramadan, which must have been a very difficult gig for the Muslim participants) Italy is hosting this year's Universal Exposition where more than 140 nations are billed to be "sharing ideas and discussing solutions on the theme, 'Feeding the Planet, Energy for Life.'"
Our accommodation at the Grand Hotel Villa Torreta in Milan included evening Expo tickets (7pm to 11.pm, worth €5 per person). Had we spent €39euro each on tickets and dedicated a glorious 31?C Sunday at the start of August to the Fair, we would have been exceeding peeved. That we had free entry and got to view it over 4 hours as a blue moon rose over the spectacularly diverse roof-scape of the global village was fine, but for an event dedicated to feeding the world, it was neither memorable nor inspirational, just international consumerism. Each pavilion is merely a glorified food tent, at which to buy a plastic platter of that country's culinary specialties.
We (eventually) found the correct parking zone for visitors' cars (not easy, the signposting is dire) and walked….and walked…..to the site. In through airport-grade security, up a mildly intimidating tunnel-bridge which crosses over a railway line, and out the other side to the Expo proper. The pavilions of some countries are huge (America, Germany) some are tiny (Uzbekistan, Ireland) but after all the walking from the faraway car park to the grounds, we couldn't be bothered climbing the many, many flights of stairs to the big ones, and the small ones were too dull to bother with.
The Pope himself has a pavilion, with a smiling portrait of Papa Frankie and the legend "Give us today our bread" …..irksome to a lover of the gorgeous rhythm and flowery language of the pre Vatican II Bible's "give us this day our daily bread."
The Holy See's next door neighbour is Israel, boasting to be the "Fields of Tomorrow" (whose fields?) Ireland should have been subtitled "Fields of Athenry."
Iran was vast, dark, deserted. France did not appear open nor welcoming. Rather than put forth an overly optimistic image of their country and its food production as many of the exhibitors do, the Napal pavilion acknowledged their devastated land and their people in need of shelter and sustenance. It was sad and moving, prayer flags fluttering.
We did not find the Saudi Arabia pavilion, where, it being Friday, I wanted to stand outside and sing "FREE-E, RA-IF BAD-A-WI." I had planned to go to the Irish pavilion, sit down and say "Ah Jeysus lads, I'm shagged. Give us a cup of Peter Barry" but when we got there, it was closed. It was only 10.30 but the Irish contingent had already taken off to wherever it is that Irish people go to around 10 o'clock by a blue moon on the eve of Lúnasa, the ancient Celtic celebration for the harvest. (Traditionally, they climbed hills and did a spot of matchmaking.)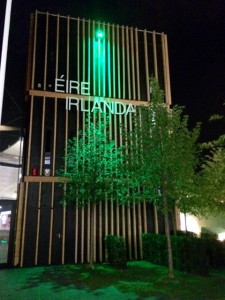 All was very quiet around the wooden box with the big green tree, outside of which were circular tables with tops in the shape of 4-leaf clover. Few misinformed inaccuracies annoy me more than the use of a 4-leaf clover in lieu of a shamrock, for Ireland's shamrock specifically denotes a trinity.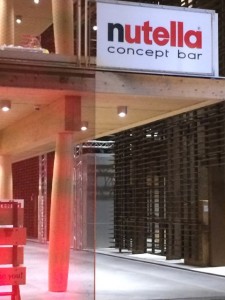 Whatever the architecture, the folksy dancey-dances, the children's activities and the light shows, Expo 2015 appears dedicated to one thing: the sale of food. Every day, 450 tons of food is delivered to the site in 600 lorries, but even our experience of the food was bad. It being Italy, we chose Eataly, which has separate 'restaurant' counters serving specialties of all the 20 regions of this darling culinary country.
Plastic plates of decidedly ordinary Italian dishes were priced at between €12 and €15. We sat outside amidst some pleasing larger than lifesize carved statues and the 'music' was deafening. "HOUSE! HOUSE!HOUSE!" screamed over loudspeakers to an incessant dumdumdudm beat, getting me so hyper I stood up and headbutted "CastelGandolfo!CastelGandolfo!CastelGandolfo!" Later, we stopped again at SudTyrol for apfelstrudel and buckwheat slices (€5 each) because I want to visit South Tyrol. Best value appeared to be in Argentina, where a meat plate enough for 2 people was €13….and they had a queue around the block.
We enjoyed ourselves in the vast, clean, fair under flashing and twinkling and shooting lights and a blue moon, but we enjoyed ourselves because we were four friends out on a skite, in Italy – our beloved Italy – birthplace of my paternal ancestors.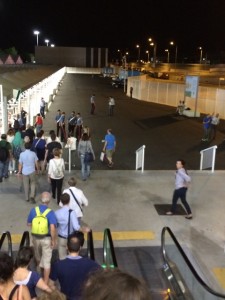 We couldn't get the drivers of the buses, or "People Movers" to understand our question as to whether they shuttled to the car parks, so again, under the eyes of (armed) military at every corner, hundreds of us trudged across the bridge to the exit, hoping we would not become green biscuits at the other side. We made it intact, only to find the parking fee a flat €16.50 whether for a full day or a few hours. As we looped around the site on our way back to the hotel, we called mild obscenities and gave them the evil eye out the car windows….we would not be coming back on Sunday.
Two weeks ago, in solidarnosc with our Hellenic cousins, Himself and myself went to the "Big Fat Greek Weekend" event at the Markthalle Neun in Kreuzberg Berlin. The Markthalle is a warehouse building ringed with stalls and street food vans, bars and cafes (not unlike the English Market in Cork, but about a quarter the size and with far more associated bars and restaurant counters.) On the 'Big Fat Greek Weekend' the stalls of organic growers, bio pig farmers and butchers, wine and beer makers etc were expanded by many Greek entertainment, cultural and kids' events and Greek food vendors and part of the proceeds were donated to Greek charities related to the economic crisis. It was a very wet Sunday, so we squelched into the covered area, a welcoming, aromatic buzz with lots of (basic but perfectly serviceable and sociable) seating. The food and drink was gorgeous; interesting, tasty and affordable, the vibe was light and the event was thoroughly international, relaxed, friendly, democratic and enjoyable. It was what Expo Milano should have been. Maybe they have their conferences and discussions on feeding the world in association with the Expo, but we, the swarms needing to ensure that our grandchildren will have food, have neither invite nor entre to these exclusive think tanks.
On the road between our Milan hotel and the Expo is a long, large building which appears to house refugees. Every day thousands of people arrive on Europe's shores and border crossings, desperately in need of food and shelter. Many of the pavilions at Expo Milano 2015 celebrate their home countries, but nary a single one could afford to go to the Fair. A couple of visitors buying tickets for this event purporting to deal with the world food crisis, arriving by car, having a meal platter, a glass of wine, a slice of cake and a cup of coffee, can expect to spend in the region of €115. In Germany recently – particularly in Berlin – signs have appeared on walls of parks and pubs and clubs "Refugees Welcome." I saw no such sign at Expo Milano.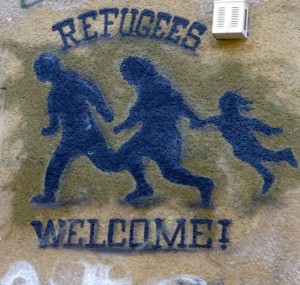 How about recognition of the locally housed citizens of the world – neighbours of the World Fair – by offering them free transport and entry and the price of a meal?