Richard III at the Schaubühne Berlin
---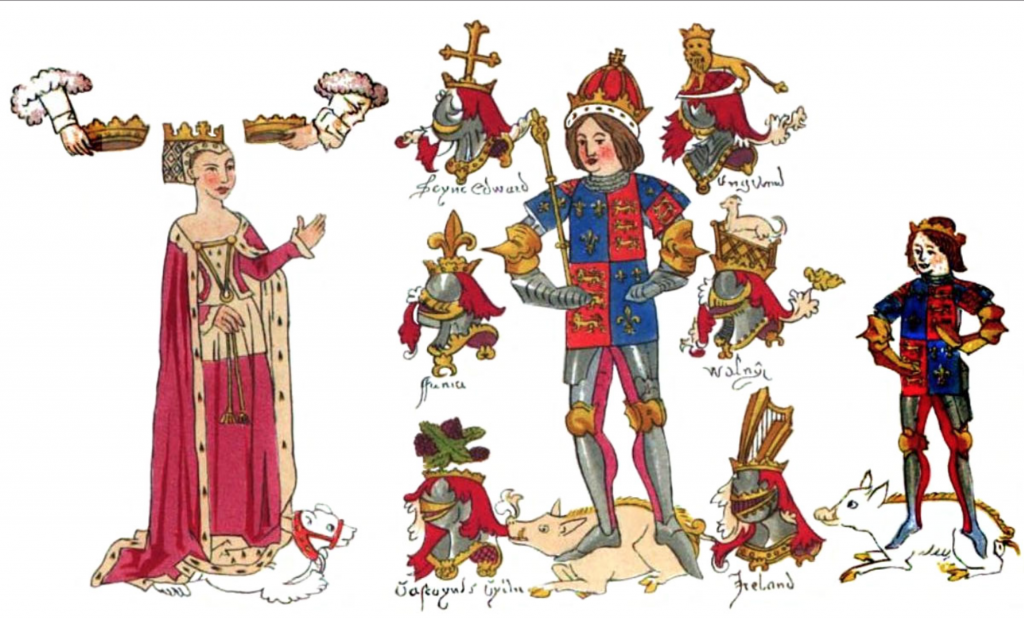 How do members of the British Royal Family feel when they watch William Shakespeare's historical plays based (albeit sometimes loosely, with literary embroidery) on the derring-do and dastardly deeds of the British Royal Family? Depending on the name given to one, or the title bestowed upon one, is it even more or less uncomfortable to watch one's ancestral namesake portrayed upon the stage?
There is a dotey, rather serious looking little toddler called George currently toddling around London and the Home Counties in his Crocs and Docs. He wears a cycle helmet when out on his scooter, on the head that could one day wear the crown of England.   If he does something silly, will the tabloid press, inevitably, declare 'The Madness of King George?'   And if he marries a woman called Caroline, will she be said to 'wash her hair in turpentine?'("turpentine makes it shine, Queenie, Queenie, Caroline.") Are there 'lucky' and 'unlucky' names within the royal register of births? No doubt, with an eye to history past and future, they choose them with great care……
In her journal entry for February 4th 1853, Queen Victoria wrote of watching a performance of Shakespeare's Macbeth with her husband Albert and their children in Kensington Palace. She described it as a "most interesting, thrilling and heart rending play" which was "extremely well given."
Last night, I watched Shakespeare's "Richard III" at the Schaubühne in Berlin with friends. It is a most interesting, thrilling play, but to say it was extremely well given, would not be doing it justice.   It was brilliant.
Standing on the same site since 1928, the Schaubühne is a circular building whose stages can have many different configurations. For Richard III it is semi circular, the audience seated sits around (very Global) very close to the action, which is performed on a sandy arc, with balconies at the back. It is a spare, set, without pomp, but with the addition of video projection on the balconied wall, it is a tower of death and ravens, a battlefield (lots of blood) and a royal palace (gilded confetti poppers.) The costumes are monochrome, their period Prohibition gangsters to present day drug lords.
The play is directed by Thomas Ostermeier and Richard is played by Lars Eidinger. Richard is portrayed by Shakespeare as intellectually keen, politically savvy, a fearsome and fearless warrior with a quick wit, wicked sense of humour, a golden tongue and a crippled body. He is also a serial killer in pursuit of his own ends – power and revenge. Richard is played by Eidinger with a ferocity and syrup, mad rages, intense and sometimes harrowing physicality, huge energy and the agility of a high-wire acrobat. He may be crippled, but this Richard – literally – swings from the rafters. He schemes and woos and slathers all and sundry with his words… himself with Quark. (Cream cheese and potatoes feature prominently in this production.)
Lars Eidinger appears to relish the intensity of the portrayal, the sheer weight of words (there are English surtitles) the switches of character, the punk rock delivery, the acrobatic moves, the complete stripping (literally and figuratively) of his physical self and attractive ego. This is not a glamorous role. Lars Eidinger's Richard would not make a Royal Feature in "Hello" magazine. A native Berliner – even as one of Germany's most accomplished actors – it kinda stands that he is also one of its most anarchic. "The 39 year old star can be found urinating in sinks, eating dirt and berating audiences in plays from Hedda Gabler to Hamlet (with which he has toured the world since 2008)" according to the Toronto "Globe and Mail" newspaper last year. That's tough stuff for Canadians.
It can also be tough enough when one is up close and personal like, with Eidinger's Richard….but despite the enormous energy demanded of the role, the mischievous humour of both can cut through the intensity of this play without intervals, without puncturing the tension.
I went to the theatre with a friend. At the desk we collected the tickets for ourselves and 9 others, students of the Theatre Studies Department of University College Cork, led by his sister. (Tickets for the Schaubühne are as difficult and complicated to obtain as those for Glastonbury) The production started at 7.30, their 'plane from Dublin got in at 7.00 and they were now on their way from the airport.  We took our second row seats, stage recht, leaving room for the others to sneak in. And so they did….during a quick props move as a live drum roll clashed (percussionist stage links.) About to deliver a loud maniacal monologue Eidinger Plantagenet turns to the young people making every effort to be seated without disturbance: "What? Did you miss your train?" he roars. "Where are you from?" "Ireland" my friend, their lecturer  – who has fluent German – replies. With a grin, he turns to the surtitles and spells them out, implying our current location in the play, saying "Ah so. Ireland…. But that's not so far from here!" Laughter and applause from the audience – even the late-comers – and then he resumed his fifteenth century persona.
A dialogue in the true Shakespearean theatrical tradition.