Sex and Drugs and no Sausage Rolls
---
It was the second worst reception I have ever attended. (The worst ever was after the Tour de France set out in Ireland in 1998 and when they had raced as fast as their carbon fibre and Lycra would carry them up a ramp and into the maw of a Brittany Ferry at Ringaskiddy to get them the heck back to Mainland Europe, there was a 'celebratory party" in Cork City Hall that night. It consisted of about 500 people, a dozen packets of Pringles, a six-pack and some ladies with a Samovar for tea.)
God be with the days of the sausage rolls, the black pudding on sticks. That was then – at Celtic Film+Television Festivals, at the Television markets in Cannes…… On Saturday night last in Berlin at a reception hosted by the Irish Film Board and the Irish Embassy in Germany, there was plenty of drink and a few bowls of crisps, peanuts and thin pretzel sticks. "Delighted to see you all" said James Hickey of the IFB…..to see us? He couldn't see a thing. Nobody could. "You will recognise me, because I'm the only person here wearing a tie" said Irish Ambassador Michael Collins.   He actually wasn't; a tall man beside him was holding a mobile phone over His Excellency's notes so that he could read them by its light. He also wore a tie. The reception was held in a nightclub, eight storeys up looking down over Potsdamer Platz and the night city. It was almost entirely dark except for the black UV disco light which wasn't kind to teeth. "But you couldn't see anybody!" I said to him later "and nobody could hear me either" Mr Collins replied.
So I admired the view, had a glass of wine and left, out into the depth of the 50 shades of grey draining the city, the wind and the cold (it had been -2C in the afternoon) skittering on the gritted footpaths, to get to a film called "Diary of a Teenage Girl." The Berlinale is a showcase and a marketplace but it is also a People's Film Festival and the people come out in force. Especially if one is neither red carpet nor accredited, it is hard work. (If one is red carpet or accredited, it is even harder work. The press photographers are like a herd of buffalo, just as heavy, dark and wide, their long-lens horns lethal if they are stampeding to catch a star. If you are – say – Natalie Portman before a screening, the screaming is mind-blowing …."NATALIE!!" "THIS WAY!" "NatALIE" "LEFT NATALIE LEFT!!)
Because Berlin is four times the size of Paris, one spends an inordinate amount of time travelling from place to place and then queuing to see a film while the big names are strutted, posed, photographed, mauled, shepherded, applauded, seated and bouqueted. During the earlier part of Saturday's cinema commute I had felt something in my boot and thought it was a pebble of grit from the icy roads, but at the Irish reception, bored, I unlaced and pulled off my boot (could hardly find my own leg in the darkness) and turning it upside down found what had been causing the irritation: a green plastic disc with a big white 'U' on it – a jeton to unlock French SuperU supermarket trolleys. Well Holy God. How it got there I will never know (just as I will never know how Werner Herzog became Wim Wenders on the link title of an earlier blog post, though the TEXT itself was correct.)
Earlier that day I had left before the discussion after the excellent documentary "The Seventh Fire" (executive producers Natalie Portman and Chris Eyre) at the Berliner Festspiele because it was all too much as the line of crew on stage to be applauded got longer and longer, the flowers were given in the wrong order – (and attempted to be given twice to Natalie NATALIE ) and then there was "a break" for them all to be seated before the Q+A. No lads. Get the act together. We've got films to go to.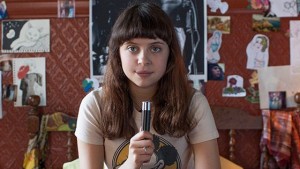 "The Diary of a Teenage Girl" was shown to a full haus at the Haus der Kulturen der Welt, a building with a circular roof which resembles a mollusk, so we locals call it "the Pregnant Oyster". One puts oneself through the hassles and stresses and hype, the expense and the exhaustion of Film Festivals for the same reasons as miners pan for gold. One is always hoping to find a gem….and every year I do. (Last year it was the documentary about the street photographer and house nanny "Finding Vivian Maier" which has been nominated for an Academy Award for Best Documentary Feature at this year's Oscars.) So far this year, the gem for me (apart from the works on paper…rather than the film… of Inuit artist Pudlo Pudlat) it has been "The Diary of a Teenage Girl."
Based on the graphic novel "The Diary of a Teenage Girl, an Account in Words and Pictures" by Phoebe Gloeckner – a Christmas present from the subsequent screenplay writer and producer Marielle Heller's sister – the film premiered at the Sundance Festival at the start of the year and was received with acclaim. Set in San Francisco in 1976, it is the story of a fifteen-year-old girl, Minnie (Played by Bel Powley) who has an affair with her mother Charlotte's (Kristen Wiig) boyfriend Monroe, played by Alexander Skarsgard. Minnie wants to be loved, and when she discovers sex for the first time with Monroe, she wants sex. Lots of it.
Minnie has a younger sister and the family live in the quintessential San Francisco house. Though she is a lone parent and goes out to work, Charlotte does a LOT of partying, quintessential 1970s San Francisco partying, and neither her friends nor herself think anything of smoking and doping and bringing home lovers to the family home. Minnie is so amazed by her taste for sex that she chronicles her experiences, thoughts and feelings on a tape recorder and illustrates them in copybooks.
It is San Francisco 1976 and Minnie is 15. In about 1970, I was working in Press and Public Relations for the Irish Tourist Board in Cork and got a job transfer to their offices in San Francisco. Just as I was preparing to make the change, arranging accommodation etc., Bord Fáilte closed down the offices, and so my life took a different course. I have oft times pondered, if I had wandered, what would have become of me. Albeit branded with Irish (and worse, Limerick) Catholic convent boarding school guilt, I had been blooded by hippies, feminists, poets, potheads musicians and dropouts and was a perfect match for the City by the Bay.
Despite the terrifying situations (this is Irish Mammy hindsight) which Minnie and her friends got into, it was a movie about innocence, gently portrayed; a sweet and funny indie pic, not as saccharine as "Juno" but with an echo of its attributes. "Diary of a Teenage Girl" is destined to be big, particularly amongst fans of the television series "Girls" and the "Girls" ethos.   But let them remember: "Girls" did not invent sex and drugs and rock and roll and self-expression and introversion and wasting time and getting tattoos and breaking taboos and talking about stuff instead of doing it. You know what? Their much-maligned parents did. Yes, those self-same parents; establishment, mortgage-free, stuffed shirt, square, (or worse! endeavouring to be hip! Yeeech….) They fecking invented it. Right? If Minnie was 15 in 1976, she was born in 1961, so therefore, her mother, Charlotte, was probably born circa 1941…..or OMG! earlier! Charlotte would now be in her early seventies….let's say she's the same age as Joni Mitchell and Joan Didion. Minnie is now 53 and is probably stumbling her way – just as discombobulated as she was by adolescence – through the menopause.
So just don't lay 'past you fell by date' on me my young friends….we invented the dangerous things you get up to, the terrifying situations you put yourself in. Admittedly we had but flash bulbs and tape recorders to chronicle it and typewriters after the event….not the instant world audience you have today for your mooning and a-spoonin' groovin' and a-shakin….but you're still only trotting behind us* when it comes to BOULD.
*and all the other ancient civilisations.