Sex and The Country
---
Yesterday on the 'phone a friend said they were into the tv series "The Americans."  When I said we'd been thinking of watching it, he added "there's a lot of graphic sex" and I replied that really, I'd prefer lying on the couch of an evening watching Monty Don in torn leather and frayed jumpers doing dirty things in the Garden, to watching Cold War Russian spies panting and sweating with no clothes on at all at all.
It was way back in 1997 that the phrase "Gardening is the new sex" was coined by British trend-setting fashion and social magazines Tatler and Vogue. The phrase – like "Black is the new black" has gone into the lexicon, and still occasionally pops up to illustrate, say, how the sale of sex magazines is dwindling, whereas the BBC's "Gardener's World" remains a hot, top selling publication, or how it's not just the ageing Flower Children who are digging it, digging it, but also the young Thirty Somethings, flocking to Chelsea for colourful consumerism.
As I was ironing this morning, making piles of clothing for hanging up, throwing out, giving away and keeping, it became abundantly clear to me that despite my necessity for a wardrobe that will bring me to a myriad of occasions in every climate in countries all over the world, (my justification for shopping) the clothes that I iron, fold and hang up to wear most often (yes, I iron paint-spattered leggings) are those I don for working in the house and garden. They are not necessarily the most flattering and as the house will be full of guests for the rest of the summer, I was considering their aesthetic sensibilities and trying to consign some of the most well-worn articles of apparel (i.e. molecularly challenged) to the garbage bin. As I ironed, I was thinking about Carrie Bradshaw, the star of the television series and spin-off films "Sex and the City." When she falls for the artist Aleksandr Petrovsky (Mikhail Baryshnikov) in the last season of the series and agrees to move with him to Paris, leaving her New York apartment and life, Carrie calls in her group of friends to help her decide what clothes to jettison, what to keep.
The Carrie Bradshaw character and I do not have much in common except a known and self admitted obsession with shoes….oh, and she was also a writer, penning a regular piece and a book on her exploits with her friends of similar vain vein in New York entitled "Sex and the City" which involved a lot of clothes.  Taking inspiration from Carrie, I think I'll write a piece (and a book? oh la!) on my exploits with my bucolic friends entitled "Sex and the Country" (subtitle: "Forty Shades of Green.")  It will, of course, be about gardening.
To start, I should introduce you to my friends: Una. Una listens to podcasts of plays as she works in her garden, and I envy her as she can get truck loads of compost for free from her local Dechetterie on the Swiss/French border, with its view of Mont Blanc. I also envy her legs. Una wears shorts a lot.
Fiona: Fiona lives on a bluff over the sea on Prince Edward Island in Maritime Canada. The island is famous for being the home of Anne of Green Gables, potatoes and lupines.  Lupines in PEI are so prolific that every year about this time, using a modified snowblower, the provincial government culls them by one third, considering lupines a weed, an invasive species, especially where they clog roadside ditches and thus drainage.
Though the same latitude as Ireland, without the benefit of the Gulf Stream (remember that, remember palm trees and all-year-round geraniums?) the growing season is short on Prince Edward Island and I giggle soundlessly down the line when Fiona tells me on the 'phone she is planting her summer annuals in July.  Fiona wears Canadian clothes (a lot of blouses, sweat shirts and trousers) with very comfortable shoes suitable for both snow and PEI's red earth, which colours everything.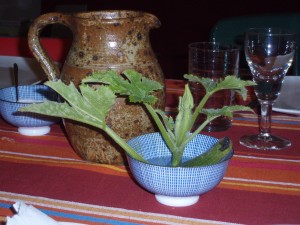 In the south west of France, Síle has a small, square, stone-walled garden in a former presbytery, where the Curé strolled while reading his office.   While keeping the original quadrangle, Síle, with the help of her brother and husband, has transformed it from a heat-scorched over-grown plot into a cool, planting-softened oasis. A 'Five Foot Lourdes' – a statue of the Virgin Mary found on the premises when they moved in, stands in a corner bedecked with flowers of the fairest and blossoms the rarest, and the China Berry Tree which shades the space is her husband's delight and home to many birds.   Síle always wears interesting necklaces and favours linens in understated earthy colours, but has also been known to be seduced in a local market by the lure of those drippy Indian dresses beloved of French ladies. (I cannot criticize.  Yesterday, probably thinking of Síle, her clothes and garden, I succumbed to the same sartorial seduction).
Then there is Kathryn.  Kathryn is the blonde and favours clothes by designers such as Karen Millen and wears Versace jeans. She collects seaweed on the beach in front of her West Cork country home to spread on the raised beds planted by her husband. She made me very cross by not inviting me to come help her make dry stone walls around the garden from the ruins of a deserted cottage on the property (dry stone walling – along with shoes – is my passion.)
In "Sex and the Country" you can look forward to a huge cast of characters and sub-plots, some, I admit, somewhat violent, such as "Linda and her Red Hot Pokers." As global warming adds another level of suspense, I think "Sex and the Country" will make riveting reading. My hostas are now indistinguishable from California Giant Redwoods. Yesterday the wrath of the gods wreaked havoc with my grapes when a thunderstorm came barreling in over the mountains and on the 'phone last night Kathryn worried about my hostas suffering slug damage.   I assured her that slugs are no match for Sequoias.