Skeletoes
---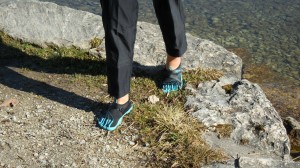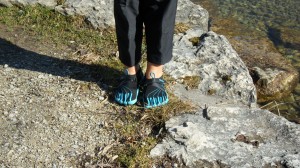 My New Year's Resolution for 2012 was 'More Culture, fewer shoes.' "Why Belle?" Because I have so many boots and shoes, sandals and slippers that I have lost count of the number I own. Two months into 2012…..and I'm doin' good.
In California last month, I only bought 2 pairs of shoes; one sensible (albeit red patent) Aerosoles slides with a wide toe box for running around in cities such as hilly San Francisco.   I also bought a pair of Skele-toes.  "What's Skeletoes Belle?"
'Skele-toes' are basically toe socks made from a nylon/neoprene type material, mostly fastened with Velcro bands and with a 'bungee-jump' pull-on loop, bound in bright turquoise, neon pink or sometimes, black.  Flat to conform to the shape of the foot, the toes are moulded into the shoe.  They are not the sexiest footwear.
The character Liz Lemon (Tina Fey) in the TV series "30 Rock" isn't exactly a fashion icon. Her boss, Jack (Alec Baldwin) himself  self-aware to the point of obcession, ("I only had my dress cuff-links, and one couldn't wear dress cuff-links with a business suit, so I had to wear a dress suit at work to-day") impeccably dressed and au fait with current trends, tries to get Liz to dress in a more feminine and alluring manner. Liz, however, dresses for comfort rather than sex-appeal, status or power, and is  more a sweatshirt kind of gal.  One day, in the midst of one of Jack's criticisms of her ability to attract men, Liz puts her feet up on the table.   She is wearing Skele-toes.   So that's the kind of shoes they are…..comfortable, ugly, but not sexy.
With their Skele-toes, the sportswear company Fila is cashing in on what is known as 'the Barefoot Revolution.' The Barefoot Revolution has been going for some years now, inspired and popularized as a performance enhancer by champion Kenyan athletes who don't wear shoes when running, and by afficianados advocating mimicking the footfall of unsupported feet for health.  For decades, the manufacturers of trainers and runners encouraged their clientele to buy wider and wider, bigger and bigger, higher and higher-soled heel-padded shoes – people actually killed for them in the Christmas sales in England.  Now the thinking is that by having padding under the heel, we have learned to land on the heel rather than on the ball of the foot, which impededs the absorbsion of the 'striking' shock by the arch and the lower leg, causing it to be sent up the heel to the knees and hips. Now the trend is towards thin-soled athletic shoes which encourage the foot to move as though barefoot. The original 'barefoot running' shoe was the Vibram Five Toes. The soles of Skele-toes represent the bones of the feet and there are 4 toes instead of 5, which the makers call 'easy slide' and thus claim a new product. There are pros and there are cons to barefoot-mimicking shoes, and there is an interesting history of how this new thinking came about, but I couldn't be bothered going into it all here……(However, if you really want the background, go to http://en.wikipedia.org/wiki/Barefoot_running)
Though I love, love, love shoes, from May to September, I am happiest being barefoot. I have stood on a bee which was very painful to both bee and me, I have stood on thumbtacks (a different kind of painful) and I ruin my pedicure and nail varnish with stones and mud.  My friend Janis recoils at the sight of my green grass-stained lizard heels and my daughter has gone so far as to buy me dry-foot cream….but I am rather proud of my carefully cultivated leather-hard soles, brown toes and excellent grip on rockeries and wet timber.
The compromise is Skele-toes, which I found in California. The ground here in the French Alps is still very hard and cold, so I have not yet really tried my fine new toe shoes, though for the photograph, I walked a wee bit by the lake…..and the mud squelched up through the soles.  I don't mind wet feet in warm weather  – though I do believe that with wear, the shoes stink to high heaven – but so long as they have good grip on a Stand Up Paddle board, who needs sexy?