Stories From Ireland
---

There is an Irish writer called Kevin Barry and there is an Irish writer called Sebastian Barry and there is an Irish patriot-martyr who is also called Kevin Barry and between the lot of them, I was addled. But not any more.
In Cork recently I had lunch with one of my beloved Goddaughters, Deirdre Dwyer, a theatrical producer, director, writer, set and costume designer of merit. She had just returned from a wonderful week in Annamaghkerrig County Monaghan, where, in the nurturing bosom of the Tyrone Guthrie Centre, she and two collaborators had been working on an adaptation of a Kevin Barry short story for the stage. I explained that I had got confused in the plethora of patriotic and literary (not to mind tea blender) Barrys, and hadn't read the 47 year old author's work. Though our families' circles had intertwined since long before her Christening (when, to calm her cries, her mother had put her to the breast and the priest didn't quite know which orb to anoint with chrism) Deirdre almost disowned me for my cultural lacuna.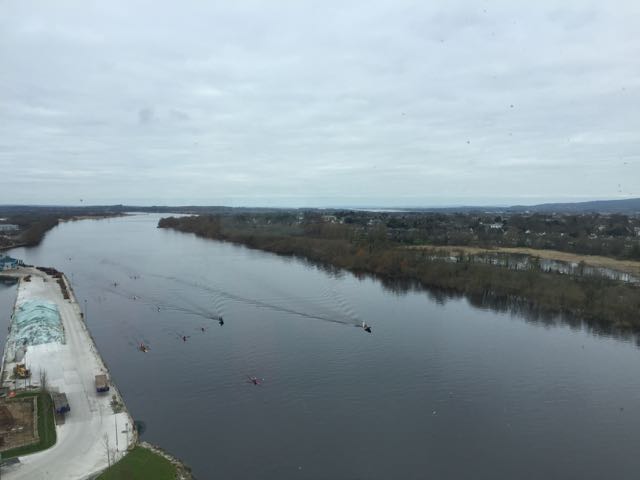 I left Cork and travelled on to Limerick, where I stayed in a room on the 14th floor of a city centre hotel. When I opened the curtains in the morning, there below me, glinting silver in the sun, was the broad majestic Shannon; the still water slashed here and there by a thin scull, the streak of the oars, the flat fertile lands within a curve in the river and to the left; a city of elegant grey stone buildings, slim spires. This was Limerick …… a place oft reviled as drab, with the crime-won moniker of 'stab city.'
After breakfast I drove to Dublin. Past the docks and into the countryside, with signs which might as well have been musical notes – nay, symphonies – Caherconlish, Bruree, Cratloe, Lisnagry, Monaleen, Drumcollogher, Tooreennagreana….and all around, the most beautiful, magical countryside; brown green and grey expanses, early Spring on a calm Sunday morning on the road north east through the south Irish midlands. My heart sang.
Living in Berlin in Germany and Annecy in France, where the Sabbath is kept sacred to relaxation, and even the use of power tools is forbidden for fear of disturbing the peace, it was odd to come into Dublin where it was just like any other day, i.e: people were out shopping. I admit, I joined 'em. (Well, there was a sample sale in the Patagonia store, so do you blame me?) and later pointed the rental car towards 'The Bay Area.' It had been a beautiful day in Dublin…and heading out towards Dun Laoghaire, a mist came in from the sea, pink-tinged by the setting sun. The entire population of The Pale who had not been shopping, had obviously been out walking or boating or dining in harbour-side restaurants, and were now making their way back to the city, but I was heading in the opposite direction, in a trickle of cars going south.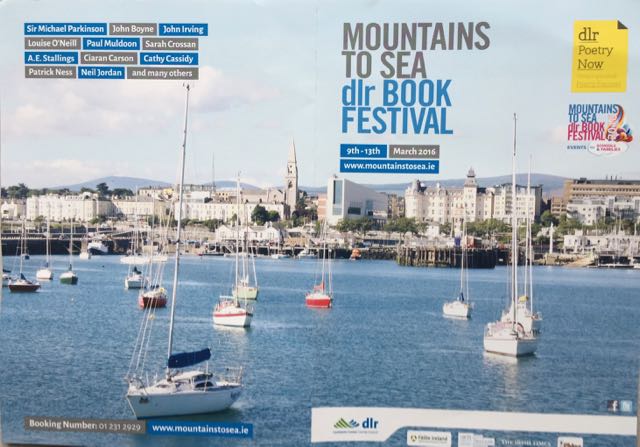 A book festival called "Mountains to Sea" was in progress in the Lexicon and Pavilion Theatre, a cultural/entertainment precinct right slap bang in the middle of town. I met a poet friend in the Lexicon café. He told me that his daughter, an archivist by trade who had just begun to specialize in digitalization of …well, archives… had recently answered a small box number ad in the Guardian newspaper, seeking such intel and experience. When she was interviewed, but still wasn't told where the job would be (except that it was in England) and was advised she must undergo security clearance, her father got a tad concerned. But she went ahead anyway, as young daughters tend to do. The job turned out to be the recording of the entire collection of every scrap of material pertaining to Beatle Paul McCartney in every form from scribbled note to printed interviews to family videos to golden discs and OBE medals. In an innocuous, unmarked office in London, she is in heaven.
At half past six, across the path through the grass, past a few restaurants and up some steps in the Pavilion Theatre, the author Kevin Barry was to give a reading, facilitated by Selina Guinness. The venue – with people out for a smoke or finishing their drinks in the balmy evening air on its balconies overlooking the marina – was jointed, and I experienced a wave of panic as I queued for a ticket…..what if I didn't get in? With almost half a century of practice as a journalist, at making it to the front of any gathering so as to miss nothing on a stage or podium, I'm pretty good at wrangling my way into anything, at entitled elbowing: "Excuse me, excuse me"…..but what if it was fuller than fire regulations would allow? Could I ever face Deirdre again?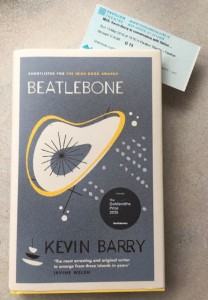 Kevin Barry read from his 2015 Goldsmith's Prize winning book "Beatlebone" a novel based on an imaginary trip made by Beatle John Lennon (the other half of McCartney) to Dorinish, the uninhabited island he bought in 1967 in Clew Bay. In reality, John Lennon only visited Dorinish once, when he was with Yoko Ono. He loaned it instead to an English Hippy to establish a commune which burned down in 1972 and fazed by Atlantic winters, they left. Yoko Ono sold the island after her husband's death and gave the proceeds to an Irish orphanage.
In the fictional account, Barry had Lennon make the journey to be driven and befriended by Cornelius O'Grady a local man with a distinct Irish sensibility. It was a troubled time for Lennon. Aged 37 and at the height of his fame he is stuck, blocked, going spare with the fear that his creative juices could no longer flow…..going spare because everyone wanted a piece of him. Barry also melds Dorinish with Inishfree, known as 'The Screamers Island' and its denizens, who lived there for over a decade until 1988…..and there is a talking seal. At one point, when John's mood is lifted, O'Grady tells him that is because he walked in "the happy fields."
"Cornelius beams – There are things we can't describe, he says. Go on? What we see around us is only at the ten per cent level, John. Of? The Reality. And what's the leftover? Unseen. How'd you mean? Well, he says. The way sometimes you'd walk across a field and a sense of elation would come over you. Are you with me? Okay….You're half risen from the skin. The feet are not touching the stones. The little heart is about to hop out of your chest from sheer fucken joy. And the strange thing about it? Go on. That patch of happiness could be floating around the field for the last ten years. Or for the last three hundred and fifty years. Out of love that was had there or a child that was playing or an old friend that was found again after a long time lost. Whatever it was, it caused a great happy feeling and it was left there in the field. You're after walking into it. And for half a minute you're lifted and soaring but then you're out the far side again and back into your own poor stride and woes."
Trapped energies. I have heard of "The Hungry Grass" when a great weight of sadness washes over one, or one is seized by the gnawing pain of hunger. You might be in a garden or on a pathway, on a city street, land long covered by concrete and paving slabs, but on this patch during the Great Famine of the mid Eighteen hundreds, someone had starved, people had died of starvation. (It is good to carry a crust of bread in one's pocket in case this occurs, so one's pangs can be quelled and the spirits appeased by scattering the crumbs.)
Kevin Barry read two pieces from his book. It was a theatrical experience, his change of character, his voices, the cadence of his dialogue, which is often written in the slip-sliding, slung-together stream of consciousness tangents as was Lennon's "In His Own Write" or Flann O'Brien's "Third Policeman." Sitting quietly, respectfully, in the comfortable tiered seating of the Pavilion of a Sunday evening, we were in John Lennon's addled head.  We were in a car, careening crazily through the narrow country roads of the West Coast of Ireland…..(an itinerary now part of "The Wild Atlantic Way" a brilliant feat of marketing to popularize the magnificence of the coastal stretch between Cork and Donegal. Magnificent it is, but the Irish never take anything too seriously and heighten with their own fantasy. In Leap in West Cork recently, I passed an establishment called "Ger's Wild Atlantic Diner" over the door of which is a life size model of a tiger.)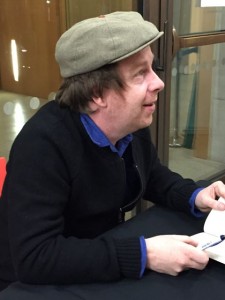 After the reading, the author, a young-looking sandy haired man with a humorous tilt of head, talked with Selina Guinness about inspiration, about how an idea bites and takes hold, about living in the West of Ireland and cycling above Clew Bay, seeing the islands, knowing there was something out there which was beginning to infiltrate his unconscious. He talked of listening endlessly to "The White Album" while writing in a shed in the back garden, of watching You Tube video clips of the Beatles, of getting to know John Lennon.
In her review of "Beatlebone" for National Public Radio last year, Jean Zimmerman concludes that despite the insanity and the talking seals "…somehow readers may feel they are getting close to the real flesh-and-blood human. There are places he remembered, and in his life, he loved them all….." Here I was, in a well appointed theatre in Dun Laoghaire in the first quarter of the twenty first century, but I couldn't get my head around it: I was tripping along in the company of two Beatles, large as life. Having just heard first-hand news of Paul McCartney and his times, here was John Lennon and his times, and the power of the stories brought me up, up and away.
Kevin Barry talked of his previous work, winner of the 2013 International IMPAC Dublin Literary Award "City of Bohane" as "a kind of disguised Cork. Full of nut jobs and stoners." Barry had gone to university in Cork, knew its nut jobs and stoners. But, he said, he couldn't write about Limerick: "It is where I grew up and I love it too much." I had never before heard anyone say they loved Limerick too much…..or even that they loved Limerick at all! That very morning I had texted my sister "Limerick is beautiful" and she replied, incredulous:"Limerick beautiful?"
But now I understood.