Talk to Me of Mendocino
---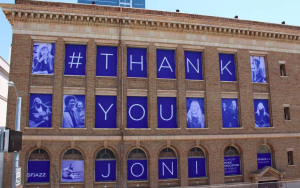 In my Alma Mater, a convent boarding school, we were admonished that "When a woman whistles, Our Lady cries." I have always whistled and the only respite I got from wimpled wrath was when workmen were renovating in the school grounds. I could whistle with impunity and the nuns thought it was the builders, not one of the Young Ladies under their wing.
Airports always make me whistle…usually a song about the place I am leaving or landing (though most often it is "as I leave behind Neidín") and on Thursday, Montreal customs inspired Joni Mitchell's "California."
The system of customs for those transiting Canada en route to the United States is to channel them into a separate area where an electronic board shows the name, flight number, destination and baggage status of each passenger. "Wait here until your name turns green"said an officer, pointing to the board. There was my name, and my destination: San Francisco. I began to whistle and hum..
"…..Caught a plane to Spain
Went to a party down a red dirt road
There were lots of pretty people there
Reading Rolling Stone, reading Vogue
They said "How long can you hang around?"
I said "A week, maybe two
Just until my skin turns brown
Then I'm going home to California"
California I'm coming home
Oh will you take me as I am
Strung out on another man?
California I'm coming home"
My name turned green, and along with it a picture of my baggage on the carousel. I told the officer it was indeed my bag, showed my Irish passport, stated my business in Obamaland gave my fingerprints and a smile to camera, and I was through to California.
Sitting (still) in our night dresses on a sunny terrace in Morgan Hill, friend Joan and I discussed what mischief we might get up to during my stay in Silicon Valley. I said I wanted to go to Mendocino, as a kind of pilgrimage to Joni Mitchell, and she to be poorly at the moment. Joan looked puzzled; "What's the connection?" I sang "….talk to me of Mendicono, closing my eyes, I see the sea. Must I wait, must I follow, won't you say 'come with me?" Joan still looked puzzled.  Mendocino is three and a half hours away, in Northern California. Her electric Mercedes only does 40 miles on a charge, her husband's Tesla does 200 so if we were to go to Mendicono, it would have to be an overnight trip.
Himself was offering to bring me instead, when he mentioned the McGarrigle Sisters…..and then it dawned; having been focusing on one Canadian – Joni Mitchell – a lot lately, I had forgotten about the other Canadians, Kate and Anna McGarrigle. It is they, of course, who wrote and sang "Mendocino." No wonder I had lost Joan in translation.  Himself clicked on the McGarrigle/Linda Rondstadt version of the song.
Beautiful, wonderful Kate and Anna Mcgarrigle. Gorgeous, divine–voiced Linda Rondstadt. Soul-stirring Joni Mitchell, the sound track of our youth……
Kate Mcgarrigle is dead. Linda Rondstadt has Parkinsons Disease and can no longer sing. Joni Mitchell is seriously ill. We should gather rosebuds while we may…..but I am not going to Mendocino on this trip. I shall light a candle in a quiet church in California for us all instead.
….and Linda Ronstadt, talking about her Parkinsons: