Talking Blues and Hobos
---
Woody Guthrie's centenary, steel guitars and talking blues, freedom and freight train whistles and the Dust Bowl mentality which has replaced Ireland's Celtic Tiger bravado lead this restless mind to John T Davis and frocks.
Its called polygenesis. Years ago, in a previous incarnation as a TV producer, Himself was thinking about making a television documentary about Hobos; the drop-outs, restless souls and homeless labourers who ride the rails in the boxcars of freight trains. He set off to do a recce in the US.  Unbeknownst to him, John T Davis was already there, doin' that….(but I got the T shirt.  Himself brought it home, a gift from the editor of the magazine "The Hobo Times" and later I wore it when John T Davis' premiered his documentary film "Hobo" at the Cork Film Festival in 1991.)  The music for "Hobo" is from Davis himself, from Dylan and from Guthrie.  Guthrie was a migrant worker who knew well that "the sound of the steel rails humming, that's the hobo's lullabye."
The film maker John T Davis is a 'Nornireland man. He is also a musician and an artist, who left his home on the shores of Belfast Lough for the 2,000 mile odyssey from North Dakota into the Rockies and on to Seattle on the Pacific Rim to make the documentary.  This was no tourist trip.  Riding the rails, jumping box cars, is dangerous and illegal.  The danger is not just from the moving wagons it is also from other Hobos, from weather and dirt and deprivation, from jealousies and from the law. Davis had a plan, and he had a friend in making "Hobo." At the annual National Hobo Convention which is held every year in Iowa, the film maker met Ed Howard, a Vietnam vet, a Hobo known as "Beargrease" whose story became the subject of his documentary.  The two of them set out on the rails, living by the laws of 'freedom' and scavenging for food. Davis used a 16mm camera and because of the dangers involved filming openly, he stripped it down and camouflaged it in a rolled-up sleeping bag. Davis and his bedroll were Unit One on the shoot, Unit Two was his cover; a couple of guys making an innocuous documentary called "Travelling America." The producer Brendan Hughes liased between the two.
I had been aware of John T Davis as a film maker since his "Shellshock Rock" was banned at the Dublin Film Festival in 1979, and now I was A Fan. Every time I hear that lonesome whistle blow, I think of those who live by it….and die. In 1993, sitting in a low slung sports car with the British writer Johnathan Raban, stopped at a railroad crossing in Seattle, counting the cars as we waited for a freight train to pass (74) I thought of Beargrease and his bros. It was the first time I had been up close and personal with the form of transport which has become an icon of American romanticism and adventure akin to cowboys on horses on the Plains.
In 1996 Davis made "The Uncle Jack" a very different film.  "The Uncle Jack" is about his uncle, an architect with a passion for cinema, who designed some 16 movie houses in the Six Counties of Northern Ireland in the 1930s and 1940s. Jack McBride Neill had no children of his own. He adored his nephew and it was he who introduced young John T to film making, passed on his love of aeroplanes, building model 'planes and restoring wind organs and when he died, Jack bequeathed him his house "Ben Edar" on the shores of Lough Neagh.  John T Davis was living in that house and filming in the US when the idea of a tribute to the life and work of his uncle –  which had been percolating for years –  became an urgent obcession. What was to be an exploration of a complex man became a devestating tale of real life, real time, regrets and conflagrations.
During the making of "The Uncle Jack" one of McBride Neill's most beautiful buildings, the Tonic in Bangor, County Down – at one time the largest cinema in Ireland – was destroyed in a blaze. In 1999, his house, Ben Edar was also destroyed by fire, and with it, almost all of Davis' archive of three decade's film and art work went up in smoke. I have consciously not looked at any footage of either 'Hobo" or "Jack" while writing this…..there are memories and images with me for the past 20 years which fire my immagination, and I wanted them as they are. One is the black and white publicity stills of Beargrease, the star character of "Hobo"…..I have one, I KNOW I have an original, put away somewhere safe, but I searched high and low for the past two days and all I found was a signed black and white photograph of Danny La Rue and one of the band Dr Strangley Strange, but neither Ed nor John T could be located.*
The other image (as I remember it) is of Davis standing in front of the blackened bones of Ben Edar, a calm blue sky above, calm blue water behind. He is unrolling a canvas he salvaged from the fire, his graduate piece from the Belfast College of Art. It is a familiar image: the simple white shape of a jet plane against a blue background. Simple and familiar, but to me, beautiful enough to want to reproduce it, to make my own homage.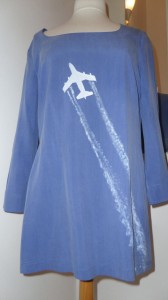 I bought a deep blue heavy silk tunic and I painted it with a white 'plane and because I am me, and it was still the 20th century and the image had not yet been loaded with the symbolism of terror it was later to attain, I stuck diamante rhinestones along the twin jet trails.
I always call it my "John T Davis top."