Tapestry
---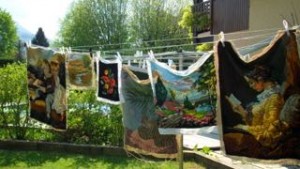 Because the world spins so fast and because he is away often, Himself and myself have 'planning meetings' when we sit down with calendar, notebook and diary and get organized, make lists, pencil in dates and discuss where each will be, what each is doing and is hoping to achieve in the weeks or season to come.
It was a grey, wet and windy Sunday.  On a Sunday in Berlin I would usually get the train to the Strasse des 17 Juni Trødelmarkt or walk to the Boxhagener Platz flohmarkt. That affords me a quiet constitutional and provides me history, art, design and sociology as well as feeding my gambling addiction (treasure hunting, mining the stalls of junk sales.)
We had our meeting, Himself and I, at the kitchen table and decided, before supper, to watch "Natural Woman" the new PBS 'American Masters' documentary on the singer Carole King.
Unless there is a breaking major news-story or we have visiting friends watching the Tour de France, we never turn on the television set before sundown. On a wet February Sunday, Paul sluggishly realigning his jet jumbled-molecules, it was a special treat to sit down to a programme, so I put out a bowl of feta cheese, olives and big fat capers and Paul poured glasses of Rosé.
"Natural Woman" is a lovely piece of television, a lovely piece of history….herstory.  For those of a certain age it is sweetly nostalgic, and enlightening on the modes and mores of the times as defined by the music scene – which, in fact had the power to change the modes and mores of the times, and did. Turning on, tuning in and dropping out may have originated as philosophical or literary concepts, but when set to music, they became a way of life (or, as we would say now "went viral.") How many minstrals survived, how many didn't make it, how many didn't get the recognition they deserved?
The programme started on a high note, the voice of Barack Obama intoning Carole King's praises as he awarded her the Gershwin prize….the first woman to receive it.  Carole King was a woman of her times.  Growing up in Brooklyn, she said "We were brought up to be cute and popular and get married."  As a teenager, (with a pianist mother and a musical education) she started writing songs "to be recognised and respected" and went on to pen over 1,000 which have been recorded by around 400 artists.
She was a "Lady of the Canyon" at that location's most prolific time, but she left California for Idaho, where she settled permanently in 1980. She and her family have been there ever since, working the land, protecting the land. Is that why Carole King survived?  Did – and do – the geniuses of popular culture who reject fame and the high city life to live in the country have a better chance of a long and happy life?
I thought of John Lennon, who in 1967 had bought Dorinish in Clew Bay, an island of 19 acres off the County Mayo coast for £1,700. He never lived there.  His first marriage collapsed shortly afterwards….but if he had, if he had managed to move Yoko Ono from New York, would he still be alive today?   This woulda coulda shoulda retreat of John Lennon's is the subject of the 2015 Goldsmiths Prize winning book called "Beatlebone" by Kevin Barry.  In the novel, Lennon travels to Dorinish to confront his past and his demons. (In reality, a commune established there was destroyed by fire in 1972. In 1984, after John Lennon's death his widow, Yoko Ono sold the island for e30,000 and gave the proceeds to an Irish orphanage.  Dorinish was used for grazing by a local farmer and in the meantime, some pilgrimages and the odd arts festival have been held there. It went on the market again in 2012 in the depths of the Irish property 'Burst' and appears to be for sale still, at a price between e300-500e.)
Long before I met my present husband, still in the bosom of the close-knit group of friends we considered our family, the ladies and gentlemen of Laurel Canyon California provided the backdrop to our lives. Joni Mitchell, Carole King, James Taylor, Leonard Cohen, Linda Ronstadt, Carly Simon, Judy Collins, the Byrds, the Mamas and the Papas, the Eagles, Crosby Stills Nash and Young….. The two greatest classics of the singer/songwriter genre of 70s music, King's 'Tapestry' and Mitchell's 'Blue' were made in the same studio at the same time. We, in Dublin and the Irish countryside (we were starlight, we were golden) were leading such different lives in such different cultures, we may as well have been on a different planet, but still the themes, the emotions and the poetry resonated.
This Berlin winter Sunday gloaming, watching television as a special treat, beside the aperitifs on the sofa table was a copy of the current Financial Times Weekend section.  Returning from Tokyo the day before, Himself had brought me news from the wider world and before we dimmed the lights, I had been reading an article by Lucy Kellaway called "Good Wool Hunting." Kellaway is a knitter. She made her first jumper aged 10 and is especially fond of the intricate loopings of the colours of Fair Isle patterns and the handspun wool of Scottish island sheep. When an assignment to report on the knitting industry of the Shetland Isles came her way, she thought she had been granted heaven. At the end of the piece she said "…..on the interminable journey hack home, on ferries, planes, cars and trains, (I) knitted the entire way back to warm, crowded London."
I have knitted my way through life…..on ferries, planes, cars and trains, on trams and buses, beside water salty, fresh or brackish, on tiny islands and great cities, under the mountains, during poetry readings, recitals and meetings, broken-hearted or elated, calm and contented or infested with raging demons, whenever and always, knitting for comfort, for therapy, for love, knitting for a new jumper, knitting to save my life.  If I was not knitting, I was doing crochet, piecing patchwork hexagons or doing tapestry; anything which involved needles and fibre. I shall call my autobiography "Pens and Needles."
It is a holy thing, this penchant for fibre and needles – and indeed pens. The writer Lucy Kellaway has it, the singer-songwriter Lisa Hannigan has it (with her mother, she sewed the design and sleeve notes for her debut album "Sea Sew") ….and at the "Other Voices" music Festival in Dingle, County Kerry that year, I made her a needle felted toadstool, which she put in her hair. (I just happened to have some roving and a felting needle with me on the coast of County Kerry in December.)  "Sea Sew" was rehearsed, incidentally, in a barn in Thomastown, County Kilkenny, the very same place my friend Miriam and I knit to the rhythms of "Tapestry" and "Blue" on the record player. We were stitching and weaving as our young lives grew and unravelled and became more complex and colourful around us. (The baby of the house, recipient of many sludgy coloured handmade or tie-dyed jumpers, was lucky he wasn't named "Little Green" or "Blue" for he would now be known as "Blue Nunn.")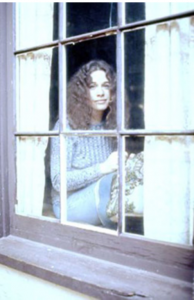 Carole King did tapestry.   She probably still does, on her ranch in Idaho. I have made many tapestries, but never again.
iMade tapestry cushion from kit
iMade tapestry, unfinished cushion, Laura Ashley kit
At the start of this piece, I mentioned trødelmarkts and flohmarkts.  For ten years I have been buying the discarded tapestries of local women –  probably deceased – they, or their work certainly no longer valued, sold for a few euros from the street or the rickety tables at flea markets of France.  I buy them with reverence and now have quite a collection.  A collection so large I have covered chairs with them and used them to make collages and floor mats, to embellish dresses and jackets, to cover bags.   I still have many more…….
Tapestry. The music of our generation, the grace notes of my life. I am now more moonlight than golden…..I am billion year old carbon and I got to get myself back to the garden…..