The Divine Comedy of Thomas Merton
---
With age comes (some degree of) wisdom. I have done so many stupid things over the decades, I do not really deserve still to be alive.
F'rinstance: Aged about 9, I used to get up at 5 o'clock in the morning to walk beside the Curraheen River near our house. I still don't know the official names of some of the places surrounding our home, we had our own names – like Christopher Robin and his 'Hundred Aker Wood' – and the Curraheen was always called simply "The River" though it was merely a tiny tributary of Cork's lifeblood, the Lee.
The River flowed through Tanglewood, a dense thicket of flowering rhododendrons with tall walnuts overhead, bearing nuts that never ripened but fell green-skinned and finger-staining from the trees. Thence through Uncle Tom's fields (no relation, but a neighbour) past the Model Farm Wood.  The land – prone to flood, not good enough for meadow, indeed a 'sad and gloomy place'  – was deserted then but for the black and white Friesian dairy cows of the county, too lazy to be curious.  Living in a shack in the Model Farm Wood was a frightening bearded hermit, keeper of dogs, and ofttimes one would hear shots fired. I hadn't yet read Gavin Maxwell's "Ring of Bright Water" – but, when I did, I remembered the signs on the soil; the tracks and spraint of otters. On one such morning walk, I saw for the first time (the only time, apart from on a market stall in Istanbul) leeches sucking on a mossy tree trunk.
Beyond our River, parallel to the Carrigrohane Straight Road was the Lee, where as adolescents we would swim in summer from the squelchy 'beaches' made by the hooves of thirsty cattle. We were unaccompanied – in those days, kids roamed free – oblivious to currents or the sudden surge of overflows released without warning by the Electricity Board from the upstream Inniscarra Dam. There was soft mud underfoot within one's depth, and deeper, the submerged riverweed-tethered limbs of fallen trees. I would terrify myself  thinking of horrifying happenings – as in "The Greengage Summer"-  making contact with a corpse in the dark water. On the town side of the Straight Road was the open air Lee Baths where once I dived so deep from the highest platform into 30 feet of rusty water that I scraped my forehead to bleeding on the rough concrete bottom of the pool. I will never forget the shock of hitting my head, how long it took to come gasping to the surface, the realisation that I could have died….but even then, the realisation that I had been saved.
At two decades old, in shawls and long skirts, carrying my knitting, I would hitch-hike from hippy music festivals in the West back to Dublin. Once, at night, a young lorry driver picked me up and harried me about pulling over for 'a kiss'. I do not know how I got out of it….but he did keep driving. We reached the outskirts of the Western suburbs and at long last, I was able to demand to let me out. He stopped, I jumped from the high cab and ran to my aunt's house. She opened the door, asked no questions about my late night unannounced appearance and brought me in, smelling of pot and woodsmoke, to a clean and honourable bed.
In a pub in Baltimore at the start of The Troubles in the Six Counties, my friend Miriam and I found a lift back to Cork city from a friendly stranger. During the evening, I did notice him accepting something from behind the bar, and shoving it under his jumper. Much later we heard that it may have been part of some bomb or incendiary device which he was transporting north…..Maybe when the West Cork harbourside pub closed, we had travelled, Miriam and I, through the country roads, in the middle of the night, in a car carrying a murder weapon.
But of all the stupid things I did, maybe it was wisdom gleaned from Thomas Merton which really saved my life. There was an electric socket above a wardrobe in our bathroom and into this I once plugged a two bar electric heater, snaked the cord to a narrow ledge at the end of the bath, filled the bath and got in.  Just a little slip and the electric heater would have toppled into the water. I hadn't yet learned that one should never even unplug an electric kettle or flick a light switch without first drying one's hands, but I had already read some Merton, and he had recently died: electrocuted by an overhead fan while stepping out of a bath in a hotel room in Bangkok.  He came into my mind and like an electric shock in itself I felt fear; very gingerly got out of the water and reached up to yank the fire from the socket.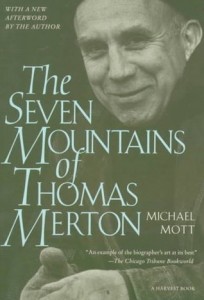 In the library of my convent school, Laurel Hill in Limerick, where I was a boarder, the shelves were well stocked. It was there I discovered the writings of Thomas Merton and young and impressionable, idealistic, romantic, already unconsciously seeking pathways through the world, fell for the person, his writings and his philosophy.  A card carrying Communist while in university (his party name was Frank Swift) Merton was a convert to Catholicism who became a Cistercian monk. He was a poet, philosopher, essayist, theologian, radical thinker, ecumenist, author of 50 books.  I have often thought of Merton since, always paused when seeing his name, often meant to go back to his writings…..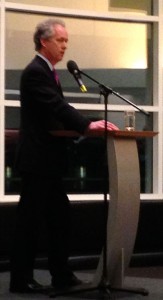 At a Brookings Institute "Global Cities Initiative" conference of leaders and executives in Munich last November, I met with one Greg Fischer of Kentucky. His family come from the same county as I, both of us nurtured by the same river. We immediately clicked, we just 'got' each other, I later quoting him, he quoting me. We spoke of Macroom, of Wendell Berry and Thomas Merton, and my new friend told me the philosopher/poet monk was buried in Louisville, the city of which Greg Fischer is currently Mayor, his second term as First Citizen of Louisville.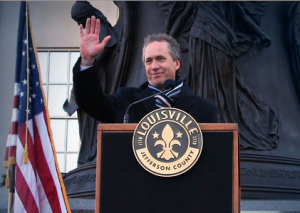 To mark the 100th anniversary of Merton's birth, a film has been made of his life called "The Divine Comedy of Thomas Merton" and is produced by "Knitted Heart Films" (a title after my own heart!)
Read him.