The Grand-duc d'Europe
---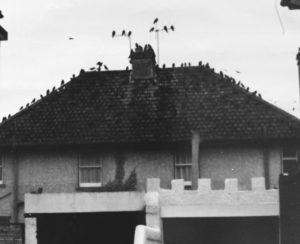 In August 1999, there was a total eclipse of the sun.  Living  in the Mardyke area of Cork city between the River Lee and the University, I was waiting for the phenomenon.  A few moments before the appointed time, early afternoon, it began to get grey dark and the rooks set up an mighty rumpus, vying for space in excited lines along the roof ridges of adjacent houses. Then the sun disappeared behind a celestial black frying pan and the birds fell silent.
On August 21 in the French Alps, there arose such a clatter from the skies, I went out to see what the rooks were on about.  Our rooks do not appear in great numbers and are normally well behaved, but here they were, on a sunny mid August afternoon, wheeling and alarming.   I told my sister that the last time I had seen rooks dash about complaining like that was at before an eclipse, and I reckoned there was going to be an earthquake.  "Jesus Mary and Joseph" she said (or an equivalent pious ejaculation, commonly believed by the Irish to ward off evil) "don't be saying things like that….."
A few days later, in the early hours of August 24th there was a 6.2 magnitude earthquake near Accumoli in central Italy. As the news came in of destruction of Medieval hill villages and the casualty list grew, my sister began to think I was psychic….or at least had the ability to read the animations of avians.
The birds were alarming on the Sunday.  On the Tuesday, our neighbour came in to show us a photograph he had taken the day before, Monday. (When I had not been at home).  He had seen a very large bird sitting on the ridge of our garage roof, surveying the land around. He decided it was an Eagle Owl, Bubo bubo, known in France as "Hibou grand-duc" or "Grand-duc d'Europe".  According to the field guides it is very rare, but our neighbour was adamant.  An Irish ornithologist friend was most impressed, saying that no wonder the smaller birds had been alarming…..the Eagle Owl is 'vicious.'
On the interweb I found, not only a description and an image, but also a recording of the Eagle Owl's call!  (In the past, when the same aforementioned friend – actually former husband – wanted to match birds with their calls for me, he would take out a stack of old, very heavy records and put them on the turntable……now we just click, see and hear. Magic![oiseau.net])  I recognised the sound.   It was a cry I have heard several times recently at night, when all is still by the lake and the mountain forests. It is a bossy cry, oscillating between half a wood pigeon and a squawk… The other night I was woken by his calls, and feel asleep again thinking of the swoosh of wings, the swoop over the tree tops, the cowering timorous beasties below frozen in their tracks.
I went searching for the significance of this nocturnal hunter choosing to hang out on my roof, and find that as a totem or spirit guide "you …probably like to explore the unknown. Night time is particularly auspicious for your creativity, so take the time to focus your creative energy then. The mysteries of life are a fascinating field of interest. As the owl guides your steps, you are likely to develop an appreciation for life's magic."
"When the owl shows up in your life, listen and look out for the subtle signs that are around you. Your animal spirit guide is a great helper to be attentive to what usually goes below your radar, but is now of particular importance. The owl is also a guide to uncover your hidden potential and abilities.  Owl spirit animals are symbolic of death in many traditions…..(but) it can be viewed a symbolic death, meaning a transition in life, important changes that are taking place or about to happen. When the owl shows up in your life, pay attention to the winds of change. Perhaps you are about to leave some old habits, a situation that no longer serve you or bring something new in your life." (www.gaia.com)
Of course….  and then it comes back to me: the significance and relevence of Margaret Craven's book title "I Heard the Owl Call My Name".  In Irish culture, we have the Banshee.  In our family, a bird flies into the house………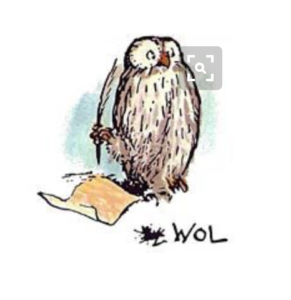 In A.A. Milne's "Winnie the Pooh" (illustrated by EH  Sheperd) the character Owl and I have a lot in common.  Owl, the elder of the forest, is 'very good at long words'. Pooh admires him because he is wise and 'able to read and write and can spell his own name: WOL'.  As we say in Ireland "aithnínon ciaróg ciaróg eile"  ("one beetle recognises another beetle").
Dear Duc d'Europe, I hope you are but heralding for me a new beginning, a season of more finely honed intuitiveness, grateful mindfulness and wisdom as well as mists and mellow fruitfulness.  Love from the Wolery. x