The Romance of Cinemas
---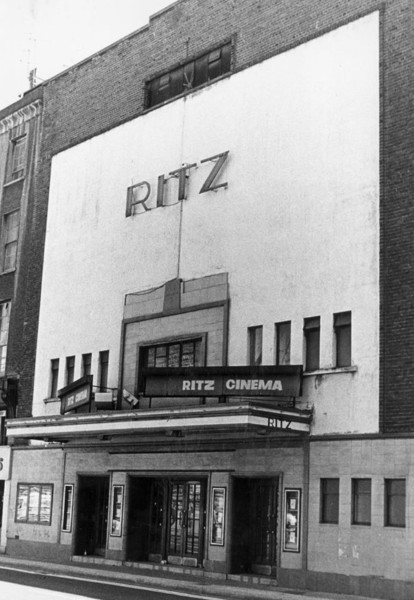 Cinemas are romance in so many ways, above and beyond even the magic of the silver screen;  the fantasy, the possibilities, the beguiling landscapes and beguiling beauties, the lifting of the heart to music or dance or humour, the racing of the heart to fear, the wrenching of the heart to sadness. Traditionally, in their architecture, cinemas could be anything from Baroque to Art Deco or BauHaus, even Flea Pit with floor-scraping wooden benches (I remember one such in Killarney County Kerry) but they were always romantic. There was the darkness, wherein could be enjoyed a sweet kiss out of view of disapprovers – unless of course, one was in a mid 20th century Irish rural location, when the Parish Priest might patrol the aisles with a flash light – where sobs could be gulped, tears could be shed without shame.
Then came the 'Cineplexes' with their heightened technology and functionality – whatever about comfort. I cannot decide whether such edifices still retain the romance and the magic. With the demise of celluloid (ah the whirr from the projection box the theme music to private snogging if one choose the back row in The Gods!) we now accept – we expect – such realism from screen and surround sound that maybe we no longer willingly suspend disbelief without question or cynicism. Cradling bushels of popcorn do we still gulp sobs or merely carbs?
January 3, 2019 (this year's intellectual adventures have begun!) the much-respected Chapters Bookstore in Dublin posted a tweet advertising a biography of the playwright Joe Orton "Prick Up Your Ears" by John Lahr. From my Twenty First century Berlin breakfast table, I was transported back to Cork half a century ago.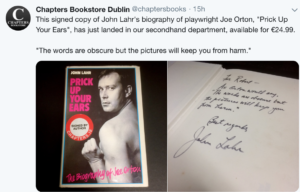 On Washington Street in Cork – a convenient walk down the Western Road from the University if one was skipping lectures – was a cinema called "The Ritz." It was small, with a pleasing 'Fifties exterior, and showed art house as well as popular films. It was there I saw classics that have stayed with me ever since: "Africa Addio","Elvira Madigan " and "The Battle Of Algiers" (I was walking out with the Auditor of the Philosophical Society, who – oddly for a Medical student – was both political and culturally aware) and later, "Walkabout."
One morning from the top of the Number 5 bus, passing by Singer's Corner from The Grand Parade onto Washington Street, (to Model Farm Road via College Road and Dennehys Cross) I looked out, as ever, for the programme at the Ritz (possibly by then re-invented as 'The Classic.')  It was displayed with letters blue tiles on an illuminated strip over the portico. Overnight, presumably, some enterprising and creative Cork wit had been busy up a ladder and the cinematic feature had been deftly moved to read "PRICK UP YOUR ARSE"