The Sacrificial Chair
---
We probably all have one, a chair on which no one ever sits, but is nonetheless a fixture in the home.
"Thing Industries" a company in Australia, aware of this phenomenon, has created and are successfully marketing such an article of furniture. Not making any bones about its place and use – as is the wont of Aussies – they call it "The Sacrificial Chair."  One cannot use it as a chair per se, because this chair has no seat.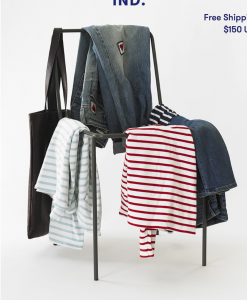 A Sacrificial Chair is an item of furniture used solely as a receptacle for clothing, not for bums.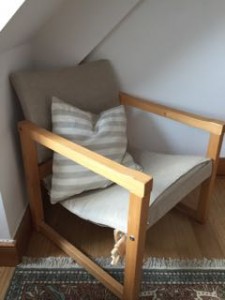 This is our Sacrificial Chair. It is nice piece of 20th century furniture, originally from the Ikea, but more in the style of Alvar Aalto's Paimio than the blue shop's Poang. I like it because it is neat and lacks space-eating curves or bends, is covered in raw linen and the seat and backrest are fastened to the wooden frame with natural leather straps. Aalto's "Paimio,"designed for a tuberculosis sanatorium of the same name in 1933 was the inspiration for Poang. The inspiration for the metal Paimio was from a Marcel Breuer Bauhaus chair in the 'twenties…..and Breuer, in turn, claimed to have been inspired by his bicycle (which cannot have been inspired by Flann O'Brien, because The Third Policeman was not written until 1939/40.) Though it is comfortable, I do not like the Poang because it is such a cliché, an icon of Ikea and its curved back takes up too much space.
Our Sacrificial Chair sits in a corner of our bedroom in Berlin, under the sloping eaves. If one were to sit on it, one would probably hit one's head as one got up. That is the problem with 'characterful' or 'cosy' living areas created in the steeply arched roofs of houses in areas prone to snow. God preserve me from flat roofs…..but in future, I don't want any more houses with slanted ceilings and short walls. In posh these can be called a 'Penthouse' apartment, in German, it's a 'Dachgeschoss.' Ours is a Dachgeschoss in an Altbau – which means the building itself is around a century old and survived the War. Before us, the space was inhabited by pigeons.
One cannot sit in our Sacrificial Chair. Our tall friend Ciaran comes in to watch Irish rugby matches on television when we're away, as we have the wherewithal to grab moving pictures bouncing from other countries on the earth to satellites in space, and back again to this atmosphere, and he does not.
One day last year, there must have been a particularly exciting match, for Ciaran managed to break the chair and it is no longer situponable.   It was thence removed to our bedroom, in which it has since rested, with the sole purpose of being a receptacle for discarded clothing. Every night it comes into its own, as we cast off the clothes of the day and drape (OK, dump) them on the Sacrificial Chair. Every time I bring clean laundry to the room, the Chair is the half way point between ironing board and closet. Packing to go away, little piles accrue on the Chair, it is where odd socks go to meet their mates.
My first meeting with a seatless chair as statement was on the invitation of the artist Dorothy Cross. I know not the date nor the location, though I think it was on College Green in Dublin. It must have been early in her career because there is no web record of this piece named "The Coronation Chair" which she brought me to see long ago at an Irish Exhibition of Living Art, when she and I were young and on train journeys to the capital from Cork, were wont to discuss subjects such as the ins and outs of blowing glass penises or the making and cutting of glass hearts and finger rings in the Waterford Glass factory. Even Sean Kissane, Curator of the Irish Museum of Modern Art when I sought assistance tracing it, originally thought I was inventing the large sculpture, that it was a figment of my imagination, for the only images are in Dorothy's slide library….and mine (but neither of us has current access access to our files.)
In recent times I have become familiar with the "Broken Chair" at the entrance to the Palace of Nations in Geneva.   "The Broken Chair" a 12m tall piece made of 5.5 tons of wood by the Swiss artist Daniel Berset and carpenter Louis Geneve does have a seat, but it has a broken leg, symbolising the damage done to limbs by land mines and cluster bombs.
Erected by Handicap International in August 1997, The Broken Chair was supposed to stand for three months, but it was kept through public support as a reminder of the failure of many countries to sign the Ottawa Treaty.  The Ottawa Treaty is officially known as the "Convention on the Prohibition of the Use, Stockpiling, Production and Transfer of Anti-Personnel Mines and their Destruction" but is commonly referred to as the "Mine Ban Treaty" which aimed to eliminate anti-personnel landmines around the world and became law in 1999. One hundred and sixty two states are parties to the treaty, but 35 United Nations states, including the US, Russia and China are non-signatories.
Another Big Art chair is – or rather was, for it has been sold to a private collector – "The Writer" by Giancarlo Neri. The Writer, a 9m high table and chair was installed on Hampstead Heath, London in 2005 in the presence of a constellation of writing stars including Zadie Smith and Salman Rushdie. There was much argument about The Writer's merit as art and what it meant (grist to the mill of locals, Hampstead being the home of the chattering classes.) Was it art? Did its emptiness and inaccessibility speak of the lonliness of the solitary writer? (This particular Writer however, was never alone, as it constantly drew crowds of curious detractors and happy admirers.)
The first piece of advice to aspiring writers is the primary necessity of the placement of bum on seat. …but writers are the best, most creative and most shameless of any group or pod or pool at inventing excuses for not practicing their trade, and would not hesitate to blame the family Sacrificial Chair for their inability to get into writing mode: "I cannot. There is no seat".