Up Down!
---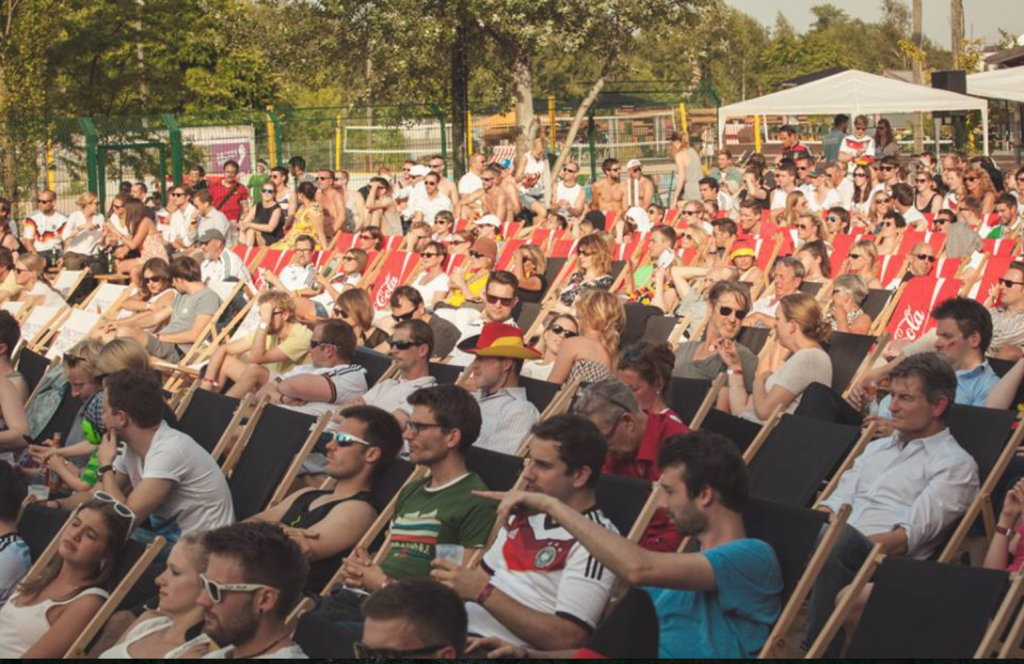 (PIC from the "Body Language" blog article "The 23 Best Places in Berlin to watch Euro 2016" reproduced by "Slow Travel Berlin.")
Berlin in summertime is dappled….so many trees and the glint of water, and the smell of dog shit and lime blossom. Being winter warblers we don't usually get to see the city sans vestes (almost sans culottes, as short shorts are de rigeur on the streets) so the occasional northern migration is a treat. Last night was warm and bright and balmy, the citizens, their million million visitors and their million million migrants socialising outside. Being rashered after a 3.30 a.m start in France, I didn't head as far as the 'Curious Fox' bookshop for a Bloomsday reading (nor was I in Berlin in time for the Irish Embassy event) but sitting outside a local 'imbis' last evening, all was calm and jolly. When a big cheer went up from the tables outside a bar down the street I knew there was a match in progress, but I didn't know who was playing – except that Himself was in Lille for the day, driving to and from Brussels and I was concerned about hooligans and yobos. But I had gone in the door of the magic wardrobe of my phone and saw from the lands beyond an exclamation from my nephew. Conor was born and raised in Belfast and I sussed that the Berlin crowd was cheering the second team of our island – with but 6 counties, the smallest geographical unit in the current European Cup. Ireland has already won the tournament according to the French, for the contagious good natured, responsible fun of the green brigade (they even sing while cleaning up their 'fanzone' after them) but could this be a step towards hardware for the island?
For those who don't understand the complexities of soccer (er….moi) not to mind those of Ireland's  soccer structure, here is a simple  initiation:
And for the complexities of our loyalties, this is an excellent article capturing the spirit from yesterday's New York Times: June 16 2016, by James Montague.
(www.nytimes.com/2016/06/16/sports/soccer/northern-ireland-euro-2016-world-cup-1982.html)
Leaving Past Behind, Northern Ireland Unified Behind Its Team