Apocalypse Now
---
America has rejected a female heart and brain surrounded by a bevy of brilliant women, in favour of a male ego surrounded by rotund, jowly old white conservative capitalist males.
Ahead of the vote, result or its latest publication date, the New Yorker Magazine released its cover next week. A subway passenger reads a newspaper, whose headline is "Oh Sweet Jesus Please God No!" It is completely prescient of the age of darkness into which America and the world has been plunged. This is the winter of our discontent.
I am so sad, so very sad and so very sorry for America and for the world. For the past months I have written and re-posted continuously both the serious and the jocular, in defence of and support for Hilary Clinton. The time for jokes is over. DJT's followers cannot decipher between reality and satire and is incapable of understanding reverse psychology, so America now has a President with no political or public service experience, a duplicitous, misogynistic bully with the language skills of a nine year old. Michael Moore's prediction was correct.
Over the past weeks I have been obsessed with the outcome, or possible outcome, of the American Presidential Election. I have neglected home and friends and family, culture and personal growth and become a bore.
Alone in Berlin yesterday, ar sceitimíni (on tenterhooks,) I could not concentrate. I got up late and slouched around in pyjamas, folding winter clothing and tidying my button drawer. I didn't even bathe or dress until after 4.00. I ate granola raw from baking trays on which I'd spread it, no stamina to watch it crisp golden in butter and honey in the oven a la Le Presbytere's recipe. I walked by the Spree and caught a train into town and spent 90 minutes browsing, reading patterns and labels, handling 'stoffe' in an art craft and needlework supply store. The cold dark November Berlin streets were almost empty. Husband in Beijing suggested I put a a bottle of Henkel Trocken (German white sparkling wine) in the 'fridge as a Hilary victory celebration. Great idea I thought…and I'll have a cigarette too!
At home, I ate slices of tofu from its packaging and a lentil salad in a plastic container from Kaiser's supermarket and tried to get the news but could not get the television to work (it's not just an on-off button….it's 3 different machines with 2 different remote controls.)
I know of a woman whose cure for all ills is to "go to bed with a can" (meaning beer) so the phrase is used in our family when we're overwhelmed. I took the Henkel Trocken from the freezer (I'd neglected to chill it earlier) and lit a cigarette. In and out from the balcony, still fiddling with buttons. At midnight, now lightheaded, I gave up and went to bed. My copy of Chimamanda Ngozi Adichie's "Americanah" lay unopened on the quilt, I could not even read. And that was before the results came in.
Before dawn, I woke to impending disaster. In the US Embassy in Berlin, an ensemble was playing jazz for the invited guests; fiddling while Rome burned. The crowd in Times Square New York was trickling away, shell-shocked, silent.
I got up to the DJT acceptance speech relayed on Irish Radio. The living room smelled of stale tobacco. I am disgusted and exhausted and very much afraid for anybody who is not a jowly old white conservative capitalist male. But we cannot give up. Friends who lost their two grown daughters in a pre-Christmas car crash ten years ago say the only way they can carry on is to "get up in the morning and go to bed at night." To survive, one must have a structure.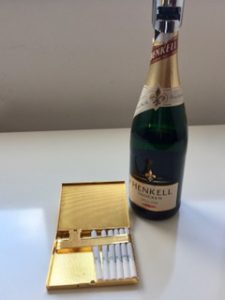 I had a decent breakfast, bathed, dressed and even changed the sheets on the bed. I threw the remainder of the cigarettes in the bin, poured the remains of the sparkling wine down the sink, looked up the times for yoga lessons today in Kreutzberg and wrote to my contact in MoabitHilft to say I was back in town and offering my services. (Moabit Hilft is a citizen's initiative of local residents, institutions, associations and business people in Berlin-Moabit to assist the refugees in the Alt-Moabit reception centre and accommodation. I had contact with them last year and promised to renew my support when I returned to Berlin.)
We go to the US often, for work, recreation and adventure and to see friends. Some time back, we said that in the event of the Nightmare Scanario, we would not go there if at all possible during a DJT Presidency. Himself works with a US company, they need him and he needs them. But it is a democratic business based on education, talent, creativity and social entrephreneurship. In his acceptance speech, DJT – who has no imagination and no originality – spoke of what he would do for veterans and the unemployed; his ideas were those of Teddy Roseveldt, a la the GI Bill (along with construction…i.e. breaking stones on the sides of roads, as was done after the Irish Famine.) If that actually happens…..
All we can do is carry on, and I am starting in our own home. I am going to unsubscribe from the news outlets I have been following, I will skip over social media articles and discussions…especially jokes and comments, because there is nothing to be said any more, and this situation is not funny: it is a tragedy. Surrounded by good people – both loved and strangers – I will endeavour to create a haven of peace, calm and tranquility, generosity and fun, inclusiveness, acceptance, dignity, beauty and culture. (None of those traits is evident in the new President Elect of the US.) I will foster discipline of mind and body and most of all, the autonomy and talents of women.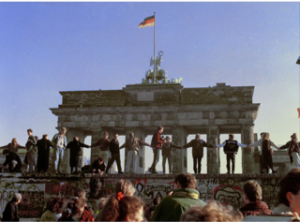 The US Embassy – "Berlin Station" – has put up a new cover photo, sadly underlying its fears and pain. It is of the fall of the Berlin Wall, 27 years ago today, with a quote from Barack Obama. "No wall can stand against the yearning of justice, the yearnings for freedom, the yearnings for peace that burns in the human heart… because courageous crowds climbed atop that wall, because corrupt dictatorships gave way to new democracies, because millions across this continent now breathe the fresh air of freedom, we can say, here in Berlin, here in Europe — our values won. Openness won. Tolerance won. And freedom won here in Berlin… as long as walls exist in our hearts to separate us from those who don't look like us, or think like us, or worship as we do, then we're going to have to work harder, together, to bring those walls of division down. "
Remember, from now on, every US ambassador in every station in the world will be a Trump appointee….a yesman for the furtherance of the Trump brand. And what indeed of the Trump brand? What happens to all the business interests in his name? As President will he be permitted to continue to market his products? (even his fashion collection is a 'signature' collection, as he must have his name on everything.) The brand is already being pushed to become a male line dynasty. There was no woman beside the victorious President Elect, he was flanked by two males: one his jowly old conservative white male Vice-Presidential pick, the other his ten year old son Barron, a child with attention span issues, whose very name was chosen for posterity. Already he is being groomed to succeed his father.
There is nowhere to which we can run, or hide. Oh Ireland! (where DJT wants to build a wall, using the argument that rising sea levels due to climate change are threatening his County Clare golf course.) Thank God we're surrounded by water.