Walking, Bereaved, in Grunewald
---
Bereaved, Walking in Grunewald
It was snowing when he died.
Falling on the trees outside the window, on every leaf and bare branch in the forest of Grunewald "….falling faintly upon the universe and faintly falling, like the descent of their last end, upon all the living and the dead."
He died. He was six months younger than I, twenty years older than his wife, a woman of delicate features framed by a pixie haircut, a slender body, an artistic creative spirit; a hardworking woman with an open un-judgemental heart, strong will and no self-pity.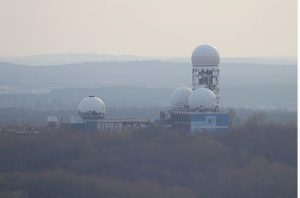 Three days later the snow was gone in the forest of Grunewald. The pathways to the ''Teufelsberg" were slicked and trampled brown from the rails of eager sledders.  An unnatural mound…"the Devil's Mountain" at one hundred and twenty metres the highest hill in West Berlin can truly be called 'man made' for men make war, men shift rubble. It was created from 75,000,000 m3 of broken stone and concrete and metal, broken civilization, the broken homes and lives, clubs and cabarets, workplaces and streets of the living and the dead. The wreckage of war. Underneath is a Nazi military technical college which was never completed – was never born –  but neither would it die. Resistant to demolition, they buried it instead, its headstone the listening domes, the flayed and flapping skeleton of the abandoned US National Security Agency's Field Station Berlin.
The trees were stark and motionless, needles piercing the low sky – that unyielding grey of North Eastern European winters – standing tall and straight, proud as North Eastern Europeans stand, cold but unyielding to the elements.
None native, but well wrapped as sensible Germans, we walked quickly we three women, friends linked by gender, interests, experience, affection and grief. The widow has the longest strides, but she stopped often to answer the beeping of her 'phone. Leaning against a tree trunk or a fence, necessarily talking – she said – of things so alien, so unbelieveable, so incomprehensibly awful to her just the week before, as though she were 'making a hair appointment.'
Where was he now, her beloved of nigh on twenty years, her husband of seven? This is Berlin, he is in a morgue, where she must pay to visit him, book for a drawer to be opened, to see him one last time and say goodbye, to rant and rave – for maybe she must, but she will do this only in private with her lover.
This is Berlin. I sing to my friends, to the upright uptight, disapproving trees:
"I used to have this girlfriend known as Elsie
With whom I shared four sordid rooms in Chelsea.
She wasn't what you'd call a blushing flower
As a matter of fact she rented by the hour….
….. But when I saw her laid out like a queen
She was the happiest corpse I'd ever seen…."
Even Elsie, who looked on life as a cabaret, admitted that when it all got too much for her, standing under one of Berlin's myriad railway bridges she would scream, scream loud and long as the train overhead, the carriages, the wheels on metal tracks above, drowned out her searing, cleansing vent of anguish. Then, back to the cabaret old chum….life is a cabaret.
As the light waned, grey day into greyer evening, we walked along paved pathways by the road, passing trees on either side, one car, a forestry van and 3 runners. Another jolt, another bolt of life after death hit the new widow: "I may not be able to go walking here anymore. I don't know if it's safe on my own….the wild boars we used to joke about……I don't know if I can do it….."