We Need To Talk About Ireland
---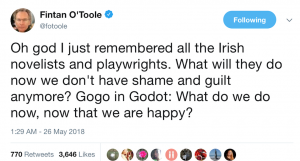 The May morning after Savita Day, Fintan O'Toole of the Irish Times newspaper tweeted "Oh god I just remembered all the Irish novelists and playwrights. What will they do now we don't have shame and guilt anymore? Gogo in Godot: What do we do now, now that we are happy?"
The answer is that we may need therapy.  Luckily, there is a woman already well rehearsed in conducting a National Guilt Cleansing Ritual for the Irish psyche. Coming out of a short segment in the St Patrick's Day show "We Need To Talk About Ireland" at the Mansion House in Dublin in 2014, Eleanor Tiernan wrote and presented "The National Therapy Project" for the Dublin Fringe Festival that year.
Eleanor Tiernan, like her less famous cousin Tommy, is a comedian, but as we entered the theatre for the National Therapy Project we were told that attendance was compulsary on a voluntary basis, were each handed a potato, told to lie down on the floor and on no account were we to laugh.  It was difficult, in the semi darkness during incantations, not to laugh, but I dwelt on not having turned off the immersion before leaving home which of course, made it easier to cultivate guilt and fear.
The National Guilt was represented by such devastating incidents as the Children of Lir being turned into swans for 900 years, Sonia O'Sullivan getting diarrh0ea before an Olympic race, Oliver Cromwell, the entertainment productions of Louis Walsh and, of course, the Irish soccer team's abandonment by their captain in Saipan.
After lying on the floor holding a potato, imagining Ireland as a young child suffering trauma as a result of painful memories and chanting  "It is not your fault" at appropriate moments to assuage Erin's guilt,  I was presented with my Citizen Competency Award Card. I have carried it proudly in my passport ever since – just in case like.
My accomplishment in having attended the National Therapy Project means forgiveness.  Since then however, things have not been perfect.  It would take more  than one session to get over Minister Michael Noonan and Clare County Council organising colleens to warble with harps on a red carpet to greet Donald Trump at Shannon Airport.  We women are still working on the guilt and shame wrought upon us all by generations of pale stale males.  Now that the latter, having fought Mná na hEireann on May 25 and Mná won, it appears we may be getting there.  A Catholic Bishop has since said that all those who voted YES should go to confession to seek forgiveness and be cleansed (the political equivalent of 'churching') but a bright new dawn of inspiration for our novelists and playwrights can start with Eleanor Tiernan putting together an all-new National Guilt Cleansing Ritual.
There was Before the Referendum and there is now.  When refreshing my memory of the NTP session, I came across the original Trailblazers' production "We Need To Talk About Ireland" (filmed by Myles O'Reilly.)  It has the obligatory St Patrick's Day face painting and Celtic Twilightery, the usual Angelus images as well as ochón ochón and weela weela wallia (for we Irish have few – if any – songs and ballads about a mother's joy at a baby's birth, but there are many, many about sex, rejection, disgrace and infanticide.) https://youtu.be/-4i424VrAe0
Four years ago, the Trailblazers group began their exploration for this show, billed as "a creative celebration of Ireland's past, present and future" by asking the question "What if?"  As though a seed had been set, many of these questions were addressed during the Repeal the 8th Referendum campaign.
With hindsight, the most interesting, prescient, prophetic segment was Brian Delaney's highly personal piece.  He told a story about witnessing the death of a man in France and wove around it the human condition and Ireland's dichotomy twix joy and guilt-pain.  "Religion is a story. Genocide is a story, love is a story….. and recovery in this country, emotional, psychological and spiritual recovery, will also be based on a story….if ever there was a time to tap into stories for the life force that's in them, it's now."
One bright May morning in The Female Spring, Ireland changed. Millions of hours of canvassing, millions of euros (and dollars) were spent on political campaigning.  But what exactly was it that made two thirds of the population vote YES to change the constitution and the future of Ireland?  Stories (and in particular the story of the death of the young dentist Savita Halapannavar in Galway University Hospital.) A graph of influences (which, of course, I can no longer find online, though I read only hours ago) shows that well over sixty percent of the well over sixty percent who voted YES did so as a result, not of posters or badges or media debates, politicians or the urging of canvassers, churches or male county councillors or the Orangemen of Belfast, but because of STORIES.