Yoga On A Paddle Board
---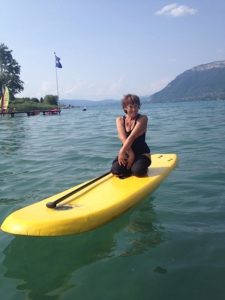 My husband was not impressed when I came home and declared "That was the most fun I've ever had with my clothes off!" I was very impressed. As he had a quiet morning at home, my friend Kathryn and I had spent two hours doing downward dogs and sun salutations, shoulder stands, stretches and flexes on paddle boards on the waters of Lake Annecy.
It was a perfect Saturday morning, turnaround day in the quiet calm and collected city of Annecy and its hinterland; its gites and chambre d'hotes and campsites crowded, its population now exploded and expanded by thousands of visitors and tourists, its narrow hilly and lakeside roads clogged with vehicles of all nationalities in for the Bastille holiday week. For sheer force of Lycra and pedal-power, the Annecy to Albertville cycle path resembled a stage of the Tour de France (if the Tour de France allowed tots-with-nappyclad-bottoms-the-size-of-their-helmets and participants over 60.)
Formed about – oh make it 18,000 years ago, around the time the large glaciers melted – Lake Annecy is a perialpine lake in the Haute-Savoie. Ringed by mountains, this, the cleanest and third largest lake in France, is edged with democratically public parks, designated beaches and marinas and boardwalks. It is very beautiful. Out on the water are swimmers and swans, moorhens, ducks and grebes, all clucking and ducking with their chicks, the self-propelled in their canoes and kayaks, wind surfers, pedalos, row boats, dragon boats and the big, bigger and biggest (with food and music) tour boats plying the 15 odd kms from city to Bout de Lac. There are innocuous fisher people sitting patiently meditating ripples, and on the other end of the scale are dreaded power boats and water-slapping inflatables, noisome and fuming, flying adventure-seekers or those over-endowed with testosterone in their wake. That wake churns up the water, upsets the moorhen nests (and me) and topples Paddle Boarders.
Eight years ago, nobody in these climes had heard of Stand Up Paddle Boarding. I was in Australia for Christmas and saw my first paddle boarders amongst the wave surfers at Manley Beach near Sydney. I went straight home to Berlin and visited every sports shop in the German capital asking for SUPs. They – who pride themselves on knowing EVERYTHING….but EVERYTHING about outdoor sports on land and air and water, had never heard of 'em. "Hah!" sez I "You may think I'm probably mad, coming into your shop looking for something you reckon doesn't actually exist…..but one of these years, you'll remember the cold dark Berlin January day you semi-humoured an auld wan wanting a surf board sans wind or waves."
Back we came to France, assiduously checking websites for SUPs everywhere from Australia through America and China and as the seasons turned to summer, pinned to a supermarket notice board I saw a flyer for a (horribly named) "YaYa Paddle Board Centre" not two kilometres from where we live. Down we went and bought an (extruded polystyrene) board and thus I became the first private owner of a Stand Up Paddle Board on Lake Annecy.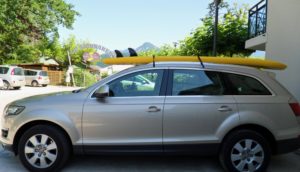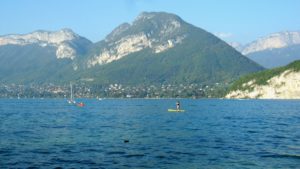 Fast forward five years….as each year, the lake became more and more often dotted with paddlers and my friends no longer said "Was that you on the water today?" for lots of people were at it. The son of one such friend, an artist, went out on it for a video piece shot by his brother and thus became the first person to paint on a Paddle Board! I came across Paddle Board Pilates and Paddle Board Yoga and tried to interest my local land-lubber teachers…..but no dice (they also thought I was mad…it's not easy bringing ideas to the mountains.)
Kathryn and I, who have been known – of a rainy day in the Alps – to turn on a Youtube Yoga video, move the coffee table from the centre of the living room and lie down on the floor trying to follow the moves, watch the telly at the same time and not laugh, put the board in the swimming pool and practiced balancing…..but somehow, it didn't turn us on. My husband complained when I hoisted the board onto the roof of the car, and it was too heavy to carry to the water, so last year, I bought another one, an inflatable board. That, in an enormous back pack which always reminds me of Cheryl Strayed's "Wild"('Lost and found on the Pacific Crest Trail') was more portable.
Then, an enterprising enterprise opened on our side of the lake called "NCY SUP Centre" https://www.facebook.com/NCY-SUP-Center-105110806500621/ They are good at social media, good at promotion and most importantly are an easy fifteen minutes down the cycle path….of vital importance when the place is mobbed by hikers and bikers, caravaners, campers and Sunday drivers. They advertise Paddle rental and classes, and Paddle Yoga, Pilates Burgers and Beer.
Saturday morning, 9.15 it was around 19 degrees by the lake. We registered, were chastised by a nice young man for not parking our bikes at the racks provided – the Centre is roped off from a private house and garden on water frontage – and signed in. A high teepee vies with the branches of tall trees against the sky, the water laps gently, as lake water should since Yeats decreed "I hear lake water lapping with low sounds by the shore." Young women in bikinis and swim suits sat in deck-chairs on the shoreline, then more arrived, plus a couple, he carrying an impressive wood veneered board (nice when husbands do that.) Our teacher, Charlotte, arrived, smiling. Charlotte is big into smiling. "Look through your legs" she told us out on the water later as we perched with our derrières in the air …"and smile!" We looked through our legs – all 26 of them – and saw the blue blue sky, the purple hazy mountains, the flat mirror water of the lake, a few curious grebes, canoes bobbing at eye level like bath toys, the chateau in Menthon yonder, the lake-side house dwellers breaking their fasts on their summer lawns, the Sevrier campers swimming from their grassy slope, the city in the far distance shimmering in the fresh morning air.
Few of the participants were local – about four from the baker's dozen of us – I think Kathryn and I were the only English speakers, but Charlotte did an excellent bi-lingual commentary, for she had spent 4 months in Kinsale at age 20 as a bartender, having the time of her tender young life…..but that was before she found Yoga, which brought her to many exotic places, including a few years in one of my other most favourite places in the entire world, the Rocky Mountain town of Banff.
Firstly, we stood and saluted the sun on the sand. I somehow got alpine grit (beloved of television gardeners) everywhere. We were of different and differing shapes and sizes….we were coloured from pale Qallunaat to deep tan. I was the oldest person there. I am always the oldest person there; any course from picture framing to communing with nature, any animation or opening or launch or event I attend in Berlin (except protest marches) I am always the oldest person there and I have gotten used to it. I used to feel sympathy for people of colour in Ireland, for often they could be the only black person on the top of the bus. Then I went to a wedding in India, where Himself and myself were the only white people at the party. I couldn't see myself, so I thought I was just like everybody else, and my strangeness in this most colourful of countries didn't bother me in the slightest. Since then, I know strangeness is in the eye of the beholder, not the strange.
Anyone familiar with the cycling habits of the young ladies of Mount Mercy School in Cork will know of the parent-pacifying habit of helmet wearing. You take your helmet from the hands of anxious parents before heading out on your bike, promising to 'wear' it and then you tie it to the handlebars. To appease Emmanuel Macron, we all assiduously tied life jackets to the handles of our boards (10.6″ x 30″ wide for stability, inflated with a compressor. I have pump envy). Having felt the land beneath our feet and Charlotte having helpfully pointed to her nose and said 'nez' and to her heel and said 'talon' for Kathryn's benefit, out we paddled, following Charlotte and a male NYCSUP staff member (actually wearing a life vest) into the deeper waters of the lake and there we formed a circle which ebbed and flowed as we put down our paddles and contorted our bodies on our boards. We lay still, eyes closed and dipped our hands in the cool water, the fresh air and warm sun on our faces, feeling all the elements. "If someone else's board touches yours, say 'hello'….it is a gift from the Buddha" said Charlotte, and we believed her. Out there, in the pure elements we would have believed anything. I tried to be just there, mindful, but every time Charlotte said "insperez" it became – to my mind inclination and training – 'inspire!' and I composed lines and stanzas in my head. Is that mindful? being in the moment? Maybe it is the most mindful, but it could also be the curse of the writer…..whether or which, I was beyond contented. Of one thing I was sure: my soul was not lost nor fleeing, it was right there, inside my sun-warmed body, grounded – one could say – in the still air, sounds and water.
We paddled homewards after Charlotte brought us back to reality with a long tinkling "OOOOMMM" which must have caused a seriously erie echo rippling over the water and through the mountains. En route I got the life story of a gorgeous young Alsatian woman, recently – and very happily – settled on these shores. Drunk on endorphins, Kathryn and I cycled home, stopping off at the local bakery for a treat. Just as we were strapping the baguettes to the backer, placing the pastries carefully in the panier, who should walk towards us only Charlotte…. "No no, it's not what you think…..these are….er….for our husbands…" I lied, trying to shield the calorie laden paper sacks. Yoga on a Paddle Board on a warm serene summer morning is one thing, but there is nothing I prefer to pie and lattes…….